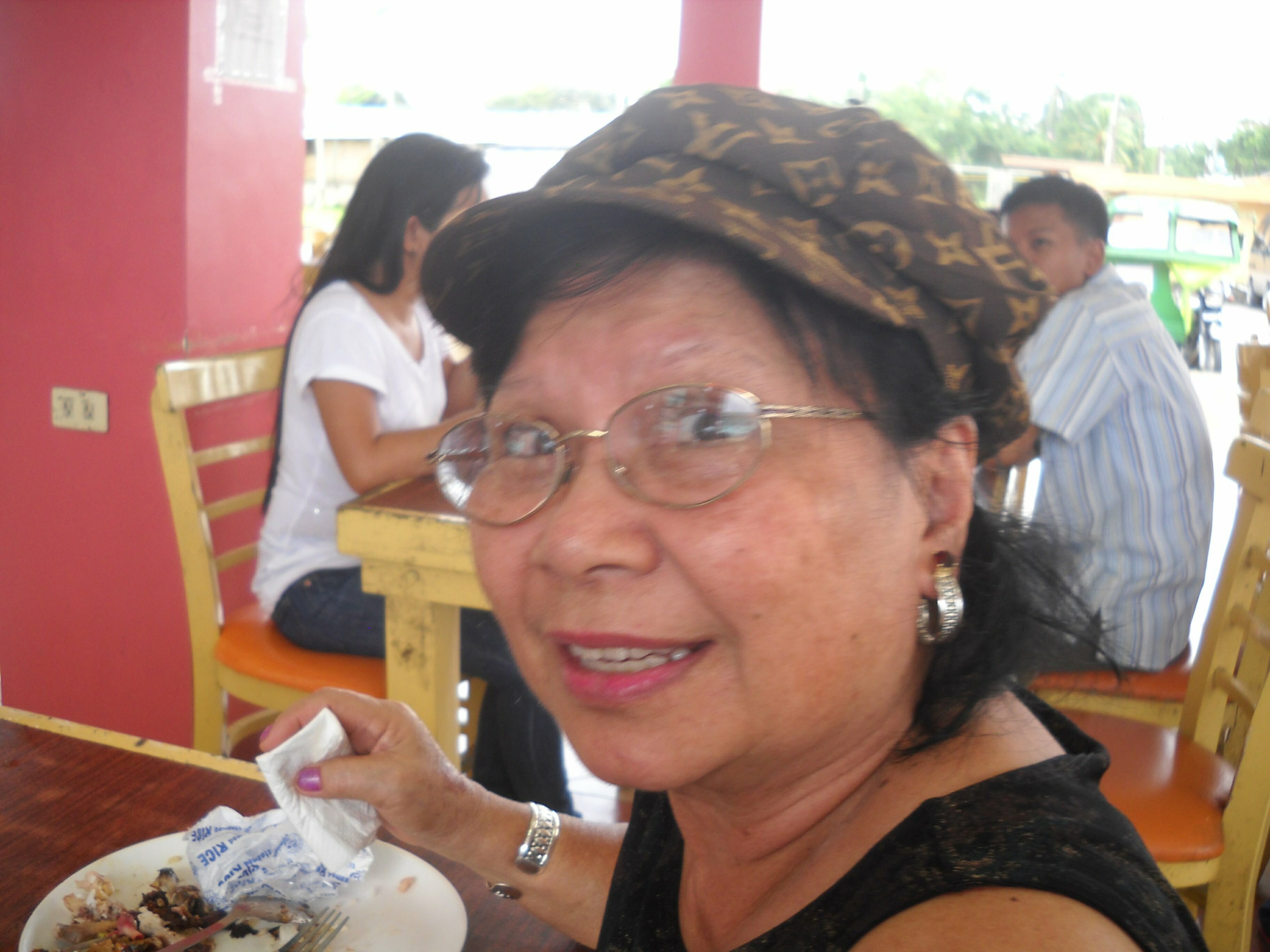 [smartads] At 0725 this morning Lita stirred me with her sweet voice, "Honey woke up, I'm so damn busy cutting vegetables and there are no one to watch the store".  That was paraphrasing, but she did say "woke" (not wake) and "are" (not is).  She does that often, but I can't criticize, but she speaks much better English than I do Tagalog.  The problem is that she tries to do too much and then when she starts drowning in work, she has to reach for her life preserver, that's me.  At least that's the way it seems to me.
So I got up, got ready, went to the CR, made some coffee, got some breakfast, got my pen & notebook and rushed out there.  It's now 0815 and there is no one here eating, except Lita.  She was so very busy, but very shortly later, she has time for breakfast.  Whatever.  I had to get up eventually and it's not like I can't take a nap anytime I want to, because I can.  I only sold 1 cigarette before she was finished cutting those vegetables, but I guess you never know how many people are going to show up to buy.
The first 4 pictures on this post were taken by Rick Smith.  He sent them to me via e-mail.
There was an interesting development while she was sitting there eating and drinking her coffee.  I did a separate post on that though.
After eating she decided to go back to bed.  She said, "Give me 30 minutes".  That translate to anything from 1 to 3 hours.  I'm not doing much of anything right now anyway, but I could be if I could figure out e-books.
It seems that the convention people are gathering across the street.  It's 0930 so maybe they start at 1000.  Some extra Security has shown up and there are a lot of people outside talking.  I hope they all come by here to eat again like they did yesterday.
Rain Days = 5 in a row.
After only 1 hour, Lita came back out to the store.  She told me to go get on the computer.  That's not something I hear her so too many times.  Maybe it has something to do with the fact that I told her about that donation I received.  I didn't even tell her that I got another one today.  It was not near as much as the first one, but it was something and all donations are appreciated.
Around about 12:30pm, Lita said that she has a fever and needs to lay down.  I don't get many fevers that knock me out, but I'm much bigger than she is.  She has these every once in a while.  She's been working most of the morning and needs to relax anyway.  All that translates into: It's my turn in LolyKat.
I decided that I needed to cut up some vegetables to make some stew.  I brought it all out to LolyKat and did the peeling and cutting there.  I cut up 2 potatoes, 1 carrot, 6 peppers, 8 small hot peppers and 5 of the small red (purple) onions.  I plant to make enough so that I will have stew for today and tomorrow.  I decided to cook it outside with the charcoal instead of using up the propane.  The tank is at about 1/4 left and I'd like for it to make it to the end of the month.  I'd like to buy another bag, but the last time I gave Lita the money to buy one, other things got bought instead.  I'm not going to say we didn't need that other stuff, although some of it could have waited, but I was just trying to get the charcoal, spending about P350 versus using the propane and having to spend around P950 sooner than later.
Yesterday the food was going very fast, today it's very slow.  Maybe the people at the convention quit early, I haven't seen too many of them.  I don't see the extra security out there, but one of them was just here about 10 minutes ago.  I hope the food still sells.  It's only 2:38pm so maybe there is still time to sell it all.  Yesterday a lady came by and bought a large amount of food around 4:00pm, so maybe she will come back again today.  Or it can be another lady, or a man, I'm not picky about that.
At 4:15pm, I took my stew off the fire.  I'm just going to put it inside the house to let it cool.  I'm not really hungry at this time and the longer I wait to eat, the less chance I will eat more than once for the rest of the day.
Well what do you know.  The lady that bought the large amount of banana balls and banana-ques yesterday, is back.  She's loading up again.  I guess she and whomever else she is buying for must have liked the food.  It'd be great if this turns into a daily thing.  You know, like buying the donuts for work.  I rarely ate donuts though.
Lita did come back out about 5:30pm, but I stayed out here with her.  I got a bowl of stew and ate it out here with her at the table.  The stew is good, not great.  There is no meat in it today.  After I ate, I came back in here to check on things.  After about an hour she decided to close the store.  We just closed the food area.  We didn't sell it all, but there wasn't much left.
After she got back to the bedroom for about 30 minutes, Neneng showed up and offered to give her a massage again to try to make her feel better.  No one offers to give me a massage, except Lita.  She gets tired and she has a hard time constantly putting enough pressure while massaging.  At least she tries though and it does make me feel a little better.
I realized that since we did not go to Cebu this past weekend, we didn't experience the earthquake they had there.  We were suppose to be leaving Cebu early Monday evening, at 7pm I think, to come home.  The earthquake happen around noon when we probably would have been checking out of the hotel or inside a mall somewhere.  Although Cebu did not get the bulk of the earthquake, they did have some damage there.
Dave, from the website PhilippinePlus.com actually was inside a mall there in Iloilo and they got quite a bit of damage there, although I heard no deaths were reported.  He wrote a nice article on what happen.  It's here in case you want to read it.  He also do a follow up story talking about the trip home during the chaos and about some of the aftershocks they experienced.  It's here to read or it's the story right above the other story at his website.
Mary Grace & Cliff at Isla Cafe – Calbayog City
Well that's it for this post.  Y'all wake up now.
Salamat, Paalam
I found this link and sent for free information about expats filing income tax.  I didn't give them my phone number, only my e-mail address.  I'm not one for throwing my phone number around to just anyone.
Quick quiz question with answer and additional information provided:
Patty Smyth and Don Henley teamed up  in 1992 for the duet "Sometimes Love Just Ain't Enough", reversing the advice given by The Beatles some 25 years earlier in 1967.  What was the name of that song by the Fab Four?
A.  All You Need is Love
B.  Cant' Get Enough of Your Love
C.  All the Man That I Need
D.  Too Much Love Will Kill You
******************************************************************************
******************************************************************************
Answer Below
******************************************************************************
******************************************************************************
Answer:  A:  All You Need is Love
"All You Need is Love" was the repeated refrain in the song of the same name – a simple message from a simpler time. The song had its premiere on June 25, 1967 on "Our World", the first globally televised live TV variety program. The show featured performances from 19 different countries, and was watched by about 400 million people from all over the world. "All You Need is Love" was subsequently released as a single, and topped the charts in both the U.S. and the UK. "Can't Get Enough of Your Love, Babe" was a hit for Barry White in 1974, and was covered by Taylor Dayne in 1993; "All the Man That I Need" was the second single off Whitney Houston's 1990 album "I'm Your Baby Tonight"; "Too Much Love Will Kill You" was a song that appeared on Queen's 1995 album "Made in Heaven".