[smartads] As you look at this picture below you can view a short video that I have put under Philippine Cities and Towns, if you desire more details.
This morning I was up at 0719 and happy to be home.  Visiting Tambis is okay, but I'm glad that we decided not to move there permanently.  If I think that not having food I'm use to here is rough, well being there would be much worse.  Sometimes I wish I was born with the mentality of a Filipino.  They take the good with the bad and make the best of it.  They have to work hard to get by, or they don't get by.  Oh, I know that all Filipinos are not that way, but the majority of the ones I encounter are.  Although I had to start working at an early age to help feed the family and to get something I wanted, it's not exactly the same.  Heck the only reason I started working selling greeting cards and seeds door to door at 8 years old, was so I'd have enough money to go to my favorite hamburger place.  Here just to get by day to day, everyone that can work should and usually does.  The biggest thing that I admire about Filipinos is the food that they can eat.  Some of the things they eat, is just so hard for me to believe, but it is something they grew up with and it has become a staple in their lives.  To me, it is something to be proud of, they survived, no matter what.  If the Philippine government ever gets their act together, this could be one of the greatest countries ever.   Unfortunately I don't see that happening anytime soon, if ever.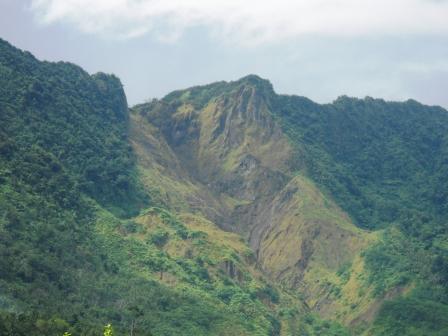 Guinsaugon  How it looks after 4 1/2 years
When I went to bed last night at 11:40pm, our hits were at 27625.  This morning they were 220 hits higher at 27845.  That 27.5 hits per hour for that 8 hour period.  It's an improvement from the recent 25 hits per hour, only about 23 hits from my goal.  Top Blog is also working again and this morning we were at #416 of 1480 (28.1%)  in Personal and at #2109 of 6370 (33.1%) Overall.  Actually the 2109 was tied all the way up to #2099, but we were listed at #2109 so I counted from there.


I considered making pancakes this morning again, but decided to go with some of the cereal that I bought at Robinson's on the way home from Tambis.  The cereal was a banana/raisin cereal and it is not that great.  I'll be sure not to buy that one again, when we go back to Tacloban, probably next month.  Yes we plan to go back to Tacloban already.  This time though it is for possibly trading in the pos for a slightly smaller and less expensive vehicle.  Remember I told you Jun is knowledgeable in that area.  We are still debating whether we should make the move though.  Recently we have had not much reason to use the pos, but the times that we have, there have been no major issues.  More on that in a bit.
Tagalog word of the day:  ospital  (os-pi-tal)  means  hospital (but I bet you guessed that already)
For some reason I feel like I've gained weight.  I don't see how it is possible though.  I've done nothing terrible to put the weight on, but I've been feeling like the fat is increasing, like there is a bigger load around the mid section.  I guess I could just weigh myself to find out, but I think I don't what to mess up my Saturday weigh in day much.  I will say that if I get on that scale Saturday and I have gained too much weight, then I'll be highly disappointed and I don't know if I can handle that.  I've been doing so well these past few months, and I'd hate for it to happen.  I'm sitting here typing this and I feel like I have a ton of fat as an overhang.  I can no longer conceive the fact that I weighed 330 pounds (150 kilos) when I arrived here.  I can say that I will never let myself get that way again, so I guess that is a start, but I still have so many more pounds to go before I am at my ultimate goal of 199 pounds.  I want to see that "1" at the beginning instead of the "3" (which I have achieved) or the "2" (which is getting difficult).  We'll all know the results in a couple of days.   I can tell you that I haven't been this nervous about a weigh-in since I was in the military and was on the weight control program getting ready for a weigh-in that could affect my entire military career.    I'm not quite that nervous, but I'm pretty worried about this for some reason.  Maybe it's because, as I said, I haven't done anything that should make me gain weight, and if I have, I'd be at a loss to explain it or what to do about it.  Enough of that for now, we'll wait and see.


I did go downtown today as I said I would.  I got money from the ATM and paid my Internet bill.  I'm glad that the lady behind the counter spoke pretty good English, because I got so much accomplished during my visit there.  First of all the Internet bill had items on it that I don't use.  What the heck is Wi-Fi?  I hear that all the time, but I don't know exactly what it is.  I had that on my bill, and the lady pointed out to me that she doesn't think I have that, so she didn't make me pay for it.  That cut my bill about in half.  I also informed them of my phone not working.  I told her that I could receive calls, but not make them.  She immediately thought she knew what was wrong, and she was right.  Something that needed to be activated on the phone, was not.  She started the procedure and said it should take no longer than 24 hours to be complete.  Now this next item is something that surprised me.  I asked about international dialing, so we could call the US.  She said that we could add that also, no charge, and the rates were P5.5 per minute.  That's like .13 per minute.  I was told, by someone in the Philippines, that the rate was like $5-$6 per minute.  In addition to that, she had some calling cards that reduced the rates even lower, to P2.5 per minute.  I bought 2 40 minute calling cards for a total of P200.  The cards themselves expire in Nov 2011, but once you activate it, it is only good for 30 days.  I figured that the way Lita talks on the phone, that won't be a problem though.  Her saying everything she wants to say in just the 40 minutes will be the real challenge.


Time for Day 2 of our trip.  Day 2, Sunday, 7 Nov.  I was up and ready to roll at 0633.  We were going to Saint Bernard Proper and I was ready to take bunches of pictures.  Lita made me some oatmeal.  She made a big bowl.  I had a hard time finishing it.  We rode a motor going there that was a bit shaky.  I figure that some of it had to do with me riding in front and being too far to the outside in the seat.  I scooted closer to the driver, trying not to interfere with his driving, and that helped a little bit, but he still was moving those handle bars around a lot.  The fact that it started raining as soon as we got about 100 feet down the road, did not help the driver, or me, either.  We went to the biggest grocery store in Saint Bernard, and it's not that big.  They do have some decent root beer there though.  It's called Zesto root beer.  It has a full, rich flavor…or so it says on the bottle.  We bought 3 liters of that.  When we first walked into the store, I got the usual stares that I normally get, but I didn't really mind because most of the ones looking at me were pretty, young ladies.  I went in the store, walked to the last row on the right and almost to the end of the aisle, there was another pretty, young lady sleeping.  I thought it was a bit strange, so I just watched her for about a minute or so.  One of the other young ladies told me that she is sick, plus she didn't get much sleep the night before.  Hey, been there, done that, I understand completely and if the store owner doesn't mind, why should I?  Heck, she could have been the store owner for all I know.  She did wake up while we were looking around the store and I mentioned to her about her being tired.  She was a little embarrassed but said she'd be alright.  I should have gotten a picture of her sleeping, but I was too surprised to think of it at the time.  I know we bought several items there, but the only thing I remember is the root beer and some baby wipes.  I remember them, because I asked if they had them, and had 2 of the pretty ladies show me where they were.  I was a bit shocked that they actually had them to tell you the truth, I didn't think they would.  When we got out of the store I did take a few pictures while waiting for another tricycle.  It was still raining hard too.  The tricycle ride back was much better than going there, not so shaky.  Of course shortly after we arrived home, it quit raining.


Since it wasn't raining anymore, everyone decided that they would be going to the river down the road.  I didn't really want to go, but didn't relish the idea of being there for several hours by myself, and I knew Lita would be mad if I didn't, so I went.  As I suspected, I didn't like it much.  The bata liked it a lot.  That should have been enough for me to be happy, but I was ready to go back.  I was falling asleep.  Lita suggested I go to the truck, that was parked across the river, to sleep.  I should have done that, but I didn't.  I finally talked Lita into leaving and we walked back to Bebie's house.  It was about a 3/4 mile walk and Lita was pretty tired by the time we got there, she's not a big walker.  We went upstairs to lay down, I fell asleep as I figured I would.  When I woke up everyone was coming in the front door and Lita was already downstairs.  I was wishing that I had a mirror so I could shave, because it was getting itchy.
As I mentioned before, it's not so bad sleeping there, because we have our own fan, it's not that hot this time of year and we didn't have any brownouts during our whole visit there.  The biggest problem I have with staying there is mosquitoes.  I must have at least 7 mosquito bites on my arms alone.  Most of those on my right arm.  I did eat 1 can of beef stew while we were there, but I think I ate that the first night and forgot to mention it yesterday.  As it turns out I regretted not eating more, but the reason why will have to wait until tomorrow.


Philippine Trivia
The word "boondocks," which is now a part of the English language, dictionary, and vocabulary, comes from the Tagalog word "bundok," meaning "mountain."
The Philippines became the first Asian country to win FIVE major international beauty pageant crowns — two for Miss Universe, in 1969 and 1973, and three for Miss International, in 1965, 1970, and 1979.
Diving paradise Anilao, in the province of Batangas, is the theme of a picture book that bagged the International Prize for Underwater Images at the 27th World Festival of Underwater Images in France in November 2000. "Anilao" book creators and Filipino scuba divers Scott Tuason and Eduardo Cu Unjieng defeated big names in underwater photography such as Jacques Mayol, Pascal Kobeh, Monique Walker, and Alessandro Tommasi.
The biggest game preserve and wildlife sanctuary in the Philippines is located on Calauit Island in Palawan, which has the largest land area among the Philippine provinces.
The antibiotic erythromycin — used to treat a wide variety of bacterial infections, such as respiratory tract infections, middle ear infections, and skin infections — was created by Filipino scientist Abelardo Aguilar, and has earned American drug giant Eli Lilly billions of dollars. Neither Aguilar nor the Philippine government received royalties.
Fernando Amorsolo was officially the first National Artist of the Philippines. He was given the distinction of National Artist for Painting in 1972.
Salamat, Palaam