[smartads] This post will be dedicated to my family.  I do not have very current pictures but I will put in here what I have.  I am doing this because on November 10, 2011 my parents will celebrate their 55th Wedding Anniversary.  In the day and age that sees so many divorces, I believe this to be a wonderful accomplishment.  I hope to someday also be married as long, but Lita and I are still 23 1/2 years behind that.  Lets think about that for a second, 55 years is over a half a century.  Sometimes it seems I've been married forever and they are 23 years ahead of me. Of course there are the times that it seems we just got married and all of a sudden we are older.  I guess all couples that have been married for many years have the same feelings, even my parents.  It's not too often I can get them in a nice picture together, but the one above turned out pretty good.
Hits:  The last hit count was at 1563837.  At this time 10:27pm (Thursday), the hits are at 1,584,932 for 3 days worth of them.  That's a total of 21,095 hits and an average of 7031.66 per day.  That would be 2,566,556 hits at that rate in a years time.
New Link Added:  I added a new link under "Other Expat Sites".  It is a brand new blog and there are only 2 posts on it at this time.  The guy that owns it is named Tom.  He is a constant reader of this site.  I look forward to seeing his perspective on life in the Philippines, learning about and from him also.  The mixture of his knowledge with his sense of humor should make it an interesting blog to continue checking out. His introductory posts can be seen here.  I think you will like it, I did.
YouTube:  I got tired of trying to load another video on YouTube.  It would not load.  I was trying to upload the video of the guy playing Christmas songs on his bamboo xylophone.  I did find out that it is not that unique.  There are several videos on YouTube already with the same thing.  This one will be unique to us though.  I did add a smaller video.  It's the one about the "Big Man making a Big Splash".  If you have been reading this blog for awhile, you may remember that one.  It was the first video I put on this site. It is only :26 long, so go check it out right here if you want to.  If you do view it, please remember to leave a comment of some kind and maybe click "Like" or "Not Like".  You might as well look at my video of the kids singing the Philippine National Anthem while you are there.  That's right here though, just in case you have a problem getting to it.
MegaVideo:  I started an account at MegaVideo so I could upload that bamboo xylophone player and it was working, but it was going to take over 10 1/2 hours to upload and process a 6:14 video.  I didn't feel like waiting that long, so I stopped it.  I will continue trying with YouTube, at least when/if it does work, it doesn't take more than 2 or 3 hours.
Neighbor:  If you will recall, at one time I had a post that had me wondering whether or not our next door neighbor was a male or female. Well that problem has been solved, because she is pregnant.  I've seen her walk by in front of the house a few times and that belly is definitely not a beer gut.  It couldn't be anything else but pregnant.
Scheduled Brown Out:  I found out Wednesday morning at 0830 that we had a scheduled brown out from 0800 to 1000 today.  The electric actually didn't go out until 0807.  I have no idea why they have a scheduled brown out when they have already had 1 12-hour scheduled one and a couple of other unscheduled ones.  You know I have talked with many expats around the Philippines and I do believe that here in Samar has the worst record for brown outs.  I don't know what it is.  The big city of Manila has less brown outs and the small town of St. Bernard has less brown outs.  We are in between in size and geographical location, but the outages continue relentlessly.  The electric did come back on at around 10:15 and we have not had an incident since then.
Well crap, I spoke too soon.  At 5:18pm today (Thursday) we had one of those 1 minute brown outs.  It also knocked the cable system out and there is not telling when that will come back up.  It could be out the rest of the night or come back on in 10 minutes.  I know it was out a couple of minutes after the electric came back on, but that's not uncommon at all.  I hope it comes back up before 100 Days to Heaven comes on this evening between 7:30 and 8:00, it's not really scheduled at an exact time.  There are only 4 more days left before Anna's time on Earth is done and they still have big things to resolve.  ***Oh good at 6:20pm Lita turned the TV on to check the cable and it was up already.  I wonder if there will be anymore problems with the cable and/or the electric between now and the end of 100 Days to Heaven.
Ciriaco Crack Up:  I found out on Wednesday evening, from Lita, that the Ciriaco Hotel van was in an accident Wednesday.  One of the passengers, a Japanese, was taken to the hospital.  I do not know the extend of his injuries at this time.  I do not know yet if it was the fault of the Ciriaco driver, but I do know that he is a good driver.  The van is still at the accident location the last time that we knew anything about it.  I looked for it at the hotel and that's when I was informed that no one has moved it yet.  I will see what I can find out about this and keep you up to date.  I might even have something before I actually publish this post tomorrow evening.
Speaking of the Ciriaco Hotel, I was wondering why there are other websites higher on Google than my site.  I was under the impression that sites that had the most information about a place were higher on the search list.  I guess it doesn't exactly work that way.  Probably the more popular places get priority on the search list even when they do not have much, or in some cases, no information about the hotel itself.  Well I can tell you that this site has more information and pictures than any other site that I have seen on the web, including the Ciriaco Hotel website.  The Agoda and TripAdvisor websites pale in comparison to what I have.  In fact I think I will get more update pictures and add them to the site, double check the rates and talk to a couple of employees to find out their real opinion of the hotel.  I already know that many of the working class there do not eat in the restaurant (Cafe Elsa) because they do not get a discount and the prices are too high for them.  I may even go all out and get as much information as I can gather and make a special, separate, up-to-date post just for the Ciriaco Hotel and Resort.
Ado:  I found out today, Thursday, that Ado's multi-cab has been down and out since Sunday.  You would think that I would notice something like that sooner.   I have noticed him around a bit more recently, but I never realized that his vehicle was down.  He's a good mechanic, he has to be, so he probably just needs some money to get parts.  I wished I had it to give to him or at least loan to him.  Someday, if we ever win a lottery, I'm going to buy him a new multi-cab and he won't even have to pay me back.  Ado has helped us quite a bit around here, but everyone is pretty helpful at times.  He does get to stay at home with the kids more, and they like that, but he still needs to earn a living and that is his main source of income.  He does help around the house when he is at home, but he doesn't get paid for it of course.  I'm sure he will find a way to get going again by at least Monday morning.
Useless Knowledge:  The Sperm whale has the biggest brain of any mammal.   Its brain weighs up to 20 pounds, while the human brain weighs 3 pounds.
Bourne Information: I just saw on TV that they may be making a new Bourne movie in the Philippines.  The Bourne Legacy, which is book #4 would be the name of it.  I believe this is the one that Jason finds out that his son may still be alive and out to kill him.  I don't have the book here with me, it's in storage in Texas.  I have 4 of them here, but not that one.  I'm glad to see that Joan Allen will also be in this movie, she really made the Bourne Supremacy and the Bourne Ultimatum better.  I noticed that they will be changing the name of the character, so I wonder why it is still called the "Bourne" Legacy.  Maybe for box office purposes.  I found out that information here.  I hope that this movie is very popular.  Popular enough that they will decide to continue with the series.  This would be #4 and there are at least 7 books, even though I have not read #7 yet.  I wonder how close to the book they will stay?  They are not even close on the rest of them, but they were still good movies.  The Bourne Supremacy is my favorite of the three.
Launch Pad?:  I see that a lot of people like to use this website as a kind of 'launching pad'.  They check out my site, then they click on one of my links to check out another site.  After they are done with that, they come back to this site and click on another site to visit.  That's good for me.  It tells me that I have supplied information or a link to the information that people want.  It also gives me more hits with each return visit, so that definitely a good thing.
The Sweetest Lady in the World Stops By:  Neneng dropped by to bring us some rice.  Lita has been wanting rice all day and we were going to buy some tomorrow, but now we don't have too.  Lita is getting ready to re-open the BBQ on Monday and when they order food, they have to have their rice.  It's definitely a main staple here.  In case you don't know or don't remember from a way earlier post, I consider Neneng to be the "sweetest lady in the world" and her husband, Titing to be "the coolest dude that ever lived".  After all this time of us being here, they have not given me any reason to retract my analysis.  ***Look she is bringing Lita a bowl of soup that she made at home right now. I stand by my assessment of her.  **Wait!** As if that wasn't enough, about 30 minutes later Neneng showed up to give Lita a massage.  Lita has been feeling a lot of bodily pains recently and I'm a bit too strong to give her a proper massage.  Neneng used some Efficascent oil and gave her a neck, shoulder, leg, foot and head massage for almost an hour.  Now you can't tell me that she's not the "sweetest lady in the world".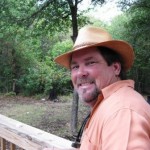 David Risen – Brother in Law – Cindy's Husband
To the Tagalog Speakers out there reading:  I found out today that recently I have been spelling "Paalam" as "Palaam" on each post and no one out there has caught it.  Well maybe you did catch it and decided it wasn't worth mentioning.  Just for the record, if you do find a mistake on this blog, it's okay to say something to me, I don't mind.  I like learning too.  Please let me know if you see an error.  That is not only for the Tagalog words or just for the Tagalog speakers either.  Any error on anything is okay to inform me.
Calbayog Story Links:
http://leytesamardaily.net/2011/11/gandara-bridge-inauguration-today/
http://leytesamardaily.net/2011/11/calbayog-mayor-confident-his-ties-with-uy-family-still-strong/
Conclusion:   It's not a very interesting post today, but it is up to date on all the information that I could come up with.  I'm sure I missed something though.  I try to write down things as I learn about them, even if it's just a short note.  Just something to jog my memory about the incident and that's when you get the long posts because I let my fingers type and disengage my brain.  As I stated earlier, all the pictures on here are not so current, but I figure they are close enough so you can see basically what everyone looks like.
Other Interesting Sites:
http://www.viewshound.com/real-life-other/2011/11/6/an-officers-wife-and-a-gentle-woman
http://www.viewshound.com/travel-europe/2011/11/7/ill-have-a-shoe-with-cheese-on-it-and-shove-it-dow
http://www.viewshound.com/travel-asia/2011/11/6/philippines-nation-of-fiestas-and-festivals–2
Salamat Paalam!
Today in Philippine History
Hen. Mariano Llanera
1855 – Mariano Llanera, future barrio chief and municipal captain, mason, patriot and general  in the Philippine Revolution against Spain, is born in Aliaga, Nueva Ecija; Llanera, who would fight in the provinces of Bulacan, Pampanga, Tarlac, and Nueva Ecija, would adopt a revolutionary black flat with a white letter K on the left and a white skull atop a cross of two bones, the design of which was based from the initiation rites of the secret-society-later-turned-revolutionary-government Kagalanggalangang Katipunan  nang  manga Anak nang  Bayan (KKK), and  which Supremo Andres Bonifacio would refer to as "Bungo ni Llanera" or Llanera's Skull; Llanera,  would also be known for leading the "first cry of Nueva Ecija" in Cabiao, Nueva Ecija  on September 2, 1896, a victorious attack on the local Spanish government that signaled the participation of the province in the Revolution.
1937 – Tagalog is recommended to be the basis  of the national language of the Philippines by  the Institute of National Language during the  colonial American period; the Institute, created  a year earlier through Act No. 184 by the  National Assembly, was given the responsibility  of studying the various languages of the  Southeast Asian country with the aim of  evolving and developing a common national  language; less than a month after the Institute  submitted the recommendation, President  Manuel L. Quezon would proclaim  Tagalog-based Filipino as the national language  of the Philippines.
Photo credit:  http://www.knightsofrizal.be/philippine_heroes/heroes.html