[smartads] A cute little photo that I found at:    http://www.expatinthephilippines.com/ – it's an interesting website also.
Please note the original location of the cartoon – http://www.offthemark.com – .  I went there and he has many good cartoons.  Some of them made me laugh, and that's not easy to do.
I've been talking to a few of the other expats that have websites trying to get some pointers from them, since most of them have been blogging longer than I have.  Some of the much longer.  I still have so much I need to learn about blogging.  It's one of those things, well it's like life and computers, the more you learn, the more you find out you don't know.  I keep thinking that I'm getting close to being competent on blogging, but then I find out that the subject I just learned, has so much more to it.  I doubt I'll ever learn all there is to know about blogging, but it's okay.  I just need to learn what I need to get a decent post out.  I'll pick up on the little things as I go along, which is exactly what I have been doing, and not sweat it.  One thing that I would really like to learn, that kind of bothers me, happen on this page already.  You see those websites links up there, where I got the picture from?  Well why can't we just click on them to go to the page?  Why don't they link?  Sometimes they work, sometimes they don't.  I don't know why that is.  Why do some link come up and some don't?  So that's something I'd like to learn.  If anyone out there knows how to resolve that problem, I'd sure appreciate you sharing your knowledge with me.  Track-backs and ping-backs are another thing I'd like to learn about.  I know what they are suppose to do, but how do I set them up.  Do I have to set them up?  It's not vitally important.  I will figure that out eventually, no hurry.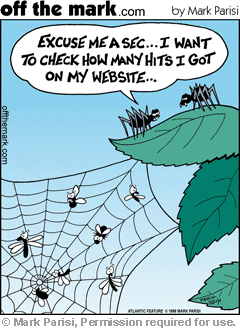 Useless Knowledge: Think that being called a Neanderthal is an insult? Neanderthal man, the first human being in the true sense, had a brain capacity 100 cubic centimeters larger than modern man's (or woman's).  (Okay, but they didn't use as much of their brain power as modern man (or woman) does.  I mean back then there was a lot less history and experienced people to learn from.)
8 Feb – Hits at 0200 – 118446.  I was up at 9 (something or another).  I fixed a couple of PB & J's sandwiches for breakfast to take my medication.  I used the Jif Low Fat creamy peanut butter that Lita bought a couple of weeks ago for P228.30 ($5.18)(Some very expensive peanut butter, because this is only a medium size jar).  I told her not to buy it anymore.  She is still have a problem understanding the dollar vs peso ratio.  Why I don't know.
It's my sad responsibility to tell you that Flor left early this morning.  I was still awake in bed around 0400 when I heard her getting ready to go.  It sounded like Jazel/Jasel (I'm going to find out what her name is for sure and ask how to spell it, so I won't be confused on this anymore) was helping her.    She plans to go home for a few days/weeks, then head to Manila for a job there.  I never did find out if she had one set up already, but it doesn't sound like it.  I think she just missed being with her family.  She did assure me that she wasn't leaving because Lita loudly reprimanded her for talking on the phone again, when she should have been working.  I wonder though.  I told Flor to not let that bother her because Lita yells a lot, but then 10 minutes later she'd be hugging you.  I also told her that she yells at me all the time and we'll be married 31 years this April.
I helped out in the kitchen a little bit again this morning.  I squeezed about 50 of those little lemons (calamansi, or something like that) for Lita.  I also cut up 3 carrots, 3 potatoes and 2 onions to make my stew.  I was a real cut up this morning wasn't I?  In fact, as I was writing this notes, the water to make the stew was boiling.  I went in there to put the 'secret' ingredients in the water with the 3 chicken wings in it.  When the water got to boiling good, I added the carrots and potatoes.
Today was the day that I posted the pictures of the room at the Ciriaco Hotel.  The ones that Blair sent to me.  The manager from the Ciriaco was here today for lunch.  I went over to greet him and he politely shook my hand and told me that he has seen my website and it looked good.  I told him that I just added the room pictures (didn't give Blair's name) (oops! guess I just did) and he asked for the website address again.  I guess he wanted to check the pictures.  I thought it was weird he had to ask the the website again, but I figured that when I brought it over there the first time, the lady I gave the website to, must have been the one that pulled it up.  He probably just looked over her shoulder.  That's just me guessing though.  I haven't heard anything back from him, so I guess there is no problem.
I see that a "visitor" from Hawaii got a "Page not found" error.  If anyone gets such an error, let me know where it's at so I can correct it or delete it.  I tried to find out where it was coming from, but all I got was the "Page not found" error also.  If I knew what was being looked up, I could find it easier.
9 Feb – Hits at 0207 – 120055.  I didn't get up until 1015 this morning.  I had a hard time sleeping for some reason.  When I did get up Lita was mumbling something about shoes, while I was rushing to the CR.  I guess whatever it was, she'll tell me later.
Titing will be borrowing my camera when he and Neneng go to Boracay on the 17th of this month.  They are going there for a Pepsi convention.  That's cool because then I'll have some first hand…well second hand pictures from Boracay and I can put them on here and/or on a page for the MJ Tourist Service since Boracay is one of the places in which we have connections.
I finished all the remaining stew and took my medication around 1230 today.  Guess I avoided that gout for another day at least.
Tagalog Word of the Day: turista  (tour-ris-ta) obviously means tourist.
Lita finally got around to telling me what she was mumbling this morning.  She said that the Oki-Oki Store downtown had a lot of shoes there.  But she also said that they were still with the high price tags.  Some of the shoes (used shoes) were as high as P2000 ($45).  I don't think so.  Maybe I'm just cheap, but that seems ridiculous.  I 'very' rarely buy new shoes for that price.  I've bought 2 pairs, in my whole life that cost more than $45 (not counting boots) and one of those pairs was for work because I was standing up on concrete my whole 12 hour shift.  Man I sure do not miss that.
I should look through some of the boxes we have here again.  Ones that we never unpacked (but looked through).  I want to see if there are any shoes in there.  I don't remember seeing any, but that doesn't mean they ain't there.  We do have 2 boxes that a friend in Texas shipped to us last month, on the way.  We left the boxes at her house and gave her the money to ship them for us.  We had already sent the rest of our boxes and when we decided to pack these, we didn't really have time to mess with mailing them.  Hopefully when those boxes get here, I will have shoes in there.  For some reason, I think I did put some shoes in there.  The only thing that I remember, for sure, that is in there, is our phones we used in Texas.  There are 3 cordless phones and an answer machine.  I sure hope that they will work here.  The boxes should be here 6-8 weeks after she shipped them, so sometime about the middle of March.
I added a desert to the recipe page.  It's called Leche Flan (a custard).  It is very popular in the Philippines.  I also added a "Complete Guide to the Philippines".  This thing is the most complete analysis I have ever seen in one place of the Philippines.  It is full of information.
Useless Knowledge: In the 1979-80 season, at age 19, Wayne Gretzky became the youngest hockey player ever to score 50 or more goals and 100 or more points in a season, and the youngest player to be voted Most Valuable Player.  (This is not that useless, especially if you are a sports nut.  Of course if you are a sports nut, you already knew this)
Salamat, Palaam
Today in Philippine History
1890 – Claro M. Recto, future Filipino nationalist statesman and president of the 1934 Constitutional Convention is born; Recto will be one of the most stern critics of American colonial rule, advocating Philippine autonomy and removal of the US military bases, and the controversial parity rights that gives Americans the right to exploit Philippine natural resources; he will ran for president against then Vice-President Carlos P. Garcia but will lose, with his candidacy suffering from the dirty tricks department of the United States' Central Intelligence Agency that will distribute holed condoms that were labeled "Courtesy of Claro M. Recto–the People's Friend"; dubbed one of the 'finest minds of his generation,' Recto, who had no known heart disease, will officially die from heart attack in October 1960 but suspicions on his death are cast on the CIA because prior to his death, he met with two mysterious "Caucasians" in business suits before he died, US government documents later showing CIA Chief of Station Ralph Lovett and US Ambassador to the Philippines Admiral Raymond Spruance having earlier discussed plan to murder Recto with a vial of poison.
Photo credit: http://lipatourism.wordpress.com/culture/lipas-famous-families/
1926 – Teodoro M. Kalaw, nationalist Filipino scholar, legislator, and historian, composes his report on the Philippine Independence campaign in the United States during the American colonial rule; Kalaw will present the report to the Commission on Independence, a body created by the colonial Philippine Legislature in November 1918 aimed at working for "independence, for its external guarantees, and for the internal organization" in the U.S.; the report of Kalaw who was part of the staff of Senator Sergio Osmeña selected to be the country's special envoy to the US, came 27 years after the Bald Eagle nation invaded and triggered the bloody and protracted Philippine-American War (1899-1914) following imperialist American President William McKinley's declaration of "Benevolent Assimilation" [translation: invasion] policy towards the Philippines; earlier in 1904, Kalaw wrote in the nationalist newspsper El Renacimiento about his paper's campaign against the abuses of the Constabulary, corruption, banditry, illiteray of the people, and "the slow disappearance of the 'Filipino Soul' under the seductive wiles of Anglo-Saxonism."
Photo credit: http://vincemd.blogspot.com/2010/04/teodoro-kalaw-on-stamps.html