The Texas Trip – Elmendorf to Osan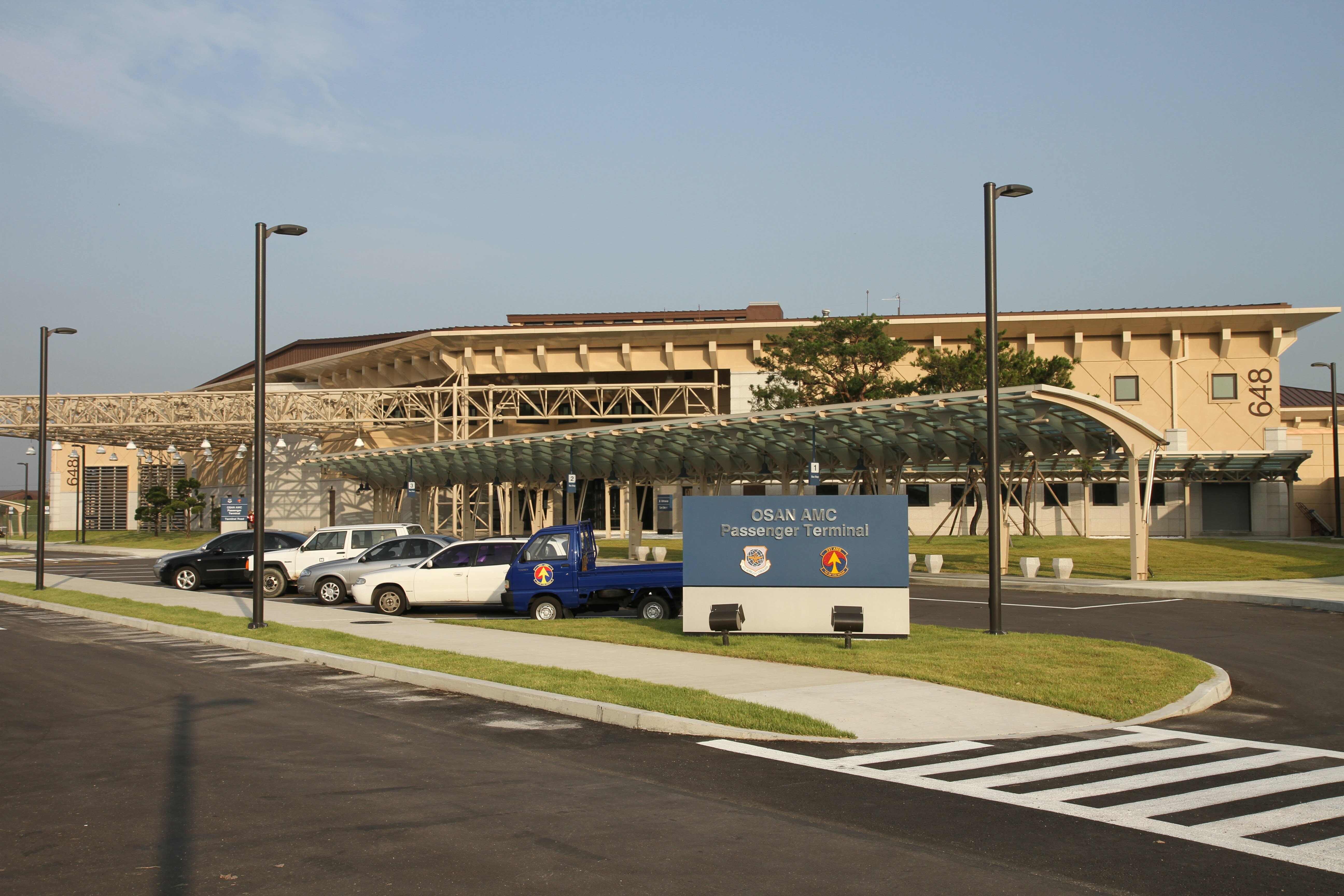 [smartads]
When I last left you we were at Elmendorf AFB Alaska getting ready to depart for Osan AB Korea.  They call our flight and since the passengers from Travis are processed through to their destinations, then we get on the plane first.  The only new seats will be for ones that have departed.  So anyone at Elmendorf wanting a flight to Osan or Kadena will have a few chances to get on.  To the best of my knowledge there were no new passengers.  They bus us out to the plane and we wait to get the okay to board.  I'm glad that we did not have to walk to this plane, it was a very long way, at least 2 miles.  Before we could board though, they ran into a problem and tell us that it will take approximately 2 hours to fix.  So we took the long bus ride back to the terminal to wait.  After about a 1/2 hour I decide that I should buy a couple of Mountain Dews from the machine to take on the flight with us.  The 20 oz bottle there cost $1.50 each.  As I was just putting in the money for the 2nd one, they announced that it's time to go again.  What!  That hasn't been anywhere near 2 hours.  It's okay though, we are all ready to go.  I'm the last one out of the waiting area because I'm stuck waiting on the vending machine.  No problem though, the bus ain't leaving without me.  This time we get there and there is no problem, we all are able to get on board.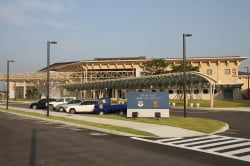 After we traveled for about 7 of the scheduled 9 hours, we get an announcement that we encountered more head winds than anticipated and we burned too much fuel to complete the trip.  We will have to divert to Yokota AB in Japan to re-fuel.  We would be on the ground 1-2 hours, but were not not allowed to leave the plane, because of immigration problems.  At least they left the air conditioner on because it sure would have gotten hot and muggy in there without it.  I guess they only told us 2 hours again to be on the safe side because it was only about 45 minutes to an hour before we were ready to go.
After we were in the air again we got another announcement.  I was unable to understand it though, but it sounded like they said or maybe I just wanted it said, that they would be going to Kadena AB first, then Osan.  To me that made sense for 2 reasons.  First we were already in Japan and second because we had a lot of active duty Air Force on this flight that were going to Kadena.  I figured that they decided to get them to their destinations, since active duty military have priority.  I was pretty happy about that, but I guess I didn't wish hard enough, because that is not what the announce was.
As it turns out, the extra time we spent flying to Yokota and the time on the ground will be putting the pilots over their flying time limit for the day, if they fly all the way to Kadena tonight, as originally scheduled.  That means when we get to Osan we would have to spend the night and start again tomorrow for Kadena.  Of course the Osan Passenger Terminal is not a 24/7 facility so we will probably have to spring for a hotel room tonight, unless we get lucky again.  I doubt they have any IHOPs or Denny's in Korea, at least not around the base.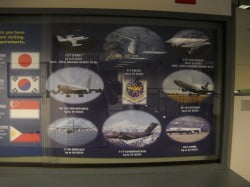 They also have a list of hotels by the phones in the terminal and after calling a couple of them, I decided on the Korea Hotel not too far outside the front gate.  Of course most of the hotels are close to the front gate though.  Joe and Margarita are also coming along with us, because I will be paying for the hotel tonight.  As I mentioned in the last post, they have even less money than we do, plus we are going to need their assistance when we get to Kadena.  I didn't pay for them just because we will need their help, I did it because they are nice people and because he said he would pay me back at Kadena, and I believed him.  To the best of my knowledge, we were the only ones from the flight that stayed at this hotel.  We took a taxi to the front gate and walked to the hotel.  I found out later, from Joe who asked the man owner, that if he knew for sure we would be staying at the hotel, he would have come to pick us up at the terminal.  I will remember that for next time, as I plan to stay in the same hotel each time I come to Osan, if we can not get a room on base.  The taxi fare was only $2.60 from the terminal to the front gate (these taxi's run on base only) and the hotel was only about 200 yards away.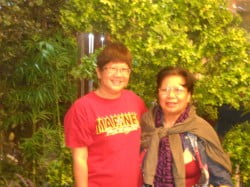 The rate was $58 per night, the rooms are nice and cozy, but the showers are excellent.  After I took a nice long, very warm shower I headed for bed.  Lita was already in bed, she would take a shower in the morning.  We only had our carry on luggage with us, because they didn't want to take the luggage off the pallet here and then again when we get to Kadena.  In the luggage we had, I didn't have any clothes that fit me anymore, since I gained some weight while in Texas.  In the morning I would have to wear the same clothes again, so I put them up to at least air out.  Lucky I had my deodorant, toothbrush and cologne with me.  We will have to learn to pack smarter and lighter.
In the morning, after Lita took a shower, the 4 of us got together and we wanted to find a place to eat breakfast before heading back to the passenger terminal.  As I figured, no IHOP or Denny's in the area that I could see.  We were considering going to the Challenger Club (NCO Club) when I noticed that the hotel had a free continental breakfast.  So, still trying to save money when we can, we all decided to eat breakfast there.  I'm sure glad that we did.  The lady owner made us scrambled eggs with ham and toast.  We had coffee and 1 1/2 liters of orange juice.  I drank most of the orange juice naturally.  It was a very nice breakfast.  I liked it even more when I found out later that the people that stayed at another hotel not only had to pay more for their room, but also had to pay an extra $10 for their breakfast.  They said the breakfast was wonderful, but what we had at our hotel was good enough for me and it was FREE.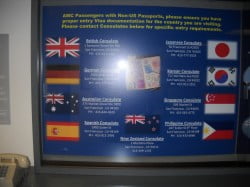 So after breakfast we check out and head back to the front gate to get a taxi to the passenger terminal.  Of course on the way, the women wanted to stop and window shop.  Joe and I went to a few tables outside a little cafe to wait.  Since I'm not one for sitting at cafe tables without ordering anything, I went inside to see what they have.  I spot some Tropicana orange juice.  I ask the guy how much it is and he says 3000.  I ask, "Is that dollars or won"?  He and the 2 other customers got a nice laugh out of that.  I didn't have any won, but $3 got me the juice.
So after Lita bought a T-shirt, Margarita didn't buy anything, we continued our journey to the front gate.  When we get to the front gate we have to show our passports and IDs, which Lita is suppose to be carrying.  She's digging through her purse all scared saying she can't find the passports and maybe she left them back at the hotel or maybe even dropped them while she was paying for the T-shirt.  Oh Crap!  I'm getting ready to head back out the door to look for them, when she finally uproots them from the bottom of her purse.  That really had both of us sweating bullets.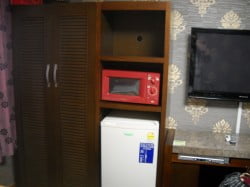 So we get through, get the taxi to the passenger terminal and make sure we check in.  At this time is when I heard the stories from some of the other passengers about the experience they had at their hotel.  We were the only ones with nothing negative to say.  So if you are in Korea and decide to stay at the Korea Hotel, mention my website as a reference.  It won't help you get a discount or anything, but maybe it will get me more readers.  We had to wait for a little while and about 1/2 hour after we arrived, this guy came up behind me and said, "3000 dollars" and starting laughing.  I turned around and the guy said that he was at the cafe when I bought the orange juice and that still tickled him about what I said.
So finally we get back on the plane with 5 new passengers, 2 of them are relatives of Joe.  Next stop is Kadena AB Okinawa Japan.  The place that were stationed on 2 separate occasions, 1982-1985 and 1990 to 1993, our last duty assignment.  We have been waiting for a chance to get back to see how much has changed and now will finally be getting our chance.
Salamat Y'all
Also See
 http://www.osan.af.mil/units/731stairmobilitysquadron.asp (feature picture)
Interesting Knowledge:  In 1990, Irish rock singer Sinead O'Connor became the first musical recording artist to refuse a Grammy Award, which she won for her recording of, ironically enough, "I Do Not Want What I Haven't Got." She claimed that too much emphasis was placed on the pop charts, and not enough on the ills and abuses of the world.
August 17
Wednesday 17, 2005:
President Sellapan Ramanathan is declared President of Singapore for a second term at noon.
Tuesday 17, 2004:
The National Assembly of Serbia unanimously adopts new state symbols for Serbia: Boze Pravde becomes the new anthem and the coat of arms is adopted for the whole country.
Saturday 17, 2002:
In Santa Rosa, California, the Charles M. Schulz Museum opens to the public.
Tuesday 17, 1999:
A 7.4-magnitude earthquake strikes northwestern Turkey, killing more than 17,000 and injuring 44,000.
Monday 17, 1998:
Monica Lewinsky scandal: US President Bill Clinton admits in taped testimony that he had an "improper physical relationship" with White House intern Monica Lewinsky. On the same day he admits before the nation that he "misled people" about his relationship.
Saturday 17, 1991:
Wade Frankum starts his killing spree in Strathfield, Australia, an event that was later dubbed the Strathfield Massacre.
Wednesday 17, 1988:
Pakistani President Muhammad Zia-ul-Haq and US Ambassador Arnold Raphel are killed in a plane crash.
Sunday 17, 1980:
Azaria Chamberlain disappears, likely taken by a dingo, leading to what was then the most publicised trial in Australian history.
Friday 17, 1979:
Two Soviet Aeroflot jetliners collide in mid-air over Ukraine, killing 156
Thursday 17, 1978:
Double Eagle II becomes first balloon to cross the Atlantic Ocean when it lands in Miserey near Paris, 137 hours after leaving Presque Isle, Maine.
Monday 17, 1970:
Venera program: Venera 7 is launched. It will later becomes the first spacecraft to successfully transmit data from the surface of another planet, Venus.
Sunday 17, 1969:
Category 5 Hurricane Camille hits the Mississippi coast, killing 248 people and causing $1.5 billion in damage.
Saturday 17, 1963:
A ferry linking remote islands off the coast of Okinawa sinks, killing 112.
Friday 17, 1962:
East German border guards kill 18-year-old Peter Fechter as he attempts to cross the Berlin Wall into West Berlin. He thus became the first victim of the wall
Wednesday 17, 1960:
Gabon gains independence from France.
Monday 17, 1953:
Addiction: First meeting of Narcotics Anonymous in Southern California.
Friday 17, 1945:
Indonesia proclaims itself independent from the Netherlands.
Tuesday 17, 1943:
World War II: The US 7th Army under General George S. Patton arrive in Messina, Italy, followed several hours later by the British 8th Army under Field Marshal Bernard L. Montgomery, thus completing the Allied conquest of Sicily.
Saturday 17, 1918:
Bolshevik revolutionary leader Moisei Uritsky is assassinated.
Tuesday 17, 1915:
Jewish American Leo Frank is lynched for the alleged murder of a 13-year-old girl in Atlanta, Georgia.
Monday 17, 1914:
World War I: The German army of General Hermann von Francois defeats the Russian force commanded by Pavel Rennenkampf at the Battle of Stalluponen.
Monday 17, 1896:
Bridget Driscoll becomes the first person in the world to die in an automobile accident after being struck by a car travelling about 4 MPH.
Friday 17, 1883:
Dominican Republic the first public performance of the Dominican National Anthem, Quisqueyanos valientes
Friday 17, 1877:
Arizona blacksmith F.P. Cahill is fatally wounded by Billy the Kid. Cahill will die the next day, becoming the first person killed by the Kid.
Wednesday 17, 1864:
American Civil War: Confederate forces defeated Union troops at the Battle of Gainesville.
Monday 17, 1863:
American Civil War: In Charleston, South Carolina, Union batteries and ships bombard Confederate-held Fort Sumter. Bombardment will not end until December 31, 1863.
Sunday 17, 1862:
Indian Wars: Lakota (Sioux) uprising begins in Minnesota as desperate Lakota attack white settlements along the Minnesota River. They will be overwhelmed by the U.S. military six weeks later.
Saturday 17, 1850:
Argentine's War of Independence hero, General José de San Martín, dies in Boulogne-sur-Mer (France), at the age of 77.
Monday 17, 1807:
Robert Fulton's first American steamboat leaves New York City for Albany, New York on the Hudson River, inaugurating the first commercial steamboat service in the world.
Friday 17, 1427:
First band of gypsies visits Paris, according to an account of the citizen of Paris