[smartads] Today was a special day for me.  I got to go to my first Kano meeting.  There were only 3 of us there, but it's a start.  Cliff Griffin has arrived in town and we decided to get together for a little visit.  I knew he'd be an alright guy, mostly because he is from Texas also.  I was right.  This is how it played out.
I arrived at the Isla Cafe right on schedule, I think.  Our met time was to be 1000 and everyone was there when I arrived, so they must have been early.  Besides Cliff, Rick Smith was there along with his lovely wife, Flor.  Cliff had his girlfriend Mary Grace with him.  She is also a looker.  The introductions were made and we decided to go ahead and order some breakfast.
We've heard that the breakfast here is pretty good, and they have American style breakfast.  So that's what I order, the American style breakfast.  It consists of 1 egg, 4 really small pieces of bacon, 1 slice of ham (lunch meat) and 4 pieces of toasted buns.  It also came with free refills of coffee.  The buns were warm, but everything else was cold, except the coffee.  If the coffee that I've been drinking at home is considered 'extra strong' and that's what it says on the box, then the coffee at the Isla Cafe would be considered 'extra extra strong'.  But I still drank 2 cups of it, as did Cliff.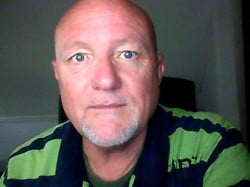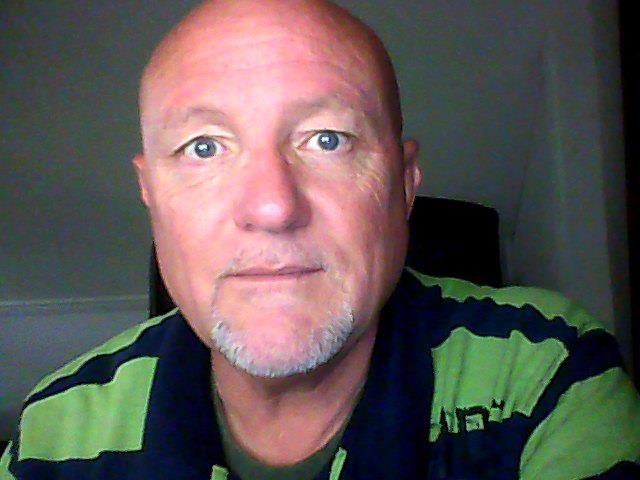 If seems that when/if I go here again, I need to order the pancakes instead of what I ordered.  Rick and Flor got the pancakes and both of them seem to like it.  Rick also ordered the American breakfast.  Mary Grace got a ham and mushroom omelet and she ate some of it.  It was too big for her small appetite.   Cliff got waffles and bacon, I believe, and I didn't hear him complaining.   Yeah the food was cold, but my main purpose for being there wasn't too eat, but to have a normal conversation with someone.  A conversation where I didn't have to repeat or explain almost everything I said.  Yes I know that if I learned the local language, I wouldn't have that problem.
So after we finished eating, the ladies had to leave for a little while, but us guys headed towards M-Zone electronics store.  It seemed to be popular place for Rick.  He guided us there and I acted like a tourist and took pictures on the way over there.  It was my first time inside this store, but I'm sure it won't be my last.  They have many used cell phones in there and some awesome looking speakers that I know think I should be able to connect to my computer.  According to Titing, he does something similar in the warehouse when he plays his music.  I took some pictures in there, including many of them here, plus one at my daily post site.  Rick also took an interesting picture.  He placed it on his Facebook and my son got a good laugh out of it.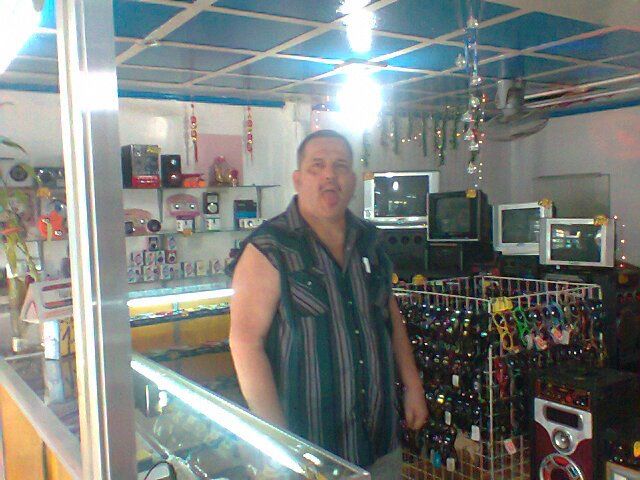 After I finished admiring the speakers and the sales ladies, I said my good-byes and headed for the bank to get some money.  I stopped a couple of places along the way and when I got to the bank, they were all there.  It seems that Cliff need to get a few more pesos, just like I was doing.  New was in at the ATM when I arrived.  After he got out, the got in pajak-pajaks and headed to Ricks.  Cliff had to squeeze into the pajak-pajak.  Not that he is so big, I'm bigger than he is, but his is not use to climbing in an out yet.  I can climb in pretty easy, but have a hard time getting out at times, especially when they have extra straps connected or the plastic is down because it was raining.
Inside Isla Cafe
I hope that I will be able to see Cliff again.  Maybe before he leaves, but if not, then I'll be looking forward to his next visit.  He says he plans to retire here some day, but his is not quite ready to retire yet (he's younger than me too, in addition to being smaller than me).
Maybe I should have gotten a picture of Cliff.  I'd be a terrible photographer.  I'd always be taking the wrong picture at the wrong time.  I'll just 'borrow' some pictures from his Facebook.
It was nice to meet you Cliff & Mary Grace.  I must say that Mary Grace is a lot better looking than Cliff though.  I want to get that on the record and I'm sure I won't be getting much of an argument from anyone.
Rick, thanks for the get together.  I should also say that Flor is much better looking than you also.  Again no argument expected.
It only lasted about 2 hours, but I enjoyed the time and will be looking forward to the next time, whenever that may be.
*** NOTE *** I have been informed that Jen is not Jen.  Jen is Flor.  I think I changed them all, but if I missed one or some,  please change all the references to Jen here to Flor instead.  Maybe I need some memory pills.   I'd probably just forget to take them though. ***NOTE***