[smartads] I was once told that I should never apologize for not getting the posts out on time, but I do apologize in this case.  I do not get much computer time at my Dad's house because he is up most of the night on the computer and during the day when he is sleeping, well the computer is in his room and I don't want to wake him up.  Some of the times he is out either my brother gets on the computer before me, I am out somewhere or I am sleeping.  I will be a lot more active once we get back to the Philippines.  This site seems to be taking a beating since I do not get to update everyday so I hope it all straightens out later.  On with Day 3.
Early in the morning, around 0830, I headed for the Base Exchange ( BX), which is the base shopping center for the ones of y'all that do not know, to buy Lita that pair of shoes because she had already returned the other pair of shoes to Mrs. Washington.  I still had most of the money left from the previous night when I used the Community Bank (part of Bank of America) ATM at the base hotel downstairs.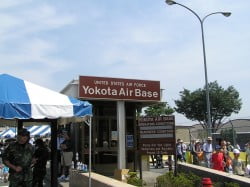 Thanks to some instructions from the front desk I found the BX easily, although it was pretty simple to find anyway.  I was just a few minutes early so I had time to look for the entrance.  It was a little bit tricky because the entrance is upstairs, right above the Commissary, but I finally found it.  After I found the shoe department and got a little help from a couple of employees, I finally found a pair of shoes that probably would be good enough for Lita and I know they filled the requirement of not being open toed shoes.  The original price was $29, but they were on sale for 50% off, so only $14.50 and no tax on base.  I bought her a size 7 although she normally only wears a 6-61/2 because I knew she would be wearing socks on the cold plane and she said she didn't mind if they were slightly big.  It all worked out fine.  The shoes fit and she liked them, or at least she said she did and did not complain about them.
So we packed up and checked out of the hotel around 10:00 and headed for the passenger terminal.  It is normally a 10-15 minute walk, but when you walk with Lita it automatically adds at least 5 minutes to your time.  We didn't know it at the time but there is a free base shuttle bus that makes scheduled stops around the base and 2 of those stops are the base hotel area and the passenger terminal.  Next time I will take advantage of that.
Shortly after getting to the terminal I was talking to a Tech Sergeant there and he told me that 'maybe' the Officers Club did foreign currency exchange.  Well we were running low on dollars but still had plenty of Philippine pesos, so I asked him where the Officers Club was.  It turns out that it is right next door to the hotel we stayed in.  So I walked back by myself, hoping to be able to exchange some pesos.  I could have called, but it was getting pretty close to the time they would be calling people for the next flight.  I was told that the club was not opened yet and if I waited for them to open, supposedly at 11:00, then I would not have had enough time to walk there and back before we were scheduled for roll call (11:15).  I was a calculated chance that did not pay off.  Not only did they not exchange Philippine pesos, Yen they will exchange, but the lady at the cashiers cage told me that they opened at 0900.  I could have called.  I guess I should have anyway. 
So now it is 10:45 and I still have to get back.  I made excellent time for being so tired and got back in approximately 15 minutes.  I made it and can now rest … Not.
I just happen to check at 11:05 and found out that I forgot to check in when we arrived at the terminal.  I was so worried about the money, I forgot.  Lucky for us that the flight had 73 empty seats and there were only 26 passengers.  If you are not signed up when they do the roll call, you do not get on.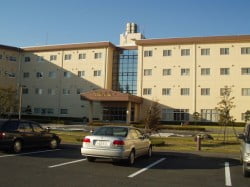 So with roll call finished and our name on the list, all we had to do was wait for them to say it was time to check in.  Around 11:35, that call came.  I was still a bit tired from all the walking, so I decided to wait and be the last to check back in.  After all our name was on the list, there were plenty of seats and we were in the clear right?  Wrong again.  When I got up to the counter the asked me we got our passports stamped saying we were leaving the Philippines.  Nope.  I had to get mine and Lita's passports, walked to the Japanese immigration office off base, about a 1/2 mile, to get them stamped.  We were not the only ones that didn't do it, but the others were already gone and some of them were already back.  Of course the Security Guard at the gate would not let us walk through the gate right close there, safety hazard, so we all had to go over the walkway to get to the other side.  It made the walk longer and harder because of having to walk up the walkway.  It was 11:45 when I started walking and if I was not back by 12:30, we would not be able to get on that flight.  So off I went again for another long walk.  I am already dead dog tired before the walk even starts, so I wonder if I made it or did we have to spend another night at Yokota in the hotel?
I'll let y'all know all about it in the next post.  I hope it won't be so long before the next one either.
Salamat Y'all
http://de.wikipedia.org/wiki/Datei:US_Yokota_Air_Base_1_Tokyo_Japan.jpg
http://picasaweb.google.com/lh/photo/bYPuN-2P1Ra_fvIq5xTnzQ