[smartads] This is the post that I had to combine 2 days on, even though I said I didn't want to do that anymore.  It's just that Saturday was such a boring day I just didn't have much to say.  This post combined did turn out pretty good though.
Nueva Ecija is a landlocked province of the Philippines located in the Central Luzon region. Its capital is Palayan City. Nueva Ecija borders, from the south clockwise, Bulacan, Pampanga, Tarlac, Pangasinan, Nueva Vizcaya, and Aurora.
http://en.wikipedia.org/wiki/Nueva_Ecija
Nueva Ecija is considered the main rice growing province of the Philippines and the leading producer of onions in the Municipality of Bongabon in South East Asia. It is currently the 9th richest province in the country.
http://www.mapzones.com/maps/philippines/nueva_ecija.php
Saturday 8 Oct Hits @ 0007 = 1334775 = 4956.
Sunday 9 Oct Hits @ 0002 = 1343430 = 8655.
I guess most of y'all probably noticed that there is no Saturday – 8 Oct 2011 post.  That's because my notes for that day were a whole 1 paragraph, and not that big of a paragraph.  Actually the one for today would not be that much better, but I figure if I combine them both AND use a little imagination I could get a decent post.  I'll try not to ramble about the same old stuff that I've already rambled about previously, but I may hit a a few things.  Let's get started so we can get finished.
http://www.zamboanga.com/z/index.php?title=Nueva_Ecija_Province%2C_Philippines
As you can see, Saturday was not such a terrific hit count.  I am not sure about what happen, but I will be chalking it up to it being a Friday night and there were lots of parties out there.
That previous paragraph plus the hit count information is all I had written down for Saturday.  I guess you can see know why I choose to skip the post that day.  Oh I could have gotten more information on there, I'm sure, but even being the rampant rambler that I am, I don't know if I could have stretched it that much.
http://www.flickr.com/photos/bigberto/sets/72157623399216895/detail/
I'm going to kind of mix Saturday and Sunday together, instead of separating them out.  I'll do my best to specify what happen on which day.  If I happen to just say today, that would be for Sunday.
I did leave off some information from yesterday though, now that I think about it a little bit.  It's the normal stuff I usually talk about though.  I made a kind of different type of soup on Saturday.  For this one I used 2 chicken wings, 1 chicken bullion, 1 onion and the pasta (lasagna) I had left.  As I was cooking, I didn't think it was going to turn out very good, but I was wrong.  It wasn't the best I've ever made, but it was the best I've made without vegetables.  I was going to eat the rest of it this evening, but I decided to have the fried potato sandwiches instead.  I will have the soup leftovers for lunch tomorrow.  I didn't even eat today until about 5:00pm.  I could have eaten sooner, but there was an NCIS Marathon on Fox and I didn't want to miss any of it.  It's not really a big deal if I eat late anyway, as long as it's not after my cutoff time of 8:00pm.  Which, as most of y'all probably know, is a self-imposed cutoff time anyway.
http://www.backpackingphilippines.com/2008/08/munoz-nueva-ecija-philrice-clsu-pcc.html
Here's something interesting that I'll bet most of y'all never had happen to you.  This morning at a little past 0400, I was awakened by a parade.  No that time is not a mistype — 0400 –.  Evidently they had a walk-a-thon for a charity and including in the walk was 2 or 3 drum corps or something.  I didn't get up to look.  Juvic still has my camera for a party she went to on Friday or Saturday, so I didn't see any reason to be getting up.  Lita and about half the people around here did get up, but I didn't see or hear a reason to.  I did get up about 0435 to go to the CR, and I saw that there were a few people out front, but I didn't look at them long enough to know who they were.  I think one of them was Chatty though.
http://www.flyphilippines.com/nuevaecija-hoteltierra.php
When I woke up the 2nd time, around 0815, Lita was already gone to the market.  She didn't return until about 0930, so she must have sent by to visit Poppa again.  I believe Poppa is doing better, but he still needs to improve.  At least he is eating now.  That's an improvement over the beginning of the week.  When Lita returned home she has some more vegetables for me.  Just the standard potatoes and carrots, but it's enough to get me by for now.  She worries about me when I don't have anything to eat.  I tell her not to worry about me, I'll be okay.  Just give me some bread and peanut butter and I can go for a while on that.  Potatoes are another thing I can go on for awhile.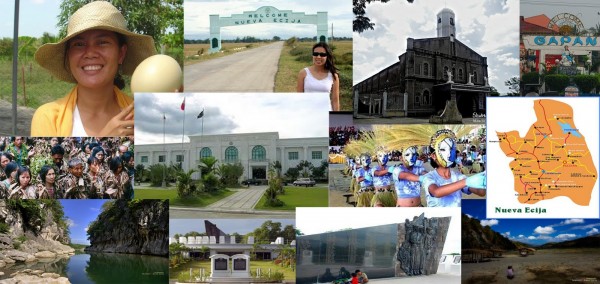 http://lakbaynuevaecija.blogspot.com/2011/01/welcome-to-lakbay-nueva-ecija-travel.html
Victor, Emei and Jay fixed the gate today.  It is still a bamboo gate, but it is now higher than it was, so maybe that will keep that high jumping dog out.  If they remember to close the gate, that should do the trick.  The bamboo is like 8 feet high now, so if a dog can jump that, it's welcomed in the yard.
We had the Nissan running today, just to keep it's blood flowing.  While it was running, they decided to utilize the CD player. Lita got tired of listening to Tom Jones and Engleburk Humberdick (or whatever the heck his name is), so she asked to borrow a few of my CDs.  She wanted ABBA at least.  So I gave her 3 CDs, ABBA, The Eagles and Paul Overstreet.  The only one I heard her play was ABBA though.  I left the other 2 CDs out and the next time there is a chance to play them, I will be sure they are at the top of the stack.  C'mon almost everyone likes the Eagles and Paul Overstreet has one of those unique type of voices and songs that people like to listen too.  Now that I'm thinking about it, I'm going to play that Overstreet CD now.  It's the best of Paul Overstreet CD.
http://www.etravelpilipinas.com/tourism_news/nueva-ecija-philippines-dreamwater-resort-and-hotel-in-penaranda.htm
Anyway, while they had the truck running and the CD blaring, I had a hard time hearing the TV.  So, instead of turning up the TV to make things even louder, I just turn off the TV and listened to the music.
It rained for a bit today after it thundered for awhile first.  Lita said that she's glad she went to the market for tomorrow already so she wouldn't have go when it was so wet at the wet market.  Speaking of wet market, I heard that some of the vendors at the current market might not be moving to the new market.  They were saying that the new stalls are going to be too expensive.  I don't know any prices, but, again, maybe Qais knows because his family has a stall at the current market.
http://www.wayph.com/almon-water-park-sta-rosa-nueva-ecija/
This evening, Sunday, I took care of all the 3 S's one right after the other.  Plus Lita said that I needed to brush my teeth, so I did.  I'm glad I did shave though because it was getting itchy.  I thought about shaving off what little of a mustache I have, but decided not too.  I know I look a little younger when it is shaved, but since I'm not really concerned about that, it doesn't bother me.  Besides, most people that see me don't think I'm as old as I am, or at least they say that.
I think a mosquito decided to bit me right next to my right eye.  It actually felt like it was cut, but I had Lita look at it, with her glasses on, and she said it looked like a bit.  I had her put some tiger balm on it and it burned at first, but it's fine now.  It doesn't itch or feel cut anymore either.
http://www.pinoyspots.com/page/2/
Man I like this Paul Overstreet CD.
That's it for the post.  Yeah, I know it was pretty boring today.  Things are going to have to pick up soon.  Of course I could do something to make it a little more interesting, but sometimes that's just too much work.
I deleted the Envolve because it didn't seem to be working anymore.  I'll try to re-install it someday or another one like it, if I can find one that is as good or better.
Other cool Nueva Ecija sites:
http://peperonity.com/go/sites/mview/novoecijano/12864412
http://biyahero.net/index.php?option=com_sobi2&catid=25&Itemid=56
There are 2 of the Philippine Histories tonight, just so y'all that do read it, will know.
Salamat, Palaam
Today in Philippine History
7 OCTOBER
Arcadio G. Arellano
1917 – Pioneering Filipino architect and one-time revolutionary Arcadio G.  Arellano,  responsible for leading the 
rebuilding and  preparation of the Malolos Convent 
when Malolos became the seat of the fledgling  Philippine Republic in 1898 and 1899,retires from public service; Arcadio,  the son of Bartola de Guzman and Bulakeno Luis C. Arellano, joined the second phase of the Philippine Revolution against Spain,  but  soon worked for the colonial government of the imperialist Americans as 
head of  the assessments office in Intramuros
and, later, as technical director for general assessments in Manila early on during the protracted
 Philippine-American War (1899-1914)
, before becoming a board member for Manila city; his architecture is considered nationalistic, having veered away from European or Western styles and, instead, pioneered in the use of native designs for his concepts.1628 – Juan Velazquez Madrco presents  various economic arguments to suppress Chinese silk trade in the Southeast Asian colony the Philippines, Spain and its other colonies;  Madrco cites, among others,  how China refuses to exchange its silk with other merchandise, trading it only  for cash 
silver money
, and also how the  silk 
cannot be invested in merchandise
  and is not subject to customs duties because it
does not come to Espana
 (Spain).
1846 – An anti-vagrancy law is issued for colonial Philippines by Spanish  Governor-General NarcisoClaveria y Zaldua; the decree allows  provincial authorities in the Southeast Asian archipelago to round up,  question the idlers, and also employ them  in public works for one month before sending them back to their hometowns.
Photo credit: http://jackeline.freehomepage.com/main/photos.htm
Emilio Jacinto y Dizon
1897 – Emilio Jacinto y Dizon, Filipino patriot and  revolutionary dubbed the "Brains of the  Revolution,"writes his masterpiece, A La  Patria (To My Fatherland), five months  after  he elected to fight the Spaniards  outside the command of the camp of Gen.  Emilio Aguinaldo y Famy responsible for the coup  against the leadership, and  assassination-by-execution, of his close friend,  the Father of the Revolution, Andres Bonifacio y de Castro; speculated to have been  inspired by the work of patriot and polymath Jose  Rizal's "Ultimo Adios," "A la Patria,"  written under Jacinto's pseudonym  Dimas-Ilaw, is said to equal the former  maybe not in literary respects but in  nobility and loftiness of thought. 
1899 – Imperialist United States Gen.  Elwell S. Otisorders Col. Elliot and 300  marines to attack the Filipino defenders outside Noveleta, Cavite, and carry the  outposts and the town two years and eight  months into the protracted and bloody  Philippine-American War (1899-1914);  Filipinos fight the invaders with hot fire as Gen.  Schwan takes Old Cavite and the vicinity  of Noveleta, the enemy S.S. Patrol shells  the countryside.
1902 -Two years and eight months into  the protracted Philippine-American War  (1899-1914) but four months after  imperialist United States Theodore  Roosevelt falsely announced the official  end of the "insurrection," the colonial  Bureau of Education is established; the  Education body under the colonial  government of the American invaders  falls under the executive control of the Department of Public Instruction, with  the provinces being organized into divisions with superintendents taking charge of various school districts under  them.