[smartads] Flor has proven to be a very hard working young lady.  She is still learning things though.  She's only 17 so she still has lots of things to learn.  I think she will work out fine.  IF Vicky leaves in March, as it looks right now, and Lita gets J's mother, then I don't expect we will have to go through a learning curve there.  Speaking of J, he is doing a good job also.  He is hard working and very respectful.  Personally I think, not including Lita, that Chatty is the one that has the most to do around here.  Although she is at school most of the day, she works constantly when she is home.  How she does all that house work, then homework and still find time for sleep is amazing.  Currently she has not much of a personal life, but of course she is only 14, so her time is still coming.  She is a nice, smart young lady so she will be ready for life unless the 18 bug hits her.  You know, turning of age and deciding that you can do what you want.  Yes it happens, even here in the Philippines.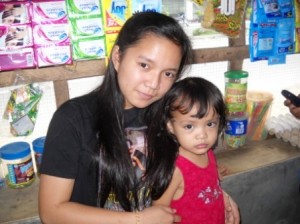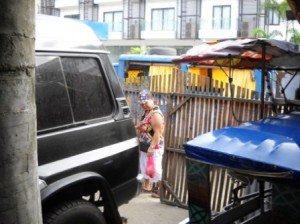 Useless Knowledge: Only female mosquitoes drink blood. Male mosquitoes are vegetarians and do not bite, but feed on the nectar of flowers.  (All I'm going to say to this is, "I'm not surprised".  No additional comment for fear of death)
29 Jan – Since I didn't get to bed until 0415 this morning, I didn't get out of bed until 1010 this morning.  At least it was a nice day when I got up (so far anyway).  Rain is not expected today so we shall see.
The pain is just about gone everywhere.  My knee still has a noticeable twinge, but I'm walking normally now.  Tomorrow will be the last day that I will take my medication.  On Sunday I will not take any medication at all.  Monday I will religiously start taking my Allopurinol so that ding dang gout has a much less chance of returning.  I really, really do not want to have to go through that pain again.  I plan to take it each and every morning when I wake up, whatever time that is.
Well today is Saturday, so that means weigh in day.  I was not so nervous for this weigh in as I have been in the past few times.
***NOTE   NOTE   NOTE***
I almost had this post finished and something weird happened, still not sure what and probably never will.  Everything I had done past this point was erased.  I could not find it anywhere.  I even tried looking at my saved stuff, but it was nowhere to be found.  I am so pissed about that.  Now I have to start again and it's already almost 0115 (31st).  I hope I don't forget some of the witty stuff I thought of when typing it the first time.  I also hope I remember the things I thought of that I don't have written down. CRAP!!!
ANYWAY!  I weighed in today.  If you will remember the last time I weighed in I was at 124.95 kilos (275 1/2 lbs).  Today when I got on the scale I was at 123.3 (271 3/4 lbs).  So a loss of 1.65 kilos (3.75 approx(slightly less)).  I figured out that my long term goal at the moment is 85 kilos (187 lbs).  Everything depends on how I look and feel as I'm getting smaller and smaller.  I plan to try to maintain between 84-89 kilos or 185-195 pounds when/if I actually do decide to lose that much.  So I'm almost 1/2 way to that point.  Just need to keep focused and not lose sight of the goal.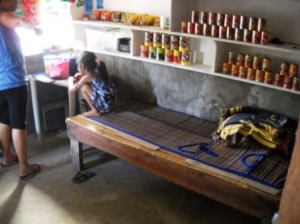 We still plan to go to Tacloban next Sunday.  Ramil was volunteering to go with us, but I don't think that will be necessary.  Just Lita, J, and I should be good enough.  The round trip cost for the van service will be a total of P1200 for just us, plus maybe a taxi fee or two (maybe another P300-P400).  I'm sure that while we are at Robinson Mall we will eat at either KFC or Shakey's.  The last 2 times we ate at KFC, so this time will probably be Shakey's.
While in Tacloban I will look for a new pair of shoes for the gym.  I hope I can find a new pair, but if not then I will return to the thrift store here in Calbayog to see if they still have that used pair for P900.  I still think P900 is too much for used shoes (but they were not damaged).  IF they will still sell them for P900, I will get them.  Remember the original price was P1800, but they 'supposedly' were having a 50% off sale the day I was there.  If I didn't need the shoes so bad to workout, I would not get them.  When we go to Korea, I will go to the BX on Osan AB and buy myself a new pair there.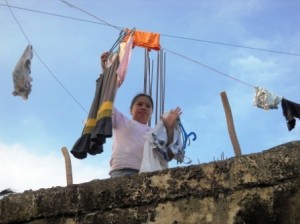 I still haven't heard from y'all about the submission that was submitted by Winda.  Can y'all see it anywhere?  Next time I am downtown, and I remember, I will stop by an Internet cafe and log in under one of my other user-ids to check to see actually what y'all see.  I know I keep saying I'm going to do that, and I have, but I didn't do it properly.  I used a different computer, but I signed in under my own user-id anyway.  DUH!!  You know what?  I'm going to post her submission now.  I think I can do it and give her the credit for it also.  If you see it on the blog, then you'll know I did it.  Maybe the way I did it is how it's suppose to be done, I'm not sure.  But if necessary I will post all the submissions the same way.  If you have one, submit it.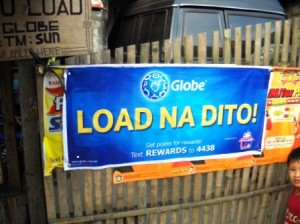 30 Jan –This morning I was up a bit earlier than yesterday.  I went to bed about an hour earlier and got up about an hour earlier.  I was up at 0917 today.  I didn't do much early.  When I went outside, Lita was talking to Titing.  Titing decided to ask me to arm wrestle.  I first I told me no, but he insisted so I pulled up a stool and assumed the position.  I told him to go and even now I'm not sure if he ever really did go.  I mean he's the one that insisted on doing it, but I never really felt much pressure on the arm.  If he was going, then he needs to get to the gym worse than I do, muscle wise.  I'm a terrible arm wrestler, always have been.
After all that excitement (not really), I decided to finish off the stew that Lita made for me a couple of days ago.  When she made it she put 3 of the little chili peppers in it.  She diced them up, but when I got a hold of one of the pieces it was pretty hot.  Not too hot to eat though.  I guess it was just one certain part of one pepper because that was the only time that it even felt hot.  It was very warm, but I didn't get another 'hot' bit after that one.
Lita had to silence some screaming children today so she could rest.  That high pitched voice of hers had them scattering in all directions.
I need a haircut again.  Some time this week, I'll take care of that, probably.
Precious is in potty training mode.  Today I got to see her make the attempt twice, both times it was funny.  Both these time happen outside by the BBQ area.  The first time she was wearing pants, but nothing under.  When she had to pee, she remembered to get the pants down to her ankles, but when she squatted to pee, she peed all over the pants anyway.  Cathy changed her into a little red dress, no diaper, no panties.  She was playing in the back of her daddy's multi-cab and said she had to go pee.  I told her to get out of the truck and lets go.  She started to climb down, but then climbed back up.  She was holding her hand there, I guess so the pee would not come out.  Of course I'll she was holding, the pee just ran through her hand and dripped all over the floor of the multi-cab.  I got a picture of the floor of the multi-cab and the pee spots.  Maybe she'll have better control of it tomorrow.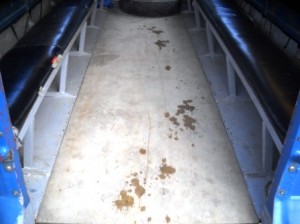 I got a pretty decent picture of Jazel today (I just figured out I've been spelling her name wrong).  She even broke down a little and let me take a couple, but Precious wanted her Yaya and interrupted so they didn't come out well.  I tried to get more, but she got camera shy on me again.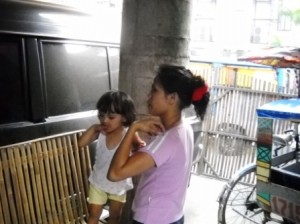 Tagalog Word of the Day: Yaya (yah-yah) means Nanny (actually Governess)
I have a hit update.  From 0215 the morning of the 30th until 0215 the morning of the 31st, our hits went from 104257 to 105432.  So that is 1175 hits in a 24 hour period.  That is less than 1 hit per minute.  I might be a little greedy, but it's only because I have seen Personal blogs such as mine, getting like 10,000 hits per day.  That would be about 7 hits per minute to achieve that.  I sure hope that this blog gets to that status some day in the not so far future.
Useless Knowledge: The hair of an adult man or woman can stretch 25 percent of its length without breaking. If it is less elastic, it is not healthy.  (I wonder how many people will read this and pull out some hair to test it?)
Salamat, Paalam
The Nakpils lived in this old Nakpil-Bautista house
1865 – Francisco Nakpil y Garcia, future Filipino reformist and brother of future revolutionary, musician and composer Julio, is born during the Spanish colonial period; Francisco will become an expert silversmith like all of his three brothers and in 1863, will join the reorganized La Liga Filipina, a bolder reformist civic society aiming to unite the archipelago in one strong body for the mutual protection of Filipinos; despite the dissolution of the La Liga in the same year with the formation of the more radical Kagalanggalangang Katipunan nang  manga Anak nang  Bayan (KKK) by the group of Andres Bonifacio, Julio's friend, Francisco will instead help form the more less radical faction, the Cuerpo de Compromisarios, that will continue supporting the Propaganda Movement in Spain; with the discovery of the Katipunan in 1896 and the outbreak of the Philippine Revolution, Francisco will be arrested by the Spaniards and incarcerated at the barracks to the Veteran Guards; a consistent conservative, Francisco Nakpil will become an early collaborator of the imperialist Americans, becoming a member of the arrangement committee organized by Pedro Paterno in July 1900 even as the bloody and protracted Philippine-American War (1899-1914) will continue to rage.
1897 – Prominent Filipino deportees in Hong Kong, Jose Ma. Basa, A.G. Medina, and Doroteo Cortes, prepare a manifesto exposing the grievances of the Filipinos against the Spanish colonial government, and submit petitions for the armed intercession of Germany, United States, United Kingdom, and France; led by Cortes, the group and other Filipino exiles have supposedly been acting on behalf of the nationalist Kagalanggalangang Katipunan nang  manga Anak nang  Bayan (KKK) movement in the Philippines, soliciting funds mostly used to negotiate with Japan for political, military and financial assistance in anticipation of the outbreak of Revolution against Spain; as revealed by colonial Spanish investigations, "The plan was that while Andres Bonifacio [Katipunan Supremo] was busy recruiting people for the general uprising, Doroteo Cortes should carry on the necessary negotiations with Japan."
Katipunan membership rites of blood Compact
1894 – Andres Bonifacio  y de Castro, co-founder  and officer of the underground society  aiming to liberate the Philippines  from Spanish colonial yoke, the Kagalanggalangang Katipunan nang  manga Anak nang  Bayan (KKK), declares that the  organization's administrative judges should strictly adhere to and  implement regulations in the bid to  enlarge KKK membership; with  increasing Katipunan membership, Bonifacio  has thought of classifying the members  into the three grades of Katipun,  Kawal, and Bayani; the passwords for the initiation rites would be "Anak ng Bayan," "Gomburza," and "Rizal"; in 1896, the Katipunan would be officially discovered by Spanish colonial authorities and by August, Bonifacio, then the Supremo of the Katipunan, would launch the Philippine Revolution.