[smartads] Well this part will be the information that WAS on the last post, but for some still unknown reason was cut off.  I still have not figured out the link problem either, but I'm hoping for a miracle and it will automatically start working or something.  I had this problem before, but figured out how to get around it, but even that is not working now.  Oh well, on with the post.
I had chicken adobo to eat last night.  I sure love that stuff.  I'm not sure what I will be eating tonight, but I'm sure it will be something.
I took a picture of a guy walking by carrying an entertainment center shelf.  He was followed closely by a guy carrying a futon mattress.  They walk around with these things trying to sell them.  I have no use or room for the entertainment center shelf, but the futon I could use.  It would probably be cheaper to buy it downtown though.
Ado sets up a rat trap to capture live rats and then he gets rid of them.  I'm not sure how he gets rid of them, he probably kills them, but I'm not sure.  He just passed by as I was writing and he had one in his little trap.  He has to get them out of here, he has 4 children, 2 of them are just babies.  He use to have a bunch under his house, but he poisoned them and now there are only a few, but you know how they can multiply quickly if not controlled.
Brown Out!  (12:40).   It only lasted about 5 minutes though and the power came back on full speed, not any of that half rate stuff.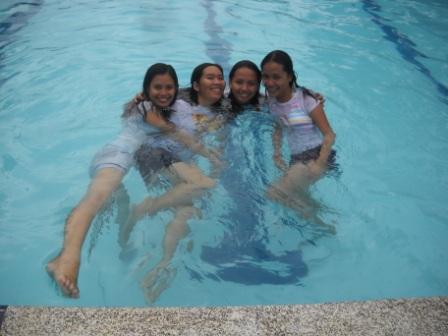 There are a lot of PNP (Philippine National Police) at the Ciriaco.  I see that the conference room door is now open and a lot of guys in Barong Tagalogs (http://en.wikipedia.org/wiki/Barong_Tagalog) are walking out.  I suppose there was some type of conference going on there, but no one said anything.  Of course they don't have to check with us before they have a conference, but some of the time we hear about things that are going to happen there either by the advertisements that are put up at the Ciriaco or by word of mouth from the employees that eat here.
Lita came out here about 2:30pm and i went inside until 5:00pm.  Before I started my next shift in LolyKat, I went to the other sari-sari store and bought a package of spaghetti.  I bought the Royal brand spaghetti (http://knorr.com/Home.aspx) because I only have 2 choices at the little sari-sari store and I don't really like the other brand, it gets too soggy.  While I was standing at the window waiting for them to see what I wanted, a group of girls (about 10 years old) gathered around the window also.  As I was leaving, one of them touched my arm and they all started giggling.  Girls.  I just gave them a silly look and headed towards the house.
I figured that Lita would let me sit out at the store until about 6:30pm, then let me cook my spaghetti then.  I was wrong.  It is now 5:55pm and the spaghetti is already cooked and eaten.  Well most of it is already eaten.  I feel stuffed again.  I need to make an attempt to cut down on the starches I consume here.  It's my main intake (potatoes, bread, pasta and rice) and all that starch turns to sugar in an inactive body.  Have I mentioned I need to be more active?  Oh I know I have, I'm just being a smarty.
There is a guy that works around here somewhere that must really like the food we have here.  He has come by twice in the last couple of weeks, after we have already closed.  There are still other places open, but he prefers to spend his money here to eat, even though Lita charges me just a little bit more for the inconvenience of having to get it out of the house after it has already been put away.
I think after we return from Cebu in February, that will be when we start selling the BBQ here again.  Lita wants to start again and several people, especially employees from the Ciriaco, have been asking about it.  They say it costs too much for them to eat at the hotel when the can get better food at a less price here.
Tomorrow I will probably be getting that 1 gig memory card.  If it is compatible, I will get it.  As of this writing, I have not told Lita yet, but for this I will not take "No" for an answer.  I have been waiting, very impatiently, but waiting, for us to get more steady on our financial feet here before I bought things for this computer.  Things like this though can not wait.  If I can't use the computer, then it's useless to me and to us.  I've been waiting on my printer, speakers, new DVD (or repair the one I have) and I seriously need an upgrade to this thing.
I added a new link to "Other Expat Sites".  It is called "Living Paradise".  Man it's driving me crazy … does anyone know if there is a way to fix this link thing?  I just want to be able to copy/paste the link here so y'all can just click on it and go to the site.  It was working, but I can't seem to make it do it anymore.  It worked with IE, but I ain't doing that again, too many other problems in just the 2 days I had it on there.
Okay that's the end of what got somehow deleted from the last post.  As you can see, it was quite a bit.  Almost enough for a post of it's own.
Well it's Thursday morning now (Dec 15) and it's somewhere between 0930 and 1000 now.  I am in LolyKat thinking.  My thinking is a continuation of what I was thinking about before I got up this morning.  It's how I can make money on this blog.  I swear I have racked my brain trying to figure out what I am doing wrong.  I get lots of traffic, but it's not translating to dollars or pesos.  I don't want to dwell on this again, but be prepared to maybe see a few changes on the website again.  I don't know what yet, maybe nothing, but I need to do something to get a continuous income from this site.
This is another attempt to find out if people are actually reading these posts.  If you read this please let me know via the comment section that you did.  If people are not reading these long things, then I'm wasting time by doing them.  I can do 3-5 shorter posts and then people would have a choice of what to read.  It might not be as inclusive, but it would compacted, you know quick and easy.  I don't really know what I'm going to do, just thinking for now.
I just found out that there is a 3rd guy in the neighborhood that needs a wrench to tighten a few bolts in his head.  He came by the store looking for some Tanduay and he talked up a storm about something.  I have no idea what it was because it was all either in Tagalog or Waray-Waray, I wouldn't know the difference.  He seemed to of had a bottle of the Tanduay already earlier in the day.
I need to go downtown soon to get the money for the memory card and battery.  Those will cost P1200, but I think I will get all I can out, which is about P1800.  I'm sure that Lita will be able to figure out what to do with the extra P400 (I'm going to keep P200 for myself).
Someone put coffee in a jar that Lita had some Thailand hot pepper powder in.  It's the same color, so I guess they figured it was coffee.  Lita sure got a surprise when she made her coffee.
Okay, so I went downtown to get the money for the memory card.  As I arrived at the bank, Coco and the guy selling the memory card (JimBoy) showed up right behind me.  Just as soon as I got out of the tricycle, they were there.  They came by the house just a minute or so after I left to make sure the memory card was compatible with my computer before I bought it.  As I was looking for a tricycle to come back home (after getting the money) and with Coco helping me look, it started pouring down rain.  I sought shelter in a pool hall.  I was wishing I remembered the camera again.  We are suppose to be getting the tricycle back next month (at least the last I heard), but when we do I will use that to get around.  I will take pictures of things that I always want to in the area.  Anyway, it slowed down a little on the rain and I finally got a tricycle to drop me off at the Ciriaco and I walked across the street.  It took Coco and JimBoy a long time to get there.  I guess they were waiting for it to completely stop raining.  When the arrived though, things really got interesting.  I didn't expect what happen, but I'm glad it did.  Well I was glad at first, then I was mad, but I'm coming around again.
I'm going to continue with that tomorrow though, because I'm tired of typing and my butt hurts from having to sit on this stool.  I hope to get my chair fixed or replaced soon.
Salamat, Paalam
 Filipino Interesting Facts and History
Filipinos had their first taste of Mexican chili and corn during the Manila-Acapulco galleon trade (1564-1815). In return, Mexico's people had their initial taste of tamarind, Manila mango and a Filipino banana called racatan or lakatan.
Founded in 1595 by Spaniards, the University of San Carlos in Cebu City, Philippines is older than Harvard and is the oldest university in Asia. University of Santo Tomas in Manila,established in 1611, is Asia's second oldest.
Who's the Filipina senator popular for her colorful jargon, delivered in a mile-a-minute speed and in a weird Harvard-meets-Ilonggo accent? Atty. Miriam Defensor-Santiago.
The first female president of the Philippines sworn into 0ffice in 1986 was Corazon Cojuangco Aquino.
In a March 31, 1997 article, The New York Times reported that the CIA manipulated Philippine elections: "(CIA operative Col. Edward Lansdale) essentially ran the successful presidential campaign of Defense Minister Ramon Magsaysay in the Philippines in 1953."
Who was the first Asian and/or Filipino to snatch America's Pulitzer Prize? Philippines Herald war journalist Carlos P. Romulo in 1941. (He was also the first Asian to become UN President.)
The first two Filipino-Americans to garner the same award 56 years later were Seattle Times' Alex Tizon and Byron Acohido, ! who is part-Korean.
Filipino writer Jose Rizal could read and write at age 2, and grew up to speak more than 20 languages, including Latin, Greek, German, French and Chinese. What were his last words? "Consummatumsst!"("It is done!")
"What's still most impressive to me about the Philippines is the friendliness of the people, their sense of humor…," wrote Honolulu journalist John Griffin in a 1998 visit to Manila.