[smartads] Well I still have not confirmed for myself that the shuttle at the Ciriaco is for guests only.  It still makes sense if it does, but it doesn't actually say that anywhere that I have looked and I think it should.  See the Saturday-14 Jan 2012 post for more information.
It is now 10:00 and I just sold my first P2 worth of stuff here in LolyKat.  Of course I've only been here about 5 minutes.  Only P999,998 more to go before I reach my unattainable goal for today.  My goal everyday is 1 million pesos.  I don't expect to reach that goal, ever, but I'm going to keep it.
I was only on the computer for a short time this morning, but I did get some pictures from Rick Smith's Facebook account.  They are pictures of  an artificial waterfalls they are building downtown in Nijaga Park.  I have already posted those 5 pictures to the Calbayog Corner website is you want to view them.
There was a problem with the power in LolyKat this morning.  There was no power, so that's a problem.  The way they have it wired out there, I'm surprised that it doesn't go out more  though.  Instead of having regular outlets, they have everything working off extension cords plug in to light socket fixture extensions.  It's a big mess.  I be suggesting strongly to Titing that when the bakery is built, to have it's on outlets and get rid of this silly system.  It seems that one of the fixtures had a small problem that was easily fixed.  All is well at this time as far as electricity goes.
Guess what I had for breakfast?  Go on, guess.  If you guessed cucumber and tomato sandwiches, you're wrong.  Fried potatoes?  Wrong again.  It was something that I don't normally have for breakfast.  It was fried rice.  Guess what I had to drink?  Oh, you got that one first try.
It's raining again.  I sure wish I would have been keeping count on the number of rain days in a row.  I'm pretty sure we are over the record of 19 days in a row.  I guess the longer you are here, the more that things just become routine and you don't think about them.  That's one of the reasons that I need to get out of here from time to time, to see something completely different.
Ado just showed up with 16 bunches of bananas.  The whole bag of them only cost P200 ($5).  They are the ones that Vicky will use to make the desserts later.  Maybe someone will buy a few of them before that.  If there are any left over after she is done, maybe they will buy those.  I have been informed that I am to sell the bananas for P1.5 for each banana.  So a bunch of bananas with 15 bananas in it would be P22.5.  I probably wouldn't worry about the .5 either, but I'll take it, if offered.  I wasn't going to stand up and go count the bananas to see what kind of profit we would make if we sold them all, but I couldn't stop myself from doing it.  There are 244 bananas.  So 244 x 1.5 = 366.  A profit of P166 if we sold them all.  That's good, but most of them will be used for the desserts.  Of course a small profit will be made from them also.  The desserts sell pretty good.  Even I like them and if you've been following this post for even a short amount of time, you should know that I am a picky eater.
Pet Peeve:  I do not like handling the old peso bills.  It must be the type of paper they use to make them.  It just feels weird and I try not to handle them.
I tried one of the chocolate flavored Krim Sticks and it was very good.  A lot of the chocolate here just tastes weird, but this one was pretty good.  I'll have to be sure to tell the kids that buy these things that we now have 3 flavors:  Chocolate, Milk and Ube (I like them all actually).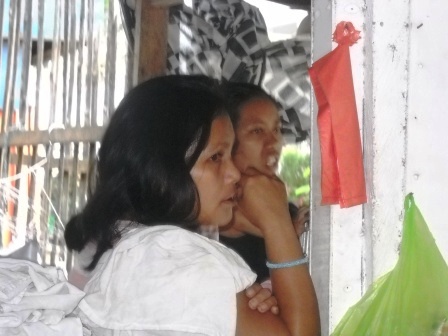 I told Jay about the free shuttle service at the Ciriaco and that's when he went over there to find out that, according to the Security Guard, is for guests only.  As I said before, I'm going to verify that for myself, but it's probably true.   Today is the first day of the service so I'm waiting to see what type of vehicle shows up.  It's 12:30 now and according to their schedule the next departure from the hotel will be at 1:00pm.  I also want to see if any passengers get on or off.  It's the first day and it's Sunday, so I'm not really expecting much.
Okay, 10 minutes later now.  The shuttle showed up.  At least I guess it is, nothing else showed up.  It's an enclosed van with a/c.  Here's a couple of pictures of it.  No one got out and no one got on.  As I said, 1st day.  It will take time.
Well for some reason or another, I didn't write down anything else for the rest of the day.  Let me think of something now, from last night.
Nothing's coming to mind, so it must not have been too interesting yesterday afternoon and evening.
We do have Champion short cigarettes now.  People ask for those on occasion.  Actually they are the least expensive cigarettes we get.  I hope they sell well once people know we know have them.
Salamat, Paalam
Answers to 14 Jan Quiz in Green.
Filipino:  Boracay.  Boracay is an island of the Philippines located approximately 315 km (196 mi) south of Manila and 2 km off the northwest tip of Panay Island in the Western Visayas region of the Philippines. Boracay Island and its beaches have received awards numerous times.  Boracay was originally home to the Ati tribe. Boracay is part of Aklan Province, which became an independent province on April 25, 1956.
Texas:  Gonzales.  Gonzales contributed thirty-two men from the Gonzales Ranging Company to the ill-fated defense of the Alamo. It was to Gonzales that Susanna Dickinson, widow of one of the Alamo defenders, and Joe, the slave of William B. Travis, fled with news of the Alamo massacre. General Sam Houston was there organizing the Texas army and anticipated the town would be the next target of General Antonio López de Santa Anna and the Mexican army. He had the town burned and ordered a retreat, thus precipitating the Runaway Scrape.
New Quiz Questions.
Filipino :  What city is the largest in the Philippines in terms of total land area?
Texas : What is the name of a woman that survived the Alamo, though her husband was killed?
Answers Tomorrow
Useless Knowledge:  Julia Child worked as an advertising copywriter for a furniture store before she became the "queen of cuisine" and darling of TV's PBS.
More Useless Knowledge:  Before all-porcelain teeth were perfected in the mid nineteenth century, dentures were commonly made with teeth pulled from the mouths of dead soldiers following a battle. Teeth extracted from the cadavers of U.S. Civil War soldiers were shipped to English dentists by the barrel.  UJ says:  I had to add a second Useless Knowledge today because … ewww!  that's nasty.