[smartads] I found a picture of one of the rooms at the new Ciriaco Hotel and Resort.  It is at this link:
http://www.flickr.com/photos/bryansalazar/4928516918/in/photostream/
First thing I need to do for this post is to finish the things from Thursday (the 2nd) that I didn't have room for on yesterday's post.  I will then see if I have enough space to get y'all up to date of everything that is going on.  Things have not been that exciting the last 2 days, but yesterday had it's share of things to talk about.  Today was pretty boring.  Okay let's go back to Thursday now.
The President (at least that is what Lita called him) of the Ciriaco Hotel was here on Thursday.  He was outside eating snacks with some of the other officers that work at the hotel.  I didn't talk to him, but Lita did.  So did Vicky and Lynn.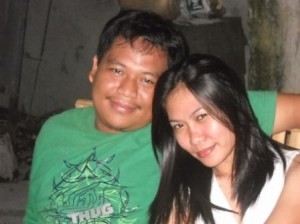 For me, I had one of the cans of beef stew that Ramil purchased for me in Cebu.  I was hoping that this beef stew so just super fantastic for the price that I had to pay for it.  It was P176 (about $4) per can.  Well I must admit it did taste pretty good, especially since I had it with rice, but not sure it was worth that much.  But I'm sure if I see it again and there is no other choice, I'd probably get 2 or 3 more cans of it.  If there is another, less expensive choice, I'd probably still get 1 and a couple of the less expensive ones.
There was a guy that came by today to collect money for the cable.  This was before I went downtown to pay the Internet and I was thinking that the Internet and cable should be paid together.  Then I remembered that that was when we were in Texas.  Here they are separate.  For 1 month, or cable bill was P360 ($8.30).  That's pretty good for the number of channels we get, about 50.  That is including HBO, Cinemax, Disney and 2 or 3 other movies channels.  In Texas that price would have been at least triple that.
Okay now for the news that I really, really wanted to tell you.  Now this has nothing to do with the fact that the President of the Ciriaco was here, but I finally got to take 'some' pictures of the inside of the hotel.  I didn't get a tour of the hotel, but I did get inside.  Let me tell you the little story about how that came about.
On Thursday night Mar, Ludy, Marlou and Marianne showed up here.  While we were out there talking, the subject came up about the restaurant over at the hotel.  Evidently Mar was thinking about buying something other there so he could look at the menu.  I told them to go check to see if they had a to go menu.  Well they just kept talking about it, but I decided to get my camera and head on over there.  As I was going, Marlou said he was going with me.  So we went over there, talked to Security, and he didn't have a problem with us going in there.  We might have wanted to buy something.  So we walked in and headed for the restaurant and I started taking pictures.  The waitress showed us the menu, and I must say I was a little disappointed.  It did look like it had some good things to eat on there, but for a hotel that will be charging so much to stay there, I figured it'd be a classy menu, it's not.  It has mostly fast food items on it.  I'm talking pizza, hot dogs, buffalo wings, hamburgers, club sandwich, pancit (several kinds) and some other Filipino food, but nothing fancy.  I even took a picture of the menu the best I could and I will be posting that now.


I did get several other pictures and I will be posting all of them here today.  I think I got just enough pictures for a normal post.  When we got back from the hotel, I looked at the pictures of the menu on the computer and I noticed that they had at least 10 different errors on their menu.  I'm wondering if I should bring it to their attention or just let it go.  I think that when foreigners show up, they expect the menu to have errors on it, because of the difference in sentence structure.  I mean most languages, including Tagalog, put the verb of a sentence at the end.  In English we usually put it in the middle.  That causes a lot of translation problems.  The biggest problem that I saw on the menu was, well you take a look at it and see if you see it.  I hope you can make it big enough to read.  I will tell you that for the biggest error, it is on page 1 of the menu.  If no one looks or does look and doesn't find it, then don't worry, I'll point it out to y'all during my next post.
Let's move on to Friday, 3 Dec.  I was up at 0743 even though I didn't go to bed until a little past 3am.  No clue why I got up so early, but I did end up taking a 3 1/2 nap on Friday.  Lita went to the market also on Friday.  She left at 0940 and returned at 1050.  On this lovely Friday morning I made banana pancakes again.  This time I had to use a different type of pancake mix, because they ran out of the one we normally use.  This one is called Maya pancake mix.  It comes in a small box, but I was able to get 4 large pancakes out of it.  They were so big that I could only eat 2 of them.  These pancakes were pretty good, but we have to use egg in this mix, and we don't in the other one.  Whatever…they are both pretty good.  Lita ate 1/2 of one of the other pancakes, Vicky and Lynn ate the remaining 1 1/2 pancakes.

Tagalog Word of the Day:  bulan ( boo-lon) means moon.  My dictionary says it is Tagalog.  Lita says she thinks it's Visayan.  I'm going with Tagalog until someone doesn't know what the heck I'm saying.
Lita mentioned to me another reason that us going to Texas this coming May is a good idea.  When we left last May, we received our annual physicals.  So we will be on schedule to get our physicals when it is May again.  Works out nicely.  That plus the fact that we can get most of our medication on a military installation for free, then it is definitely a good thing to take care of.  A couple of our newer medications they don't have on a military base though, so we'd still have to get those at like Wal-Mart.  At least that's where we were getting them when we were there.  Wayne mentioned to me that we can get a lot of medication here with a doctor's prescription, so a couple of the things that we have run out of, I'm going to see if we can get those filled when I go to Mercury Drug on Monday or Tuesday.
As for my TRICARE, well they have been taking the price of the insurance directly out of my retirement check, and this month I noticed an increase in my check.  There is no other reason that I know of for there to be an increase in December.  I'm assuming that our insurance has finally been officially changed from TRICARE Prime to TRICARE Standard.  Now I'm wondering how that will affect our co-pay for our doctor's visit and our medications we still need to pay for,  back in Texas.  Co-pay probably went from $20 to $30 or maybe even $50.  Guess I'll find out when we show up at the doctors office.
It looks like I will be able to get y'all caught up all the way to right at this point in our life.  This post may be a little long, but not as long as yesterday, that's for sure.


This morning, since I yet again didn't go to bed until 3am, I was up at 0841.  Today I did not take a nap though.  That could have been a mistake, because I'm fading off now.  I should be okay for the next hour or 2 though.  It's 10:21pm and I'm sure that I'll be in bed within the next couple of hours.
The most important thing that happen to me, happen early.  Right after I got up, I went t the CR, then it was time to weigh myself.  Yep, it's Saturday.  It sure got here fast this week.  As normal I was nervous about getting on the scale.  As a reminder, last week and the week before I weighed exactly the same thing: 131.1 kilos (288 1/2lbs).  Today the numbers on the scale read 128.0 kilos (281 1/2 lbs).  Now that was a good week.  That's my 2nd lowest weight in the last 5 years, at least.  The lowest weight I can remember in those 5 years is 279. (something), I'll just go with exactly 279 lbs.  That was when I was going to the gym 3 or 4 times a week in Texas.  I wasn't eating less then either.  If I'd just get over to the gym here and work out the same as in Texas, then I bet I'd see significant loss.  If I could do that every week, by the time I see Jaclyn and even go back to Texas, I'll be at my goal weight of around85 kilos.  Anyone else notice that I change my goal weight around?  I guess I do that because I'm not sure how much I want to weigh.  Like I know I've said before, probably a couple of times, I want to get down to a weight that I feel comfortable with.  But I'd also like to see that "1", instead of a "2", on the scale when I get on.  The 85 kilos is about 187 lbs, so that may be a bit much, but 90 kilos is definitely a realistic goal.  I'll just have to do it a little bit at a time.
You may or may not have noticed that I changed the blog around a little bit, besides the theme change I mean.  I deleted some of the links and added on about youngsters view of the Philippines.  I also added another expat site called Lizard Poop.  No idea where he got that name from, but it's a pretty decent site.  I'm still open to ideas of things to put on here if someone knows of something they want to share, or if you want me to find something out for you and the post it on here.


I guess those rumors for a brownout on Saturday morning were false, again.  No brownout at all today, so far.  Only 55 more minutes left in 4 Dec 2010, at least here there are.
I got a pedicure today.  It's still the same lady, Ado's sister, that does them for all of us.  She only charges P30 each for a pedicure or manicure.  I never did find out how much one of those costs in the US, anybody have any idea?  I never had a pedicure until I got here, so that's why I don't know.
Lita bought a 6 liter bottle of water at JustMar, so I made kool-aid lemonade today.  I did just like last time, I mixed it in the large bottle then I poured it all into smaller bottles to put in the refrigerator.  I gave one bottle to Precious to see if she likes it.  She didn't like it last time, but I was limited on the amount of sugar I could use in the last one.  This time I used 1/2 kilo for the 6 liters.  It tasted just about right.  Turns out that Precious does like it, but Crystal doesn't.  I didn't hear about Khan.  The rest of mga bata were not around, so they didn't get to try it yet.
We have an American outside talking with Lita and Anna Pearl right now.  He is from Florida.  He is an avid visitor of the Philippines.  He is staying at the Ciriaco Hotel, I think he said for 3 days.  Seems like a nice enough fellow.  He asked for my blog address and he said he will be looking it up.  His actual job I didn't really understand, but it has something to do with the placement of the websites on the Internet when you do a search.  He said he would tell me some pointers on how to get my site more searchable.
Well that's it for today's post.  You are all up-to-date with what's been happening, unless I forgot something.  If I did, I'll write it down and let you know in the next post.  I guess I have left to do now is to insert the pictures I got from the Ciriaco Hotel and close this up.  Hope it was a good read for you today.  Please let me know if it was or wasn't and be sure to leave comments.
Salamat, Paalam
Useless Knowledge:  Why isn't the Chevy Nova sold in South America?  Because 'No va", in Spanish, means "it doesn't go" or "no go"!