[smartads] At the end of the last post I was letting y'all know which chicken meat I like the best, white or dark.  Yeah, I know, not very interesting there, but the rest of the post turned out pretty good and I hope you got a chance to read it.  As for this new post, let's get it going ….
It's the last day of 2011.  This will be our first entire year that we have been in the Philippines.  There are definitely been a lot of ups and downs by living here.  At times it seems the downs outweigh the ups, but in the long run, that isn't so.  No matter what you think or how prepared you think you are, I'm really starting to believe the old timers here when they say it takes about 5 years to get fully accustomed to living in the Philippines.  I thought I had all my ducks in a row, but I was wrong.  I'm resetting ducks now and hope I can set them up right this time.  In case you missed it, if you are thinking about moving to the Philippines, this is a MUST READ  article.  No fancy crap, this article is right to the poop, read it and heed it.  It may help you in so many ways.  I wish I would have seen an article like that one before we moved here.  We fell into this trap, that is why we're digging out now.
Lita and I will be going to the dreaded JustMar later.  I hope they have the regular Kraft cheese today.  They rarely do, but I haven't been able to find it at any other place here, at all.  If it's not there, I will just get a smaller box of the Eden filled cheese.  It's okay, but I prefer the original far more.  I might as well get a couple of boxes of pancake mix while I'm there too.  I'm telling you, 2012 is going to be a better year for us here.  I'm going to start it by having my pancakes 2-4 times per week like I use to.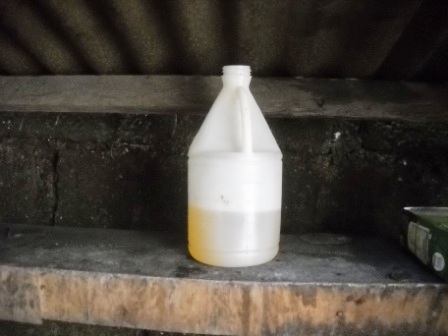 Even Lita was telling me this morning that she wants to start having more decent food.  She can easily survive on the cheaper food here, but she also would like to have a T-Bone steak and a salad bar.  We eat the rice here, but we both prefer the high grade Jasmine rice.  The price for it keeps us from buying it right now.  That will change starting in February.  We will be buying that rice for us and maybe when we have parties to share with all.
I started a new notebook today and actually this is the first sentence I wrote in that new notebook.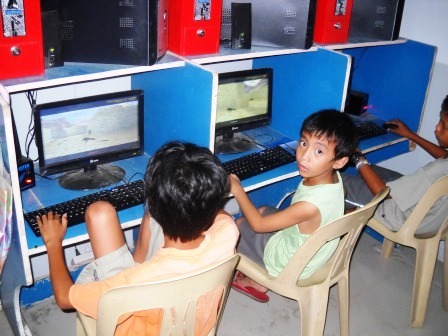 Our electric bill just arrived and it was only P3677 ($86).  I thought it was a mistake so I double checked the name.  Nope, it's right.  Of course the actual electrical use was only P1578 ($37), then they added on all the surcharges, taxes and other shi-stuff to more than double the bill.  But I ain't complaining.  Mostly because it does no good to complain until we get a second electric company around here.  With only 1 company it's take or or leave it.  Well we're going to 'take it' for now.
I hear another pig squealing in the back and —- never mind, it stopped squealing now.  I doubt that I will be hearing that pig squeal anymore.
Another blind singing person has arrived at the window.  They always show up with a little one to collect money for them.  I hate to not give them anything, but if you give them too much, then soon you are overwhelmed with blind people and/or other handicapped people.  I usually only give them P5 or so, because I'm not exactly rolling in dough either, not that most people here would believe it.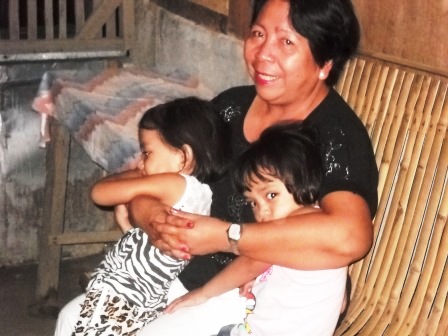 A guy came by to buy a Mountain Dew, but all he had was a P500 note and I didn't have change.  I had to turn him away.  I've never done that before.  Even if I would of had change, it would have bled me almost dry.  Some people just do it to get change.  I've had people buy things for P1 and hand me a P200 note, but I've always managed to find the change for them, until now.
At 11:50 brown out.  Good time to go downtown.  We're going to close the store while we are gone.  The electric came back on only after about 5 minutes, but we went downtown anyway.  We got the money, paid a couple of bills, bought fruit and went to JustMar.  That place just seems to get worse, especially in the area of customer service.  When you go there to get cigarettes, you have to order them by the carton and someone will go into the back to get them for you.  We ordered 4 cartons, 1 for each brand we wanted.  When they brought them out, they only had 3 cartons.  We waited for them to bring the 4th, but they didn't.  Lita asked them again, and they said that we already had all 4 cartons.  I was already outside waiting by the tricycle because I got tired of waiting in the store.  Lita stayed behind to wait.  Pretty soon someone from the store came out, looked in the bag I was carrying, looked at our receipt and finally went to get the missing carton.  We waited about 15 minutes, but when they finally did go to get them, it only took about 15 seconds to get them.  I will not be sorry when they end up closing down because of the new Hypermarket being built.
It was crowded in the store, but not as crowded as it was in the wet market.  I got into that mess and all I wanted to do after that was get out of there.  All those pint sized people cutting in front of me, it was all I could do to keep from knocking them over.  I could have walked in there and walked straight to where I wanted to go, if I just pushed everyone out of the way to do it, but I'm not made that way.  I should start a travel blog and make that my first entry because I was tripping in there.
We've sold a lot of ice today.  We've sold over P200 worth and we only sell it for P2 each.  It's like someone is planning a party of something tonight.  Let's see 31 Dec, I think there might be a party or two tonight.  We've only got about 25 of them left.  We've got more water chilling, but I don't think it will be frozen for a few more hours yet.
Arnel sat in LolyKat with me so he could drink some Tanduay.  He wanted me to show him how to play Cribbage.  I showed him.  He was doing pretty well too.  He got to where he could count the points pretty decent and decided he wanted to try a hard hand.  I hand picked a hand for him and told him that him that if he got the right answer on the first guess, I would let him have the 5 Marlboro cigarettes he just bought, for free, a P10 value.  He ended up having to pay.  He missed the amount by 3 points.  He said he was ready and he did get a pretty hard one right before that.  He still remembered the next day what the correct total was for that hand though, so I guess he wasn't that drunk.
This is why the pig quit squealing.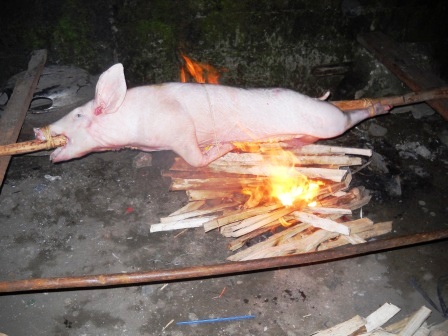 You'd think he'd be squealing more now, but thanks to this guy, it isn't.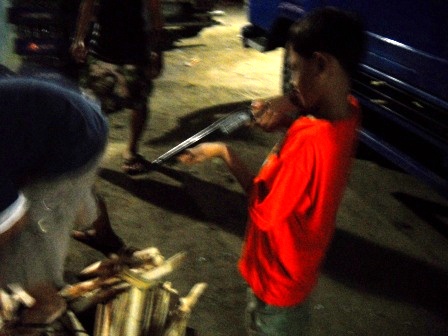 I slept for awhile after we closed the store at 7:00pm.  After I got up I played some Text Twist on the computer and checked the blogs.  About 10:30pm I decided it was time to make the punch.  I was making one large container for both adults and kids, but I put some in a smaller container for the kids before I added a couple of bottles of vodka to the punch.  Lita's calls it the Pacquaio Punch.
After I completed that I let it set on the table while I took a shower, shaved and brushed my teeth.  I wanted to be nice and fresh for the New Year.  I've got some Listerine now, so it's easier.
At 11:30pm I brought the punch to the table on the patio and placed it next to all the other things to eat and drink.  After a lot of deafening fireworks it finally made it to the New Year, Lita's birthday and time to eat.
See y'all next year.
Salamat, Paalam
Useless Knowledge:  Coyotes  are extremely loyal to their mates. If one is caught in a trap, the other will bring small game for it to eat; it will soak itself in a river to allow its thirsty mate to chew on its damp fur for water. It has been documented that the free coyote will stay with its captive partner until death.