[smartads] Today, since this post is late, I'm just going to find random pictures on my computer to post.  I'll try to get ones that have not been posted yet, or ones that have not been posted for a long time.  Don't forget to click on the pictures to get a larger picture and more detail about the picture.
Useless Knowledge: Lucille Ball, from I Love Lucy, was tossed out of drama school in New York when she was only 15 years old.The reason? Her instructors claimed that the future madcap comedienne was too quiet and shy.
1 Jul – Hits @ 0140 = 600333 which equals to 4509 hits in five minutes less than 24 hours.
There's not much happening today, but that doesn't mean I don't have anything to say.  I'm going to discuss some of the searches people have been doing and let y'all in on somethings that you can expect to see in future posts.  Please ignore the Harmful Site thing that F-Secure has marked for the Affiliates.  The sites are not harmful, at least none of the ones I listed because I've been to them all and nothing has happen to my computer.
Someone from Manila did a search for "safety procedures in driving in the Philippines".  No surprisingly, as far as I'm concerned, my website was the only one that came up and then only because of the one article that had the words "safety" and "drive" in it.  Safety procedures for driving  in the Philippines are virtually non-existent.  They have over loaded vehicles, passing on the road anywhere (on bridges and no passing zones) and on the wrong side, people and animals all over the street, speeders, no real stops signs in most places, no head lights at night usually … you get the picture.  It's a mess.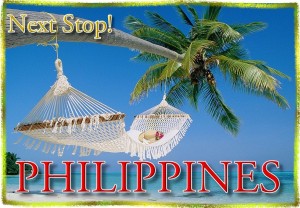 Useless Knowledge: It's difficult to drown an ant because water doesn't penetrate their minuscule breathing tube; they will suffer, however, from too much carbon dioxide, which knocks them out. It takes awhile, but they will eventually die.
I've decided to check the most viewed posts and do a follow up or continuing story on each one of the top 10.  I've already posted an additional story for the #1 viewed post on Germany announcing Hitler being dead.  I never figured that one would be the #1 viewed post, but it has been.  Maybe the follow-up story will be just as popular.  I don't want to do too many stories that are not Philippines related, so don't be expecting too many stories like this.  If this wasn't the #1 story, I would not have posted a follow up story at all.  The top 6 views after this one are all Philippines related.  You can expect to see updates or additional information on several others in the coming days and weeks.
Someone from Paranaque Rizal (Philippines) was looking for "American retirees living in the Philippines".  They got the Philippines Retire Story, but I hope they realized that …. oh this post is going to be late.  I really need to go to sleep.  I've been making a numerous amount of errors.  I'll continue tomorrow.
Okay maybe I should have changed the errors in the last paragraph, but that is how I type when I have had too much to drink and on top of that, falling asleep at the computer.  You can see the sentence started out okay, but by the time I got to the end of it, the "teh",  I was losing it.  So now you know why the post is late.  But I'll probably just do the normal one tonight and be all caught up again. I seriously do not even remember typing those last 3 sentences above.  After the word "late", it's all blank.
Alright, let's start this again.  Someone got the Philippines Retirement Story when they looked for American retirees in the Philippines.  I hope that who ever it was realized that on the front page of the website there are many links to expat websites.  It doesn't look like they explored much further than that, but maybe they came back in later, I hope so.
Lita has just informed me that if I'm going to make soup today, I need to do it early.  They will be using the propane around 1:00pm.  Later today we will be getting the new propane tank for the other stove, so this problem will be over with for awhile.
Lita and I did go downtown today.  I remembered the camera, but unfortunately when I remember it we were already a quarter of a mile down the road.  We went to the bank to get some money and the line was short, only 2 people in front of me and someone inside.  Okay, cool.  Not!   The person inside didn't take very long, but the next lady in line was slow, very slow.  Fay, our 3 year old here, could have been in and out of there faster.  I finally see her coming out, but she just has a question for the security guard and she went right back in.  Finally, after about a total of 15 minutes (no kidding), she comes out.  The next person gets up to go in and the security guard stops her and tells her that they have to refill the ATM.  Of course they don't have the ones like in the US, the ones that fill from the back.  They have to fill from the front.  The guard locked the access door and we waited.  We waited like another 10 minutes.  When the lady in front of us went she took another 10 minutes (just kidding)…she was pretty quick.  But still it took me about 1/2 an hour for 4 people on an ATM.  I've been through lines there that were 3 times that long that didn't take that much time.
When we finally got the money, I only took P10,000, I went ahead and paid the Internet and complained about the slowness of my connection sometimes, recently.   The guy said he would fill out a work order for me and let them know.  I hope to have someone show up within the next few days.
We also stopped by Mercury Drug to pick up a few essentials.  Things like mouthwash, deodorant and Doritos.  Well they had taco flavored Doritos and I didn't want to take a chance that they would run out.  It not something they have all the time.  They are my favorite Doritos and actually my favorite chip, so yes they were essential.
I will go back downtown tomorrow to get more money and pay the rest of the bills.  We still plan to go to Tacloban, but it may be delayed until the end of the month or even the beginning of August.  It's always getting delayed, but the necessities come before the desires.  I'll sure be glad when the few payments we do have, are done.  I see why they say it takes about 5 years to get fully adjusted to living in the Philippines.  I still think we can do it in 3 years though.
Useless Knowledge: In every single episode of TV's Seinfeld, there is a Superman somewhere in at least one scene.
Salamat, Palaam
Today in Philippine History
Gov-Gen Agustin   –  Gat Apolinario Mabini
1898 – Apolinario Mabini y Maranan, chief adviser of Dictator Emilio Aguinaldo, requests permission to  proceed to Manila to persuade Spanish Governor-General Basilio Agustin to surrender to the  Filipinos during the second phase of the Philippine Revolution against colonial Spain and three weeks after Aguinaldo declared the Independence of the Southeast Asian archipelago;  exactly two years later, on July 1, 1900, Aguinaldo's decree providing that the highest authority in the  Catholic Church in the Philippines be the Military Vicar General recognized by the President  of the Philippine Republic becomes effective, thus regulating the exercise of  ecclesisastical jurisdiction by Catholic religious people.