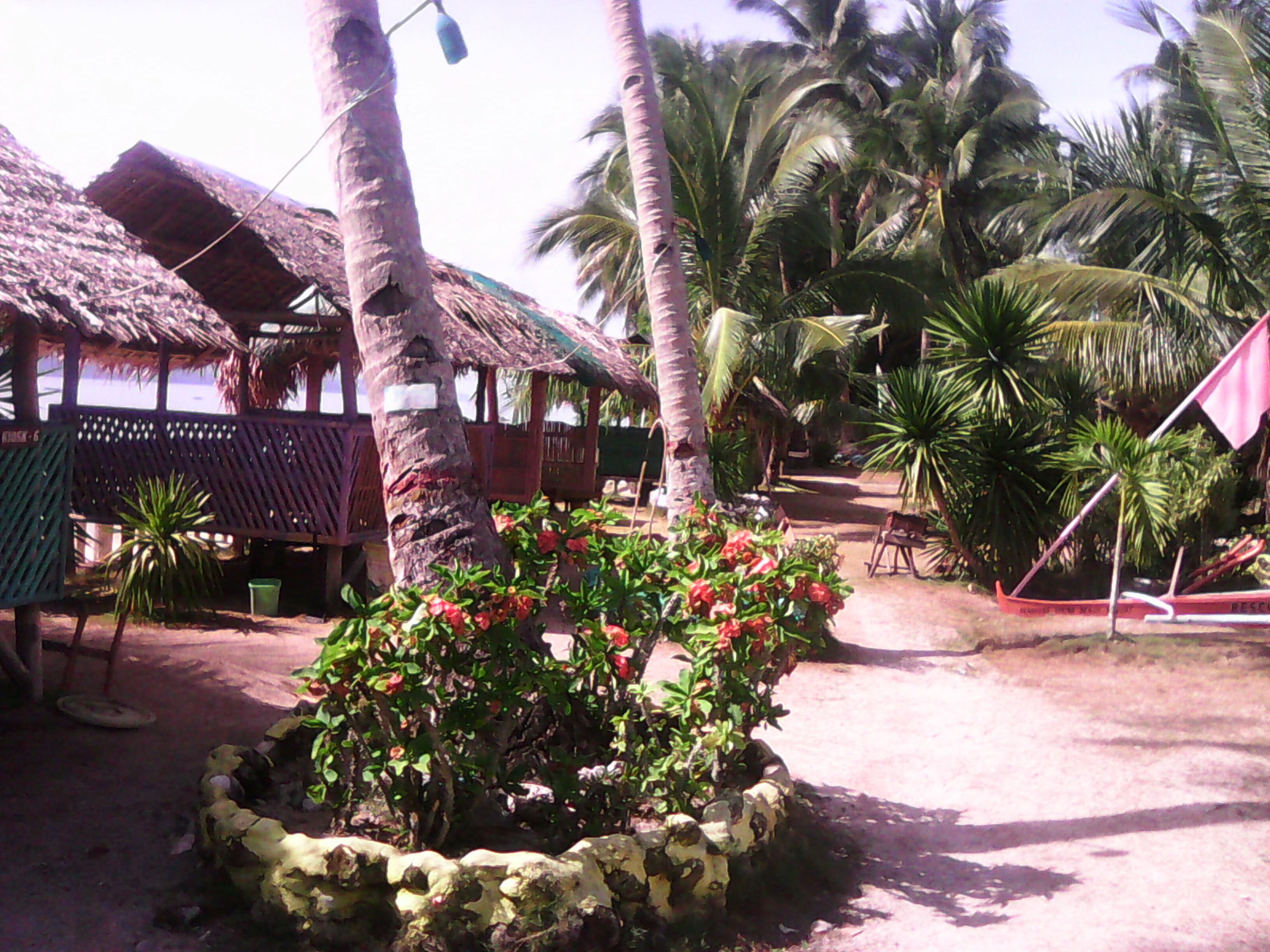 [smartads]
This post is a more detailed version of our recent trip to San Antonio Island.  I have already published a slide show that you can watch here.  I did not do a video because I need a new battery in my camera phone and when I run the video it uses up the battery too fast.  I'll check out the reception to the slide show versus a video and see which one gets the most attention. Both of them would have required for me to do a blog post anyway, but I suppose the video would have contained more details if I would have done an audio video.  Most of the pictures in this post are ones from the slide show, but a couple of them are a little different because of multiple pictures of the same location.  The resort was not very big, so a lot of different scenes would have been difficult.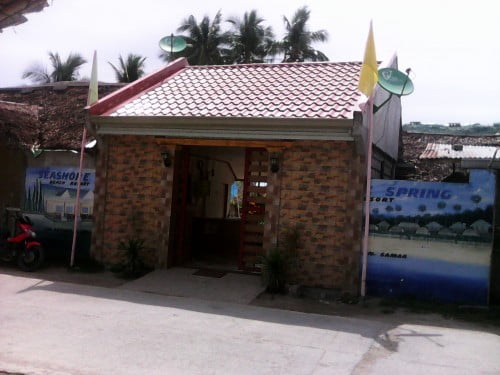 On Saturday, 18 June we were scheduled for an all day power outage (brown out).  The times were 0500 – 1800.  When there is such a brown out, we like to get away, usually to a beach to spend the day.  Well this time we decided to head to Dalupirit Island (according to Google)(San Antonio Municipal), which is locally and more popularly called San Antonio Island.  We left just shortly before the power went out at 0500.  In fact while we were traveling through the downtown area (about a mile from the house) we saw the lights go out.  The brown out had started.
The trip to the departure point is about 50 kilometers (31 miles) from downtown Calbayog.  I discovered that when you get to barangay San Jouquin, then you are about 1/2 way.  The trip, with the road conditions here, takes about 1 1/2 hours, so we arrived around 0730.  There were plenty of outrigger boats waiting to take us on the 25 minute ride across the water to the island.  It was a beautiful day and the water was not choppy.  That made Lita very happy.  She is definitely not a small boat person (we have yet to be on a large boat).  The going rate for the trip is P30 per person.  They do wait for the boat to fill, but we had so many people (19) and with our carry on baggage it was plenty for the guy to get started.  They do have people that will load your baggage onto the boat and also to unload it at the other end.  The going rate for tipping them I hear is P50 on each end.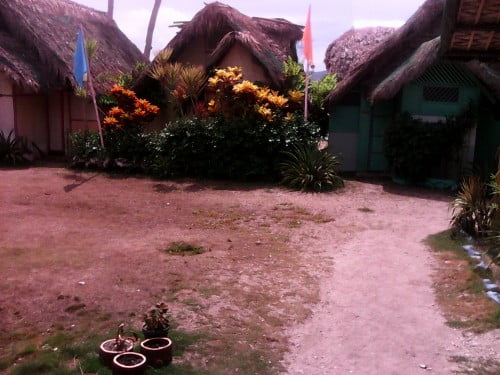 Upon arrival at the island and after they unloaded our bags we headed for the resort.  Mar had already picked out a resort because he actually had a short meeting to attend on Sunday morning at 1000.  The name of the resort is Seashore Spring Beach Resort, although I understand that there are at least 4 other resorts on the island.  We had 3 tricycles carrying people and luggage, but most of us, including me, just walked.  It was not that far, only maybe 1/8 of a mile.
It is a nicely set up resort, not very big, but I imagine none of them are.  We had 4 different rooms, 2 of them with air con (including mine and Lita's) and the rest of them just had fans.  Of course none of that did us any good until around 4 pm because there is not electricity until then.  The whole resort runs on generators.  I asked at the restaurant counter and they told me that the power would come on around 3 or 4 pm and stay on until 6 am.  Okay, I can live with that.  I prefer to have the air con while I'm trying to sleep.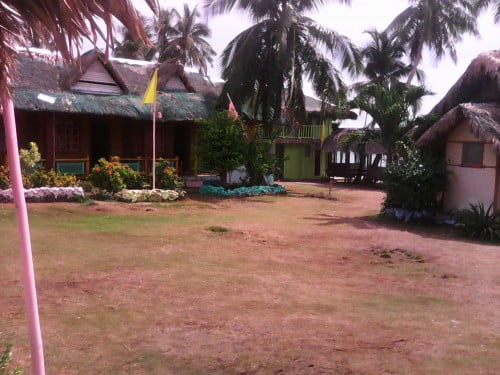 All the helpers that were brought along and some others got everything set up at the pavilion in front of our cottages.  Actually 1 of the sleeping quarters was above the pavilion.  I don't know the price of the cottages, because I didn't pay, but for all 4 it was about P4000.  That's 2 with air con and 2 with fans only.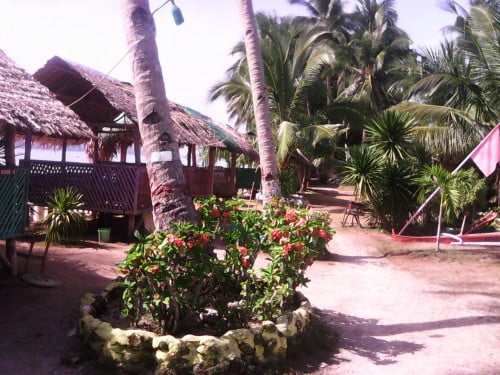 Since I didn't sleep very much the night before, I wasn't up very long before I went in to take a nap.  There was no power yet, but I was pretty tired.  Actually later that afternoon I took another nap and it was after I woke up that they were just turning on the power in the room.  It was almost 5 pm by then, so I don't know exactly when the generators were turned on.  The power was on for about 3 hours and then, brown out.  Obviously I was upset.  They got it all mostly running again in less than 30 minutes, but the power in our cottage still would not come on, and stay on.  They determined that it was the air con and brought us a fan to use.  As I was trying to determine if there should be a discount for the room now, they came back in, like 15 minutes later, and said it's okay to use the air con now.  They did not take the fan back either.  So we had both for the night and we for sure did not get warm.  In fact, it got pretty chilly in there and I had to use a sheet to cover up.  Normally I do not need to cover up at night.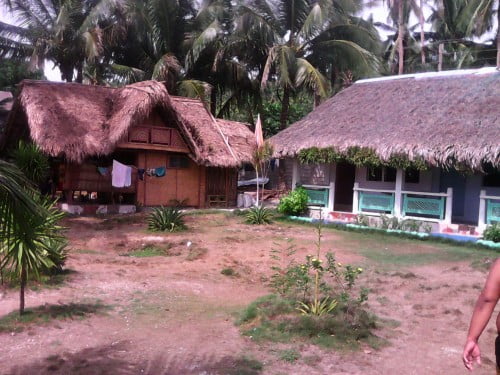 During the day, before heading to bed I mostly watched everyone else having fun.  They did a lot of talking, laughing and playing in and on the water.  I took pictures, talked with Lita, ate and drank some beer.  I didn't eat or drink too much though.  The beach was pretty rocky, rocks and shells, so you have to deal with that.  Lita got sick.  We believe it was because when she bought a Coke from the restaurant, it wasn't cold so she got some ice that was not from purified water, but from local water.  I warned her, but that rarely does much good.  I just happen to pack a bottle of Pepto-Bismol tablets and gave her a couple of those.  It didn't help very much, but some.  I prefer the liquid Pepto to the tablets.
Later I tried watching some of their Direct TV satellite, but they did not have HBO, Cinemax or even Star Movies.  They did have Lotus, which normally has some good movies at night, but tonight it was not that good for me.  After flipping through the channels 4 or 5 times, I gave up and went to sleep.  It was only like 10 pm and that is like 3 or 4 hours before my normal bedtime.  It was a peaceful night although the bed and the pillows were a bit hard.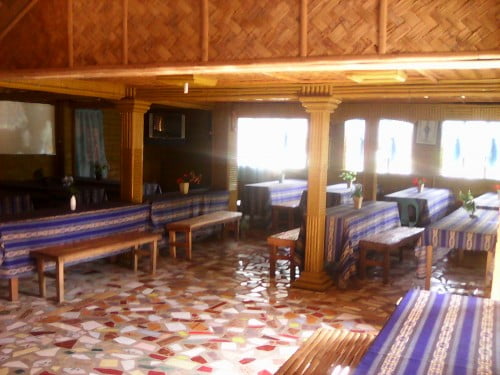 The next day, both Lita and I were ready to go.  Everyone else still seemed to be having a good time, so we didn't say anything.  Besides, Mar still had his meeting at 1000.  It was a pretty quick meeting though.  I told him that when the meeting is at a resort, they are fast, but if at the office they take a long time.  That got a smile out of him, so maybe there is a hint of truth in that statement.
Although I believe check out time is normally noon, we didn't have to be out until 2 pm.  One of the cousins knows the owner of the resort.  So around 1 pm the helpers and volunteers starting packing things up to go.  Lita and I already had our things packed and waiting.  Going to the boats there were less walkers than riders, the opposite of our arrival.  I still walked and was actually the last one to arrive at the boat station.  The other walkers started ahead of me because I was making sure Lita got in a tricycle and all our bags were accounted for.  It seemed like a longer trip on the way home, but I case that is usually the case.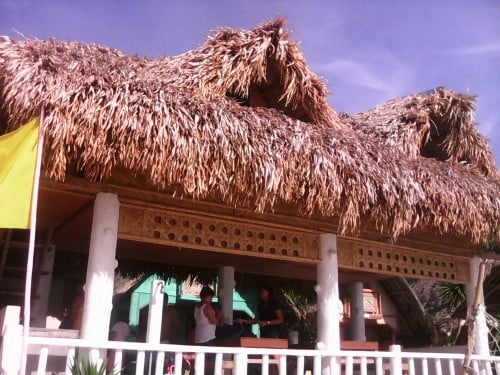 The last time Lita and I were at San Antonio Island was in 2002.  From our experience this time, it may be another 14 years before we try it again.  I will say that the accommodations this time were much better than last time, so maybe in 14 more years they will have it right for us.  Of course maybe by then, we'll be to old to even want to make the trip.
Please be sure to check out all my videos and remember to subscribe.  It helps me make a living here in the Philippines.  The link to my channel: John Jackson You Tube Channel.
Salamat Y'all