[smartads]
Recently I have and we have had a few things going on around here, but nothing Earth shattering.  We did get a new TV, so now we have two.  The new one is a 32″ DeVant and we placed it in the dining room since we do not have a living room yet.  The older TV we had in there we gave to our goddaughter/niece Patricia.  She's only 5 years old so she shares it with the rest of her family.  
If you read my last post Poem, Wedding and Parties, you will remember that I now have a poem on the wall at Mango Lounge.    Here is that poem on the wall with Lita and me.   It's a pretty good poem and I think it fits the Mango Lounge pretty accurately.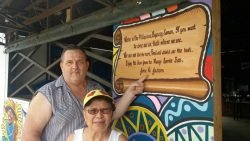 Our nephew and niece (Ramil & Robbie) are expanding their house.  Actually, they are putting in an upstairs.  They have 4 children (3 boys & 1 girl) and they just seem to keep growing.  They were all living in a 1 bedroom house and I suppose that was starting to get awkward.  After the renovations, there will be 3 bedrooms.  One for the parents, one for the 3 boys (young men actually) and 1 for the daughter.  She's the baby and I think she is 12, so not that much of a baby anymore.
Our other niece and nephew (Catherine & Ado) already expanded their house.  They built an extra room, a bedroom.  The oldest boy (Khan Khan) will stay in there.  It's his room until his Lola comes to visit, then that's where she will stay.  She paid for the renovations so she would have a place to stay while visiting.  She retires next year and I suppose she plans to visit a lot more.  She only comes by once or twice a year right now, so Khan Khan is pretty happy about the room.
Patricia                                                   Khan Khan
[smartads]
Speaking of renovations, we might be doing that soon also.  We want to build a living room.  The area where Judith/Victor have the stairs going up to their place is where we hope to put it.  The stairs are to be moved to the other side of the house.  Still in the front but close to the fence.  The living room is where we envision the company going when they come by.  We will have an air conditioner in there with a ceiling fan.  There is already a restroom there, thanks to Mark having the restaurant there before.  I want to get a table in there and also a sofa with some chairs.  The table tall enough to play my Empire Builder, dominoes, cards, Scrabble, cribbage … whatever.  Since we will have to pay for it ourselves, it will probably not be until next May before we do that.  I'll already be collecting social security for 4 months by then and I will have us "completely" out of debt by then also.  Our 40th anniversary is 7 April 2020 and for an anniversary present, I'm getting us out of debt.  After that, we will finally be able to save money to go on trips.  Maybe we will even be able to go on a cruise.  We've never been on a cruise.
Well, that's enough jabbering for now.  I have a few more things to mention to you, but they will have to wait until the next post.  
Salamat Y'all