[smartads]
I just may be getting away from my new format for these posts already.  Only because it seems for today and even tomorrow, I've got lots of things to type about.  This post is all going to be for the 4th of January 2016.  For the 5th of January I have so much information, I just may end up making 2 posts for the 1 day.  We'll see how that goes once I get started on it.   Things are really popping here at the house this first week of 2016.  I doubt it will continue at this pace, but I'll try to keep up with everything the best I can.  I've noticed that my ads on this site have started getting a little attention.  I'm glad to see that.  All the pennies I get for when they get chosen adds up after awhile.  Y'all keep up the good work on that.  There are 2 things to note on this post.  One is if you put the mouse over the picture you will get a 'very' brief description.  The 2nd thing is I can not figure out why paragraph #6 is not the same font as everything else.  There were 3 paragraphs that way and the others fixed just fine.  I've tried like 20 times to fix it, but decided it's not worth anymore trouble than that.
 So, as I mentioned in the previous post, we are getting a new gate today.  The other one was getting old, plus with Ramil climbing over it to get in, he broke it in a couple of places.  You see we lock the gate at midnight to keep the dogs and some ignorant people out.  He knows we lock the gate then, but he still, at times, comes home later than that.  Well we have a special treat for him with this next gate, as you will be able to see in the pictures I will provide for you in this post.  In addition to the 'special treat', we are also making the gate just a little bit stronger.
A few weeks ago our freezer died on us.  We had some maintenance people come out to look at it and they brought it to their shop.  They didn't fix it right.  They just changed the filter and said it was good to go.  It wasn't.  They came back, brought it in again.  It needs a new motor, which is what we thought, and told them when they first came out.  They kept it over the holidays. Then when 'we contacted them' (they never called), they told us that they could not find the right motor for it.  They did end up giving us the P3000 back, but I would have rather had the freezer fixed instead.
After dwelling on the problem a little bit, we decided to just get a new freezer, kind of.  Actually what we decided is that since we wanted another refrigerator anyway, we'd try to find a large one with a big freezer.  We sometimes have so much stuff in our current small refrigerator that when you open the door stuff falls out and sometimes hits you on the foot.  I've been wanting to get the small refrigerator into the computer room for about a year now, at least.  Mostly the small fridge will have drinks in it, but some other things I use a lot will be in there too.  I want to make it higher a little bit, but that's not an issue.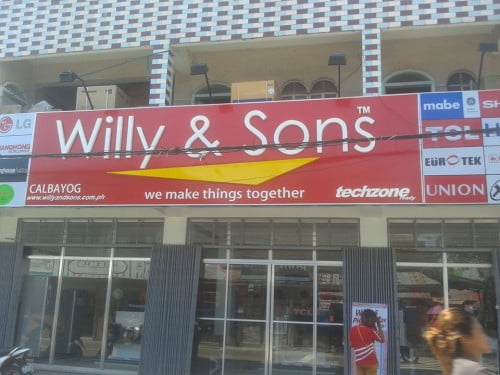 Before we can have the new refrigerator delivered though, we need to get a barangay clearance.  They just want to be sure that we actually do live here.  It's the first time that we've bought anything at this store, Willy & Sons, so they don't know us yet.  Here is a link to their Facebook page for anyone interested:  Willy & Sons Calbayog Facebook.  I'll have more details and a few pictures of this new refrigerator/freezer probably in the next post.  I think it's an unusual appliance and will be interested in finding out what y'all think of it.
Also today the man that fixes our fans (Fan Man) showed up today.  He's looking pretty good after his hospital stay, so I hope that he is doing well and can continue to service our fans for many more years.  Today he only has 2 fans that need repairing.  One for us and one for Judith upstairs.  For ours we ended up needing to get new blades, since the old ones got broken a little bit. Yeah it was me that broke the blades.  I lost my balance and grabbed the fan to not fall over on the floor.  It took a couple of chunks out of those blades, but the fan still worked okay, at first.  I'm glad it wasn't the fan with the metal blades.  A couple of weeks later is when it died completely.  Probably not related to my fall.  Anyway, the new blades are a pretty puke green, instead of the red ones we had.  It 'looks' better when it is spinning.  I'll have another story on the fans in a couple of posts, whenever I get to the 6 January stuff.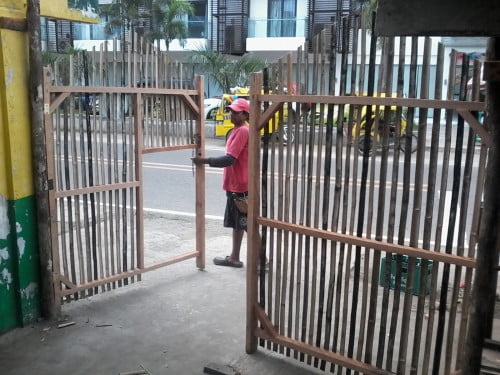 The last item in my notes for 4 January is that Mar & Ludy are back from their little trip(s) around the Philippines.  They stopped in this evening, like they often do when they are around. They come to see Poppa (Mar's dad) and to chit chat with the other relatives here.  Mar has a couple of business ideas that he wants to get started.  One of his ideas is a car wash out front here.  Lita said "Okay", so we'll see what happens with that.  The other idea I'll be helping with, if he actually does get started, so there will be information posted here.  It just may be something that a lot of y'all would be interested in.  I know that I have gotten plenty of inquires about it before.  Nope!  Not saying what it is yet.  If he gives me the information I asked for, then I'll post it here.  So just keep reading to find out.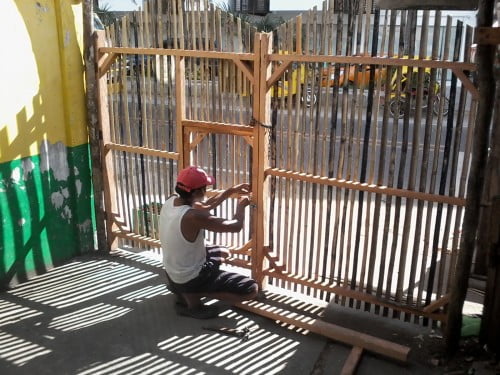 That's all I have for this one.  That's all for 1 day.  As I said, the information for tomorrow is more, so expect that out in the next day and/or two.  I've even got original pictures for this and the next post or two.  As always feel free to comment on anything on this blog or anything about the Philippines in general.  I'll do what I can to get you an answer.
Salamat Y'all