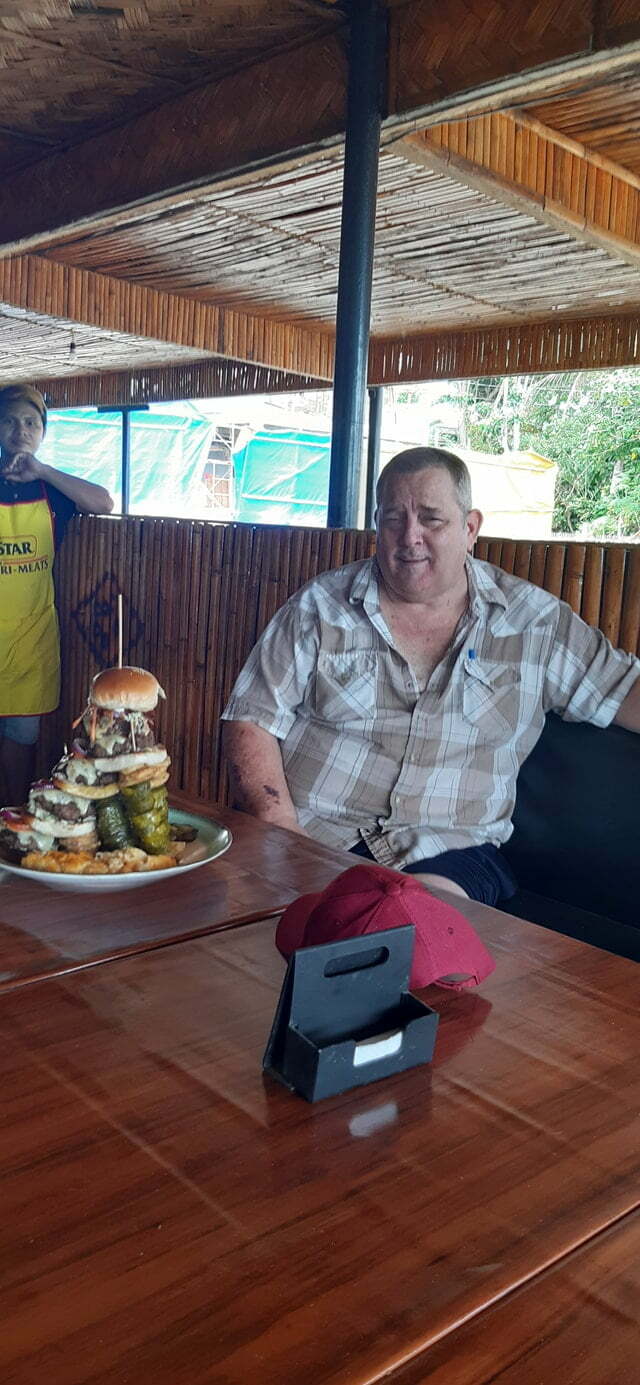 That's me receiving the first Stairway to Heaven burger. Could not eat it all.
Again it's been a while since my last post. Many things have happened since then and I will try to touch on them all but I know I will be forgetting something. It will probably be all out of order but I figure that as long as I get it in there it'll be fine.
Mango is still my favorite hangout, that has not and will not change barring something super major. We went for several months without being able to buy beer there or have a band, because of COVID. As of last Saturday we can buy beer again but we are still waiting for the live band to be able to perform there again. I told Christian that I would come for the band and stay until they finished playing. I hope it will be soon.
Nothing from SM Mall yet. Since they did the last survey they have not contacted us about buying the property to put up the mall. Although it would put me further away from Mango Lounge, I would be okay with them buying us out. Lita says she would rather stay here because she likes the location. I like the location also except our house is so close to the highway. I've been making sketches for the way I'd like our new house to look. Many of the things that I've learned from how our house is now and some things that I do not want to change. We're not sure where we would be moving to but we have 3 or 4 places to look at if the issue ever comes up.
I finally got all the money from my stimulus checks. At first I didn't think any of them would show up. Then when they did they were in check form. You can't cash US Treasury check here in the Philippines. You must open a Philippine bank account, deposit the checks, then wait 30-45 days (depending on COVID) for them to clear. Well ours did clear around 1 Oct. I withdrew almost half of it to purchase our water tanks and for a couple of other unrelated things. Since that big typhoon a few years ago our water pressure has been non-existent. I am so tired of not being able to take a western style shower. With the Filipino style you have to use a pail to dip water and pour it on yourself. Plus the water is cold because without water pressure the hot water heater does not work. Anyway, I have the 2 tanks I will need and they will start the installation of them this Sunday (24 Oct). I will still have to pay for more material and the labor but the tanks, 775 liters (P16,280) and 80 liters (with pump)(P8,500), were the most expensive things. They should be completed with the whole installation before the end of the month.
It seems that the relatives will not be going south to Tambis this year for All Saints Day. Tambis currently has a 14 day quarantine for all visitors (10 days plus 4 days home quarantine). They usually only go for 3 or 4 days so there is no way they want to go through that. I have been hoping that the quarantine will be lifted so I can be those 3 or 4 days here by myself. It's so nice and quiet during that time.
I was going to buy a new computer with part of the stimulus money but about a week before the money cleared my motherboard went bad. I decided to just get a new one (faster than the last one) and just upgrade some of the rest of the computer. I figure overall instead of spending around P60k for a new, much faster and smaller pc that I would spend around P35k to get a little faster but have to keep the bulky tower. I still do not have all the things I ordered for the computer but they should all be here before the middle of next month.
Speaking of computers I finally got tired of my internet service Globe. The last straw came when I was down for a couple of days when I decided to call them because I heard nothing from them. The recording said that there was an outage in the area and that they needed 24 hours to repair it. Okay. So, 25 hours later I call and there is no more recording. I tried to speak with someone but they said no one was available because of COVID. I called 3 different phone numbers for them. All the same. Their solution for me to fix the problem was to go online and use their website troubleshooter. I was calling because I could not get online. Seemed pretty dumb to me. I called PLDT the same day. I got a rep there, the same day. It took them a week to hook it up (instead of the 3 days the advertised) but it's been working fine since then. The amount I pay is actually P200 more per month but the speed is double (100 mbps vs. 50 mbps). Also PLDT actually does maintain the speed the advertise Globe did not. The speed includes download and upload. Globe's upload was shit (usually around 10 mbps). When I questioned Globe before about why the upload was so slow, the 2 people I talked to said that the upload was not included with their price (???). Whatever! Actually, right now, PLDT is giving me around 200 mbps (both down and up loads). It's part of a promotion but, I think starting 1 Jan they will go back to normal. They just doubled whatever speed you purchased.
I have also changed computer hosts since the last time I wrote a post. The previous host was in the US somewhere (I think Georgia). The current host is right here in Calbayog. The same guy that works on my computer, Scott, is now my host. That works out great because he's easier to contact if I have problems and he can come around if necessary or even fix some problems via TeamViewer.
This is the first post I'm typing with the new theme of this blog. Just typing it in is a bit different and I hope I am doing it right. I cannot see how many words I have typed so I could be up to over 1000 by now. I reversed the print and the background colors. I don't know if that was a good idea or not. Y'all let me know if you like it better this way or "back to normal".
Mango Lounge now has about a dozen styles of burgers, including the "Fat American", the Mexican Wave and the Godfather. There is one called "Stairway to Heaven" that is super stacked and was too big for me to eat in one sitting. Maybe I can get a picture of the menu on here for you to see them all. He wants to be the best burger place in the city. I think he has accomplished that already but he will be improving it even more in the near future.
Southern Style Wings is right next to Mango and they have the best chicken wings in town for sure. Several different flavors. He has also expanded out a little and they have other items to purchase like chicken fingers, chili cheese fries and, my wife's favorite, chili cheese pie (a Frito pie for all you people that know what that is). Actually the chili cheese pie was my idea so he named it after me, although I told him he should name it a Texas Chili Pie. Its official name is Uncle J's Chili Cheese Pie. Lita loves it and orders it 2 or 3 times per week. They also have meatball subs and a whole fried chicken if you want.
Okay, I know I missed something but I'm tired of typing for now. Y'all let me know if something is different with this new format. It looks a little different for sure but I don't want there to be any problems for you, the reader. Again, I say I will try to do more posts but I say that often and don't always follow through. I will try though.
Salamat Y'all