Philippines Plus will be Minus
[smartads]
I was doing one of my main posts and when I went to make a link to the Philippine Plus website, I made a discouraging discovery.  The author of the site, Dave,  is really concerned about this new Cybercrime law.  He is so concerned that he is going to be posting much, much less from now on.  He is even thinking about closing his site down altogether.  That would be a shame because he has some wonderful posts.  That potential 12 year prison term has gotten a lot of people rattled.  I personally have not seen anything on his site that I would consider bad enough to be put in jail for, but what do I know.  I'm not the government and even if Dave did direct anything towards me, I know it is all in fun and I can take a joke.
Maybe I don't know enough about the new RA 10175, but I plan to continue my website because I, to the best of my knowledge, have not said anything that is not true.  I think the worst thing that I have had on there was my complaining about the electrical power, the Internet and the corruption within the government.  Maybe the corruption thing is pushing it, but I know that many officials in the Philippine government know that there is corruption within the government and they are trying to eliminate it.  As in most things in the world, there are always a few bad apples that make the barrel rotten.  If you can get rid of the rotten apples and fill the barrel with all good apples, then most everyone is happy.  Although it is probably impossible to please everyone, pleasing the majority should always be the goal of any government.  Also the media likes to print the bad stuff more than the good stuff.  So the people read a lot more bad things than good things and think that things are not going well.  I guess the Philippines is not that different than the United States in that regard.  Of course the average citizen probably does not know the in's and out's of being a member of the government, so they can only go by what they read, see and hear.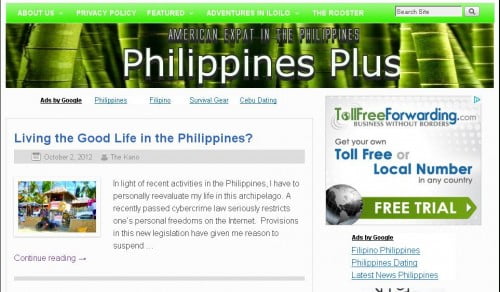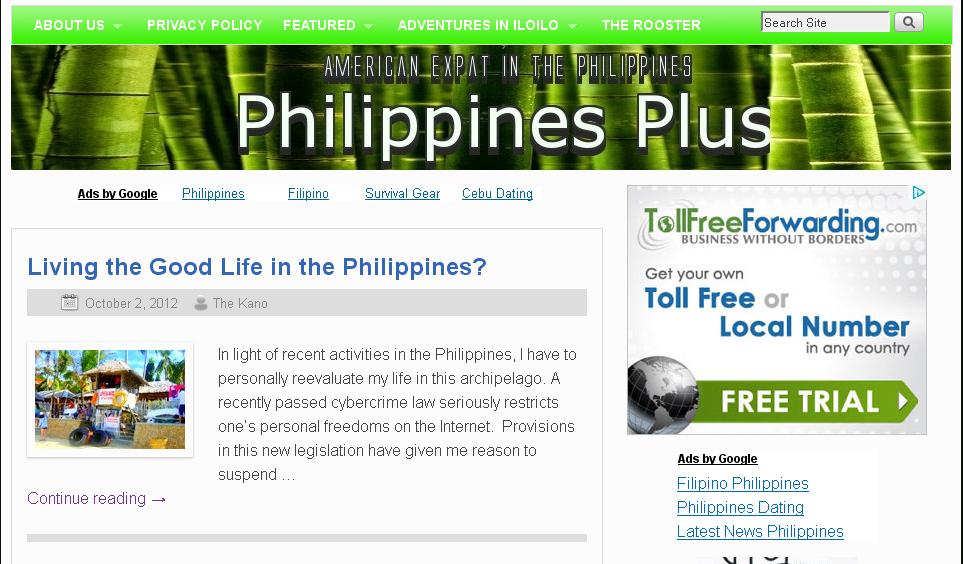 Now I for sure do not want to go to jail for 12 years, especially here in the Philippines, but I think I will continue on and just be honest, as I always am.  I don't call people names or bad mouth people and if I ever receive a comment that does so, I either delete it (I have only had to delete one) or reword it.  I will say though that I am a bit nervous about continuing, but, as I said, I think I'm fair and impartial for the most part.  You won't find any racial, sexual or politically directed pictures or statements on my site.  I love the Filipino people and I have not met one that I have had many bad things to say about.  Oh I know there are some out there, but I have not met them and I hope I never do.
I hope that the amendments being sought go through and the people with the power to change the law will do so.  I am so glad that a Cybercrime Law has been passed because people have been getting away with all kinds of Internet crimes without the proper punishment.  Just speaking your mind (not slander) should not be a crime in a free country or actually not in any country.  The people of a country are suppose to be the real power, but that might be starting to disappear in some countries.  I think people have a right to complain, within reason, about their government if there is a problem, or even if they 'think' there is a problem.
I'm going to miss a lot of Dave's witty humor so I'm hoping the amendments go through and things ease up enough for him to continue with his blog.  Dave if you are reading this, you are welcomed to send stories my way and I will print them, if you want.  I guess that would be about the same thing though, huh?  Maybe so, but you are still welcomed to if you want to.  Government officials if you are reading this, no one in this household, including me, thinks that the government is terrible.  I do believe that there are still some corrupt officials in all levels of government, but I know that you know that too.  I also know that there have been investigations into those corrupt officials and some have been convicted.  That's good.  Keep up the good work, but please do not restrict the freedom of the people for the actions of a few.
I personally would like for the Philippines to someday become what is considered a first world country, but without sacrificing the rights of the people to do it.  I obviously love it here because I have chosen to live here.  I hope that nothing I have typed tonight or have ever typed will jeopardize that freedom of choice I have.  I never intend to harm anyone physically or verbally, not even my wife when she is in a bad mood.