Philippine Christmas and Caroling
Christmas.  It's the time of year that brings joy to the Philippines and to the whole world.  Too bad it only seems to last the Christmas season in a lot of cases.  I remember growing up and anticipating whether or not 'Santa' came and if I was good enough to get what I wanted.  I rarely did get exactly what I wanted, but I did get some good stuff.  Mostly Christmas in the Philippines doesn't seem to be that way, at least around the people I hang with.  Oh, I don't expect to see or get the same feeling as when I was a kid, but it would be nice see the kids here get that feeling.  For me, besides not having my parents, brother, sisters, son and grandsons here (or me being there), I think what I miss the most is the ham and/or turkey with the cornbread stuffing and cranberry relish.  Yeah, it's the food.  I guess that's not really a big surprise though.
Although I like to give out gifts, especially to the children, these days I'm not really concerned with receiving gifts.  Although I don't mind getting the presents, if I don't get any, well it's just not that big of a deal anymore.  It's just not something to fret about anymore and I try not to let little things like that get me down.  I do usually have a very short list of things I want/need, just in case though.  I will let that be known a week or so before Christmas, although I probably should be doing that sooner.  This year my very short list is comprised of only 4 items.  Here is that list, in no particular order: 1) Bottle of Jose Cuervo (preferably Gold) and a case of beer (preferably Red Horse or San Miguel), 2) Printer/Copier/Scanner for my computer (nothing fancy needed, just something to get the job done), 3) a thumb drive (with a very large capacity so I can put hours and hours worth of music on it and could bring it with me to plug into a USB somewhere) and 4) 2 rounded, solid metal bars about 2½ feet long to use for my horseshoes.  I'm a simple man these days.  When I was younger and less content this list would have been at least 10 times longer.  This was posted too late for Christmas (this year), but …
FYI:  My birthday is on January 18th (I'll be 57 years young).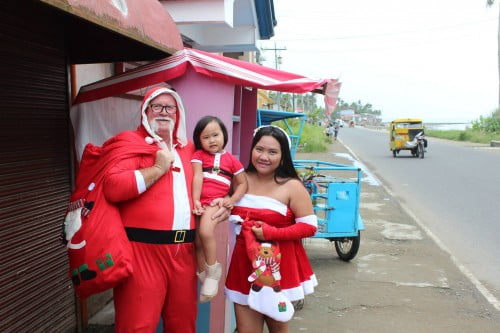 When I started this post, I wasn't even thinking about any of those things that I wrote about in the first two paragraphs.  They just kind of popped into my head after I got started and I just went with it.  My intention from the beginning was to write about Christmas caroling.  Particularly the caroling here in the Philippines.  Does anyone else think they do it in excess?  The week before Christmas (starting the Dec 18) is especially bad.  Now I'm already pretty much an old(er) humbug when it comes to Christmas anyway, but starting on that 18 Dec, I spend even more time than usual inside the house, especially once it starts getting dark outside.  I understand that most of the singers are just there to get a few pesos and/or some food because, well because they mostly need it.  I don't mind giving out the pesos and/or food either, but it just gets to be troublesome after a while.  Sometimes though you get some well-organized adults and/or teens.  They are a bit more enjoyable to listen to because they usually have some type of instrument(s) and/or sing different songs than the usual we hear.  When the children come around it's always the same songs, I guess because it's the only songs they know, since they are young.  And they always end with the same thing, that little We Wish you a Merry Christmas (x3) and Happy New Year song.  Then after you give them the pesos and/or food they go into the little Thank You, Thank You song.  Of course the children are usually the ones that need the pesos/food the most, so I'm glad when Lita takes the time to listen and contribute.  I guess I'm just an old softie, but I don't like to advertise it.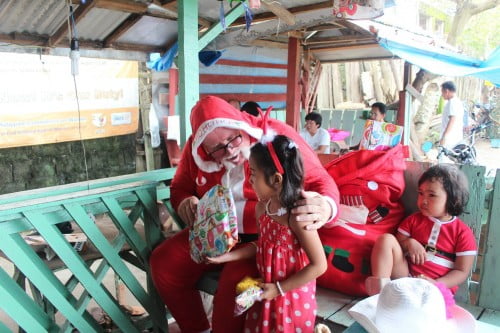 My 2 biggest pet peeves with this Christmas caroling though I have not even mentioned yet.  If these 2 things could be eliminated, then it would be much more enjoyable.  I seriously doubt that these things will ever be eliminated though, at least not in my life time.  My #2 pet peeve is that there must not be very many places for these singers to sing, because sometimes you see the same group 3 or 4 times per night.  The closer it gets to Christmas the more you see them.  Sometimes it's a little more in the group, sometimes a little less, but mostly the same ones, with the same songs.  My #1 problem with some of the carolers here is that when they see me, they automatically stop to sing and they insist that I must have money, since I have white skin or because I am an American.  Some of them have even gotten mad when I tell them I don't have anything to give them.  If I am outside alone when they show up, I either have to try to hide or try to tell them to move on.  Sometimes they don't understand, or at least act like they don't understand, what I'm saying, and sing.  It's rude to just walk away, and I'm not a rude person.  Since they sang already, and if someone else is not there to give them something, I don't have anything with me.  Sometimes I get the ugly looks from them.  Well Merry Christmas to you too.
I don't let them get me down though because I'm okay with the type of person I am.  I'm sure not perfect, but I am a bit strange and I think I'm unique.  I'm happy with that and I hope you are happy with that too.  I guess I could use more exercise though.
Merry Christmas Y'all