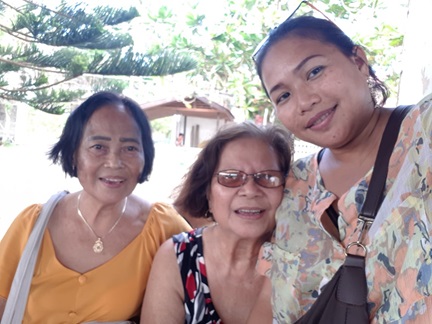 The party I had at the beach went well. There were a lot of people there. I would say a minimum of 50 people. There was not a lot of food there that I wanted to eat, but I did like the potato salad very much. I still only got one serving, but it was great. There were at least a dozen expats there.
Another friend, David (the man that I got super messed up with the day his wife died) who has been in the US the past few years, was represented there by a son, daughter and new grandson. I'm thinking David likes it too much in the US now and will not be returning. He spent over 20 years here in the Philippines when his wife was alive. I guess he found a niche there in the US and is going to live it while he can.
I survived some peer pressure while there. They wanted me to try a new tequila (1 shot only), but since I have already sworn off hard liquor, especially tequila, I did not participate. It's much easier to resist peer pressure at 65 years old than it is at 15 years old. We stayed at the party, I don't know, 2-3 hours and then Tom (the man that brought me to the party) brought me back home. I offered them some of the hot peppers on our trees, but I think they are not a family that eats spicy.
The next day (November 12th) there were fresh baked cinnamon rolls that I was forced to sample. I tried to resist but they put one in my out-stretched hand. They are small cinnamon rolls, good for maybe having 2 with your coffee in the morning. Our baker (Emil) says that if we want anything to be baked, let him know, he will find a way to get it made. He is also the one that will be making the dessert for our Thanksgiving lunch on the 23rd.
Also yesterday, I had a terrible day of playing cribbage, at least at first. When I was playing against Dan, he was stomping me left and right. Once he had to leave and Christian started playing, it was better. I won the first game between us, and we pretty much split after that. I was winning the last game, but we had to stop before we could finish.
At Mango I ordered the Meat Feast sandwich. It is a combination of ham, salami and pepperoni on a bun with cheese and things. It's a very good sandwich, but not too many people have ordered it. I'm still trying to order things like that, so the kitchen won't forget how to make it. If it's something I don't like, I don't care if they forget how to make it, but I like this one.
For Wednesday, I have already told them I want to order the Beef Bulalo. It's a soup made with beef marrow and vegetables. It's a new item on the menu and I want to be sure people get a look at it. No, I don't get paid for helping promote the menu. It just seems like a good thing to do, and I enjoy doing it.
That reminds me, I need to talk to Christian about some of the prices on the menu he has. A few of them do not make any sense to me and I thought maybe he could explain or correct them. I won't discuss which items on here, unless he agrees with me, then I will post the changes in a future post.
Joy, the wife of Emil, whom both work at Mango, likes to sing karaoke. She's a pretty good singer. I introduced her to the same by Colin Raye called "Love, Me". She said it was a very sweet song and wanted to learn it. I've already got it memorized, one of several songs I know all the way through.
I'm in the mood to write a cold, dark poem. I think I'll make an attempt at that after this post. Something that starts out kind of iffy, gets cold, then colder and then finally dark. I like writing poems like that but it's not how I am in person. Maybe it's how I am deep inside, and poetry is my way of bringing it out.
I've been trying to play this "Quest for Stoken" game on Hive. It's not the type of game I am good at, well not anymore anyway. I used to be better at them. These days I prefer Trivia, Match 3, Word and Detective games. Games that you need to use your brain more than you need to use your hands.
Time to close now. I'll have over 800 words by the time this sentence is finished and that's already longer than most of my entries.
Salamat Y'all (820 words)