Our Long, Short Space A Trip 1
[smartads]
It all started out well enough.  On 14 September we headed for the bus terminal at 1020 to catch our 1100 bus.  It only takes like 2 minutes to get to the terminal, but Lita likes to be extra early. We just hung around the station with Titing & Neneng shooting the breeze.  The bus was actually on time, which in itself is a small miracle.  As we are sitting on the bus waiting to depart, now Lita decides that the 2 small bags that we brought on board (1 check in) needed to be adjusted.  I surmised that she could have done that while we waited for the bus, but I was just glad to be leaving to get to Texas so I didn't press the issue.  It would have just been met with an argument anyway.  We finally started rolling out around 1123, but they stopped after only rolling a few feet because there was a problem with the passenger count.  That finally got resolved after a recount and one of the passengers finally produced a ticket.  We continued on our journey at 1128. They have the radio so loud in here that I have a hard time even hearing what Lita is trying to say.  DLTB is our favorite bus line here, but it's still just a bus, although more comfortable and more leg room than others.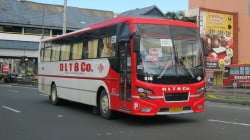 We made it to Matnog ferry in Allen around 1320, so almost 2 hours of a really bumpy bus ride.  Seems like the roads going North are never repaired.  The ones going South are in much better shape.  The terminal fee to pay is P20 and then there is a regulatory fee of P5.  The ferry we got was much nicer looking than the ones we normally end up on.  There are nice seats and they made the life jackets very handy (just in case).  I had some pictures, but they got deleted from the phone after we got back.  We did not depart until like 1505.  We arrived in Luzon around 1700.  By 1710 we were back in the bus and continuing our trip to Pasay. For some reason they handed out barf bags, actually just little plastic bags.  I'm not too sure why they did that, they never have before.  Maybe it should have warned me about the bus driver.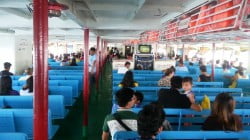 Around 1830 we stopped for a meal break.  I just got a banana, a lemon-lime Gatorade and some Nova chips.  I'm not too keen on the road side food that is served on the bus routes.  The driver told Lita that we would not be stopping for another meal until the next day.  We did stop again at 0110, but that was just for gas.  The next meal break did come the next day around 0230.  I do not know the exact time we stopped because I was sleeping (finally).  I woke up about 0250, which was like 5 minutes before we were to start again.  Lita was not on the bus, she was probably in the CR (comfort room aka restroom).  I didn't want to eat anyway, but I do like to get out of that bus and stretch.  I missed out on that this time around.
So the next post will be about our arrival in Pasay and our 'different' trip to Angeles.  I should have that out in just a day or two.
Salamat Y'all