[smartads]
I am so late on getting this next leg of our journey out.  A quick summary.  Lita and I are in Angeles City trying to get a flight out of Clark on Space A.  So far we've had bad luck, but tomorrow was looking promising (again).
We did get out on 23 Sep, but the flights were not as advertised, which is common for Clark's ever changing schedule.  The plane was a C130, but there was only 1, not 2 as was on the schedule.  Also it was not going to Kadena, but to Futenma instead.  Close enough.  We can find a way to get to Kadena from Futenma.  I never did hear the number of seats for the flight, but it didn't matter.  There were like 10 of us there to travel and we all got on.  Dave brought us all to Immigration, no problems there.  We went back to Haribon terminal, got on the plane and had a nice flight to Okinawa.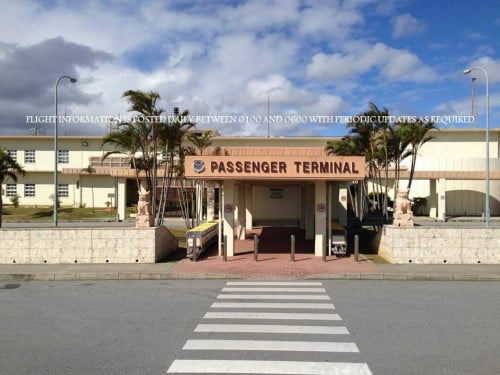 We processed in at Futenma and they took us in a van to Japanese Immigration to stamp in.  After which they planned to take us to the Kadena Visitor's Center by Gate 1.  Well the Visitor Center closed at 1500 (3 pm) and it was around 1700 (5 pm) at the time.  They said they wanted to take us to the terminal, but were worried that we would not be able to get on base.  We explained that our retired ID cards would do just fine.  I guess they do things different in the Marine Corp.  Of course we got on with no problem and they dropped us off at the passenger terminal.  It was great and if they are going to be like that all the time, I sure wouldn't mind going in through Futenma every time.
By the way there is a Community Bank (Bank of America) ATM at the Futenma terminal (and one at the Kadena terminal also).
At the Kadena terminal 7 of the 10 of us that arrived signed up for and got on a flight to Yokota, the next flight out.  Lita and I did not get on that flight though.  Neither did another man, by the name of Jackson, no relation.  There were no scheduled flights for anywhere in the Philippines for Wednesday through Friday, but Dave (at Clark) had told me that there would probably be 2 flights going back to Clark on Saturday, so I saw no reason to worry.  Kadena is a nice enough base to be stuck at, except for no having transportation.  I can walk if I feel like exploring.
I called the Shogun Inn, my first choice because they have a shuttle to use if you are a guest, but they had no rooms for the night.  I called the Navy Gateway and got the last room they had available.  I know that because the other Mr. Jackson called right after me and they said there were no more rooms.  We all went to the Navy Gateway together and while we checked into the room, he waited in the lobby.  He was waiting, hoping that a room would become available due to a no show or something.  I found out the next day, that he did get a room.  The room we had we really nice.  It had a nice soft bed with a private bath, plus a community kitchen, dining area & laundry room free to use, just clean up after yourself.  The community consisted of 6 rooms, but I only saw 1 other person the whole time we were there.  Only then because he had she door open when we went by it to our room during check in.  This room was only $45 per night. Good deal.  I check my most watched channel while I'm traveling Space A through Kadena, Channel 120, the AMC Flight Schedule channel, but it wasn't working.  We went to Subway via taxi which costs $5 or Y500.  That's what the meters start at and it's about a 5 minute drive.  I could walk it in about 15-20 minutes, but when Lita is with me, she can't walk very far, so we just ride.  We just had to have a foot long Subway sandwich.
Small Savings Advice:  When coming from Navy Gateway, if you ask the taxi to take you to the Commissary you can save a click on the meter sometimes.  I say sometimes because it doesn't always go to the next amount in the taxis.  The BX is the next building down from the Commissary, so it's really not that far to walk.  Of course it's only like .60, so if you're not worried about it, don't bother telling him anything.
Salamat Y'all