[smartads]
So we are at the SM Clark mall and we bought a convection oven.  I forgot to mention that before we went into the store to buy the things we got, I had to make a stop at the ATM machine. Now I really do not like using ATM machines that are not free, but sometimes it is necessary.  I wish I had a bank/credit union that would allow me free ATM transactions (or pay me back), but I don't.  I have one of the worst banks for ATMs, Bank of America.  Anyway I wanted to tell you a little something about that ATM transaction.  It was a BDO ATM.  I got out P6,500.  The rate was 45.58, so about P1 less than the going rate.  I got charged a P200 fee (which always gets charge $5 on my account).  Plus after I reviewed my account, I got hit with another $4.28 fee.  That's $9.28, plus the P1 difference per dollar.  That is one expensive ATM withdrawal.  I will be doing all I can to avoid having to do that again.  I just thought I'd warn y'all so you too can try to avoid that situation, in case it could be a concern.
So with all the things we bought, it was a bit crowded for me in the tricycle on the way back to the hotel.  I usually ride inside and Lita rides in the back of the driver on the seat.  It's not that far of a trip, so I survived pretty easily.  I never give the drivers here a tip because they already charge 10 times the amount that the trike drivers in Calbayog charge.  Yes all the trikes in Angeles charge P100 per trip now.  Lita usually pays for the trips when she is there and I've told her to not pay them extra, but I'm not sure if she does or not.  She's a softy sometimes.
When we got back to the hotel we took a nap and later decided to eat again.  Lita had chop suey again and I had a bowl of chicken noodle soup and a small chef salad.  What I had looked and tasted very good, except for the cheap salami they put on the salad.  Neither I or Lita liked it, so it did not get eaten.  Since I don't normally eat boiled eggs, the one that came with the salad, Lita ate.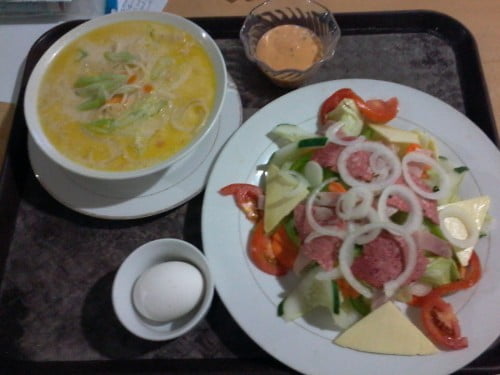 Tomorrow morning at 0900 we will be taking a taxi (P450) to the bus depot by Marquee Mall to catch a 5-Star bus back to Pasay and then a DLTB bus back to Calbayog.  I hope to get one of those greyhound buses, but if the wait is too long, forget it.  Most likely the first bus out and we're gone.  I am NOT a fan of taking the bus, however with the extra amount of bags that we have, it's the best way to travel back.  It's also far cheaper, even without the extra luggage charges (if they even allow so much luggage).
Well at this point, I do not have anymore notes.  I guess there is not much more to tell anyway.  The bus ride to the ferry was the expected boring trip with my butt hurting for almost half the trip.  The ferry boat ride was nice because it was cool outside and I didn't sit down most of the time.  Plus no cockroaches attacked me this time.  I suppose the only real thing left to talk about is the final leg of the bus ride.  The trip from Allen to Calbayog is about a 2 hour trip.  Our bus made it in 1 1/2 hours.  That is another reason why I do not like the buses.  They take too many chances a lot of the times.  This driver acted like he was on a timetable or in a race, or something.  We were seated a little more than half way back, behind the driver and I am not afraid to say that he made me nervous on many of the turns he was taking.  In fact, ever since that trip, I've been thinking that maybe I do need a vehicle here (a 6 pax pickup).  If we had one, then maybe could drive places instead of having to take the bus.  I really don't think I'd like driving through the Manila area, but maybe we could bring a driver (one of the cousins) with us.  We can't afford it at the moment, but that has been placed on my list now, so it will at least get some consideration.
Obviously we did make it home, alive, and I am not ready for any bus or van trips anytime soon.
Salamat Y'all