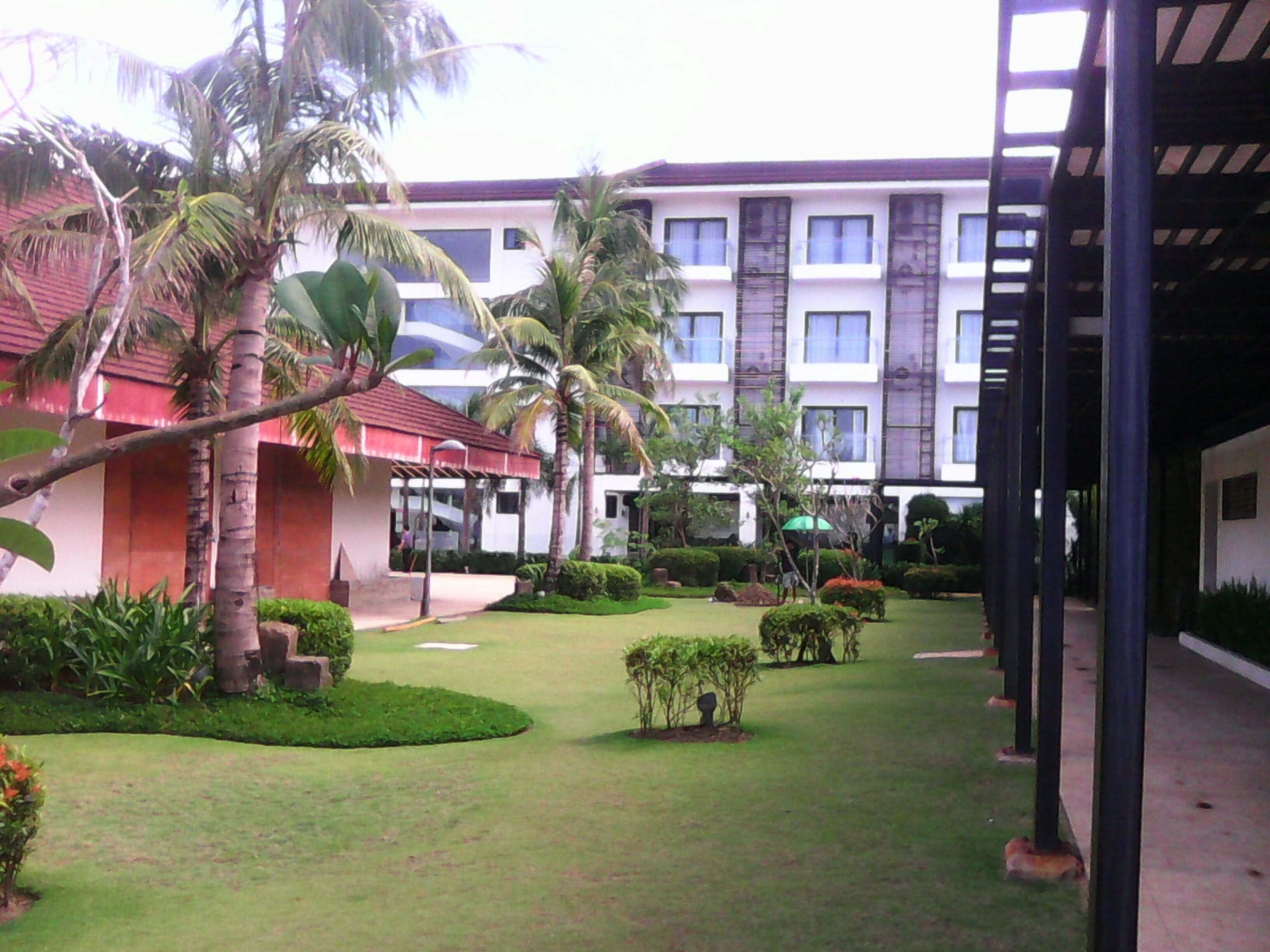 [smartads]
Recently I had a dinner date with 2 beautiful women.  I didn't even have to pay for the meal or even drive to the restaurant.  Actually, if you come right down to it, a person that wasn't even there is the one that paid for the meal and all the drinks.  I'm glad that one of the ladies decided to get a room in the hotel.  This all started rather innocently and I would like to tell y'all the whole story.
Just a few days ago I got a message on Facebook from a young lady (Jen) that is the wife of a friend of mine (Gary).  I guess I should really be considering her a friend also, but it's hard for me to do that with someone that is so much younger than me.  I need to learn though.  She invited my wife and me to eat at the restaurant of the largest hotels on the island, the Ciriaco Hotel & Resort.  It just so happens that this hotel is directly across the street from my house.  That is why I did not have to drive to the restaurant.  I've eaten at the restaurant before and at the time I did, it was not that great.  The prices were too high and the food was only average.  However, this is a chance to get out to do something and to also see this beautiful woman.
Of course, since my wife (Lita) was invited to go also, she was the other beautiful woman that I was there with.  When our host arrived at the hotel, she sent me a Facebook message and we headed across the street.  Naturally though, just as we were ready to cross, a big line of cars came by, both sides.  It ended up taking us about twice as long to get there than it would have on a normal day.   Jen was waiting in the lobby.  We said our hellos and headed to the dining room (Elsa's Cafe), which is adjoining the lobby area.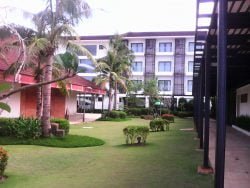 In the dining area, we selected the table where we wanted to sit because it was not very crowded.  We were promptly given the menus and left to decide.  One of the first things that I noticed was that since the last time I was there, the menus have improved.  They are both more decorative and thicker with more food choices.  Still, me being a picky eater, had a hard time deciding.  The only thing that I knew I was going to get was a San Miguel beer, which I did get.  Lita and Jen split a bottle of wine and we all had our mineral water.
I have no idea what Jen ordered, but Lita got a Ceasar's Salad and some pumpkin soup.  For me, I got the Chef Salad and a small Italian pizza.  The pizza here in this town is not good at all, but I've never tried the pizza here at this restaurant and since Gary was paying, I thought this was a good time to try it.  If I didn't like it, I could always bring it to the relatives across the street.  The service here is still slow, but the menu choices were good for people that are not picky eaters (like I am).  The beer was nice and cold though and the ladies seemed to be enjoying their wine.
When the food did arrive, it was not quite as big as I was expecting, but it did taste better than I was expecting.  My chef salad was very good, except I forgot to tell them, no eggs.  It's good that the eggs were large pieces.  I just took them out and gave them to Lita.  The salads came with 1000 Island dressing, which is my favorite.  The pizza was the biggest surprise.  It was actually decent.  I can't swear to all the food there, but the salad and the pizza are good.  It was better than 99% of the other pizzas I have had here in Calbayog.  Even though I hear the 1% is now not as good as it once was.  We all enjoyed our meal and had a nice conversation while eating.
Come to find out that Jen had booked a room at the hotel because she did not want to be driving back home at night.  It's wild enough to be driving around here during the daylight hours, and it's really crazy at night.  I was glad that she got a room because I didn't want to have to worry about her driving back home.
So we had a nice dinner and Jen was a perfect host.  I'm glad that she invited us and we really enjoyed it.  I also found out from Gary that the whole dinner thing was Jen's idea.  It gave me a whole new perspective of her and the hotel cafe.
Salamat Y'all