[smartads]
Well another 4th of July has come and gone.  We didn't have any fireworks, but that's fine with me.  I'm not a big fan of fireworks.  This 4th saw me having my first party at my house.  We've been here over 6 years and this is the first expat party at our house.  We've had lots of parties for Filipinos, but this one was for the expats only, even though the Filipinas around here did most of the work to get the party going.  If I tried to help too much, I'm told I'm getting in the way.  Okay, I can take a hint, I'll go back to my computer and defend our house from the invading zombies with my all powerful super plants.  I had my party mix music started at the beginning of the party and it went the whole time.  I have 255 songs on that playlist and I don't believe we got through it all.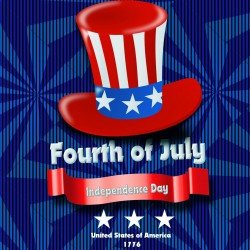 Randy showed up for the party first.  The party was to start at 1 pm and he was here around 12:15.  He and his wife, Teri, make some pretty awesome potato salad, so that is what they brought, mostly because several people requested it.  I understand they were going to be bringing chili instead, but scrapped those plans and did the potato salad instead.  I was actually hoping they'd bring both, but that's being a bit greedy.  Anyway, I asked Randy about the potato salad when he go here and he showed me a small container and said, "Here it is".  He asked me to try it to see what I thought.  I got a teaspoon and gave it a stir and it looked strange, not like potato salad at all.  However, I went ahead and tasted it anyway.  One of the worst things I have ever put in my mouth.  It wasn't potato salad, it was kinilaw na tangigi.  Some kind of nasty thing made with tuna (tangigi) and vinegar.  It came out of my mouth a lot faster than it went in.  Randy wanted me to do it again, because he thought his camera was on and he wanted the reaction on record.  Too bad!  He should have planned it better.  There was no way that I was going to do that again.   It's a good thing I'm a Red Horse drinker because after about a 1/2 of liter of Red Horse, the taste in my mouth finally starting going away.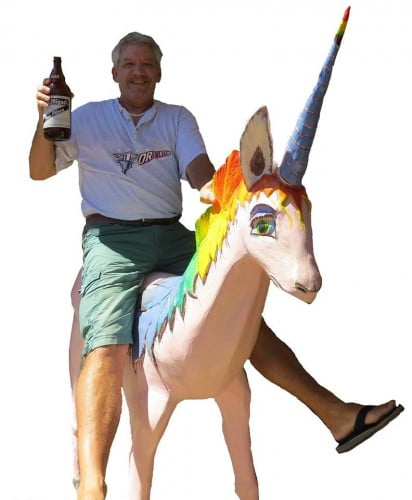 The next person to show up was Scott van Torres.  His wife Lucy did not come with him.  She's not a big party person, but I hope to get her here for a party at some time.  Scott brought some of the only good hot dogs I've been able to find here.  Scott likes the kinilaw.  Of course Scott likes most of the foods around here.
The next person to show up was Peter Siversen. He showed up on his motorcycle and with his cane, bringing us more beer.  He's not a big drinker of beer, but he didn't want to come empty handed.  I don't get to see Peter too much, so it was good that we could do some communicating.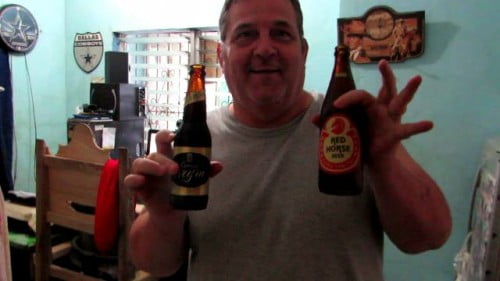 David Zook showed up next.  He didn't bring anything with him except 2 can of 12% beer.  He brought that for me because I wanted to taste it.  His wife, Mayette, was not with him, but she was coming soon.  She was the one bringing the food.  She was bringing dynamite sticks.  In this case they were egg rolls stuffed with pork and hot peppers.  You can make them just about anyway you want, just be sure to have the 'hot' in there.  Actually I like them best with just cheese and hot peppers.  Those dynamite sticks were one of the most popular foods that showed up, just like Randy's potato salad.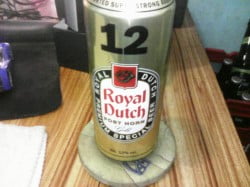 Carl Evangelista Sr was the next person to arrive.  He brought his wife Barbara with him.  She's not Filipino, but she is a nurse and works with a lot of Filipinos, so she's use to them.  She went inside with the other ladies and we could hear them talking up a storm in there.  He also brought a few beers, 2 cans of Red Horse, 1 bottle of Red Horse and 1 can of San Mig Light.  I guess he likes bottle beer better though because he opened the bottle of Red Horse and started drinking it.  He is not a full time resident here, I don't believe so anyway, but he does visit a lot.  His son (Carl Jr) is a full time resident here.  He's a good conversationalist, so we had many good talks during the course of the party.
The last person to show up was Mark Gianetta.  He just retired here in April and still is trying to get into his house, plus he has 2 kids to deal with, one of them just starting school.  Most of us here do not have to deal with children, so he's a bit unique in that respect.  Mark's a nice guy though, so he figured he'd show up for a little while before he had to pick his son up from school.  We all got to see his new motorcycle up close, and it's a nice one.  I'm hoping that after he and Cheryl get settled in, we will be seeing more of them.
So we did a lot of talking, in English.  We told jokes that we all could understand and thought were funny and we threw out a lot of sarcasm that we could all understand.  Yes it's good to get together with people that understand where you're coming from.  I'm still hoping for like a monthly expat meeting for everyone here, but it seems that we never can get together on the details.  Maybe we should just pick a place and say the 2nd Wednesday or Saturday (or Thursday or Tuesday … whatever) we will meet there.  Who ever can, show up, if not, no big deal, maybe the next month.  We'll see how that works out.
So to sum it up, it was a pretty decent party.  I would have liked more participation, but it was good.  The last person to leave was Scott and he left around 5 pm. So a nice 4 hour party.  Also now more people understand that I do not like kinilaw.  
Salamat Y'all