Working and Leaking Before the Brown Out
[smartads] Don't forget to click on each of the pictures to get more information about that picture.  It's a thing I do for "My" pictures to explain a little bit more about each one.  I remember most of the time, I'd say at least 95% of the time, but don't be surprised if I miss one.  These above pictures are what we use to look like.  They are old pictures, about 20 years old for the picture on the right and about 23 years for the one on the left.
Another Break:  I guess I will give y'all another break from the Provinces today.  I think that most people would prefer that I use my own pictures on this site at least most of the time.  I do have a lot of people searching for the different Provinces and Regions of the Philippines though, so I know that my time is not being wasted.  I even had one person, a Filipino, that told me that he never really wanted to explore his own country until he saw all the beautiful places that I post on here for the different areas.  He says he now plans to check out a good portion of the country.  He thought it strange that a foreigner had to point out to him how beautiful his country really is, but he was happy he found out and thanked me for doing this blog.  Those are the kind of messages I like to get.
Hits:  The last hit count was 1552061 on Saturday night.  As of right now 9:07pm on Monday, the count is: 1563837.  That makes an increase of 11776 for those almost 2 days.  That averages out to 5888 per day.  As long as I am averaging 5480 per day, I'm happy.  That would come out to just over 2 million hits per year.  Of course this count is about 3 hours ahead of a full 48 hour period, but I didn't feel like waiting that long before posting this.  Of course if the average hits per day is 58,888 instead of 5888, well so much the better for me.  Maybe someone will want to advertise on my site if it gets that many hits.  It's only a dream, but I'm a good dreamer.
Brown Out:  Sunday morning we had a brown out at 0600.  It lasted until 5:24pm.  Titing told me that there would be another brown out on Monday morning at 0700, but he likes to mess with me about the brown outs and that turned out not to be true.  He knows that when the electric is out I don't have much of anything to do.  I can't get on the computer or watch TV.  Even if we fired up the generator, it does not have enough power to run the computer properly and even though the TV would work, there is no cable to watch because they are down also.  Heck half the time when the power does come back on, the cable still does not come up and may be out an entire day.
Added Links: I added 3 more links to the website.  Under "Other Expat Sites" I added: The Philippines Project, under "Blogroll" I added: Tiya Rosa – An Ilongga in Hysterics and under "Calbayog City Sites" I added: Calbayogtom  (videos made in Calbayog).
Another Congressman in the Area:  The Ciriaco Hotel had plenty of military guarding it again today. Congressman Mel Sarmiento was visiting there.  I guess he had some kind of speech to give.  If he did, he gave it on the inside.  The outside was crawling with soldiers with M-16s and M-60s.
My Other Blog:   I finally wrote another story for my other blog.  You can read it here if you want to see what kind of strange thing I came up with this time.
Kitchen Rearrangement:  Lita decided to rearrange the kitchen.  We moved the refrigerator and freezer closer together and put one of the tables, the one from LolyKat, on the end close to our bedroom door.  We just have the one wooden table in there for eating now.  It's all we really need anyway.  The other small table that was with the big wooden one in the kitchen, is now in LolyKat.  It actually looks like there is plenty of room to move around now.
Saddam (aka Jay):  I was just reminding everyone that Jay also goes by the name Saddam.  I don't know why though.  I believe his name is actually Jury Jay.  Most everyone around here calls him Saddam and I do it at times.  I was just warning you in case I accidentally type in Saddam instead of Jay, so you will know who I am talking about.  Part of the reason for the rearrangement was that Lita wants Jay to sleep in the house, not in LolyKat.  We set up a nice little area for him to sleep by the 3 windows to make sure he had plenty of air.  Jay really wanted to sleep in the house also because he was worried that some drunk would crash into LolyKat while he was sleeping in there.  We have had a couple of close calls, but no one has hit the store yet (knock on wood).
Leaky Roof:  We still have one spot on the roof that leaks.  It doesn't seem to be able to fix in the normal way we have been taking care of the leaks.  Basically we have just been putting large tin items over the top of them because it only leaks because the roof must be slightly uneven and it collects water in spots.  Well actually it has only been 3 spots and 2 of those have been taken care of.  I'm not too concerned about this one, but the other 2 were important.  The first one has right next to our electrical fuse box.  Of course water and electricity don't mix.  The second one was dripping on our TV stand and bouncing the water up on my TV.  I couldn't have that.   This third one drips next to one of the cabinets between the kitchen and the patio area.  It doesn't even drip that much, so we don't worry about it too much right now.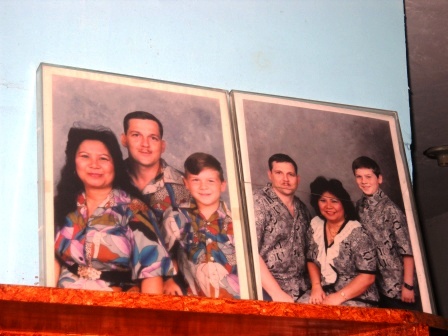 Another YouTube Video:   I have another video to upload to YouTube, but I'm having a hard time getting it to go.  I don't think it's as good as the other one, but you just never know what people will like and start watching it a lot.  This new one is just mainly 4 of the children, all Cathy and Ado's kids, playing in and hanging all over a playpen.  Casandra does get to step on her sister.  I went to get the camera when I saw Casandra step all over both Crystal and Khan because they were laying down in the playpen and she wanted to get to the other side.
Casandra:  Well Casandra can not walk by herself yet, but she can now stand up by herself and walk from one end of the playpen to the other.  She looks happy to be able to move around.  I know that sometimes when I'm carrying her, she likes to stand out by the road and watch people walk by.  She especially likes to stare at the children as they go by.  Of course the children are usually staring at me.  I think that before the end of the year, she will be walking by herself.  I tell Cathy that first she learns to stand, then she learns to walk, then she learns to run.  Soon she will be big enough to go to school, then she will have a boyfriend.  Shortly there after she will get married and have her own babies, making you a Lola (grandma).  Cathy displays both a sad and happy face during that conversation.
Vicky:  Vicky starting working again today.  She was off work all last week because Lita was gone in the middle of the week and with all the festivities going on, not too many people would be coming to us anyway.  Vicky did not even work all day, but she did have to wash today, and there were a lot of clothes.  She did a few other things, then Lita told her to eat and go home.  She left sometime between 2:30pm and 3:00pm.  I was watching TV, so I didn't see the exact time, but she was eating sardines and rice at the picnic table when I was out there eating some stew that I made today.
Sally:  Sally came by on Sunday to get her last salary.  I'm not sure what her and Lita talked about so long, but Lita told me before she showed up that she heard Sally wanted to come back.  I figure Lita told her no, at least for now.  When/If the restaurant ever gets going, she may hire her back.  Sally is a good worker and supposedly she had another job lined up, but I don't know about such things and I don't concern myself with them either.  If it turns out that Sally does start working here again, I will inquire about that other job at that time.
Me Working:  On Sunday I loaded all the ice candy into the now fully defrosted freezer.  Jay, Vicky and Neneng poured and tied them, so I decided to put them away.  Why am I telling y'all this?  Well I usually don't do that and it's more work than I do on a normal day.  I have done more work in a day since I've been here, but mostly I walk around, talk, sleep, watch TV, and/or get on the computer to play and/or do research for the blog.
Useless Knowledge:  In a tragic fall on The Andy Williams Show in 1965, comedian Jerry Lewis suffered a skull fracture that led to an addiction to the painkiller Percodan. His surprise reunion with former partner Dean_Martin on the 1976 MDA Labor Day Telethon made entertainment history, but Lewis said he was in such a drug fog, he didn't recall it and had to watch it on video.
Other Interesting Sites:
http://www.evisaasia.com/embassy-guide/philippines-embassies-around-the-world/
http://stupidthoughtsonfacts.blogspot.com/2011/11/life-is-like-watching-kettle-of-water.html
http://www.youtube.com/watch?v=S3mvbU-of_E
Salamat, Palaam
Today in Philippine History
Photo credit: http://quod.lib.umich.edu/cgi/i/image/image-idx?id=S-SCLPHILIMG-X-1852%5DPHLD035