[smartads] I have got so much information for today I'm sure that I will have to postpone some of it for another day.  Usually when I have a decent sized post I will have 3 to 4 pages of notes.  Well for today I have a little over 7 pages.  Don't forget to click on the pictures to get more information about the picture.
Hits @ 0000 = 1228992 = 10679 (2 days).
I'm shutting the computer down at 0010.  Lita has turned the TV off again so maybe she won't mind if I watch.  She likes to sleep with the TV on anyway.
The wind seems to be getting a little harder out there, but not serious conditions.
When I finally did decide to go to bed at 0242 because I ran out of good things to watch on TV, the wind was still blowing hard, but now it was raining.  It wasn't hard rain so that's the good kind of rain.
Well Crap!  Somewhere around 0530 we discovered we had no lights.  I was wonder why I was so hot.  I was really too dark to see the clock clearly, but that what I got from it.
By 0815 we had so many different things happen that I don't even know where to begin and I don't want to forget anything.
I guess the wind picked up a bit last night because our gate is broken.  Half of the gate broke off and the other received more damage, but is still hanging on.  Lita and Leo tied the side still standing to the back of the Nissan.  I don't know why.  I mean if anyone wants to get in the other side is wide open.  We wanted to build a new gate anyway so I guess we will just have to do it sooner than we wanted.  I'm not sure how that's going to fix into our already stretched budget, but we will make it fit somehow.  We have the volunteer manpower to fix it, the nails and the hammer, plus Victor will bring a few things to repair it.  He is one of the volunteers.  I hope he has the hinges.  All we need to do is by the wood and the bamboo.  I'm thinking just to buy the coco wood, that's the cheapest, but as much as it rains here, it would probably need to be replaced again in about a year.  I will probably yield to the experts in that department, I will get their opinion and decide from there.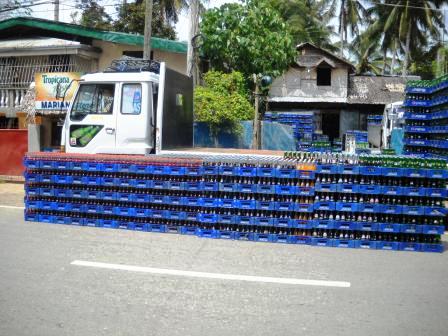 Around about 0810 Lita came into the bedroom screaming.  She wanted to know why I couldn't hear her screaming.  Evidently she was outside screaming at me because the wind had grabbed the screen door and slammed it shut so tight and crooked, that it was jammed.  Jay was trying to pound it loose, but he didn't have enough strength.  He was going to get the hammer and try hitting it with that.  I just used my fist.  I pounded the top of the door, where it was crooked until it finally opened up.  It took me about 7 hits because I didn't want to hit it too hard for fear of breaking the whole door.  I figured the slow steady way would be less expensive.
At 0828, while I was writing that last paragraph, the electric came back on.  At 0830 Lita came in the bedroom, that's were I am, propped up on some pillows in the bed writing this notes, and said that the wind almost blew her away this  morning. Her and Leo were out by the gate, trying to tie it down so the other half would not break off too, and a gust of wind nearly knocked her over.  Leo had to save her from falling.  So I guess the gusts of wind are strong today.
Okay, I think I've got everything so far.  It's only 0837 but I don't see how the rest of the day will be anymore exciting then this morning.
Jay bought some eggs this morning, but only 3 for me.  He and Lita will be eating dried fish for breakfast today.  The cooking of the dried fish or any fish is when I'm glad the dirty kitchen exists, outside.  In fact that is why they call it a dirty kitchen so they can cook the "less than desirable smell" items.
At 0842 the power went out again, but it was only a 1 minute thing.  You can't tell me with a straight face that they schedule all these things whether 1 minute or 10 hours.  There is just too many of them.
Well SOB, at 0847 the electric went out again.  Write those letters to your Senators and to President Aquino, this is BS.
I'm not even to 0900 yet and I've already got enough information to have over half of a decently worded post.  I wonder what the rest of the day has in store for us?  (I will find out later that I wish I would not have asked).
I went outside to take a few pictures of what is going on out there.  While I was there and American showed up to say Howdy and to talk a little bit.  He and his wife/girlfriend were staying at the Ciriaco Hotel.  They are the only guest in the whole hotel at this time.  He probably told me her name, but I don't remember.  She is good looking though.  His name is Charlie and I think he said he lives in Angeles.  I say that because he said that he could get a good steak back in Angeles where he lives.  At least that's what it sounded like he said.  Maybe I just wanted to hear that, I'm not sure.  He was wondering why the Ciriaco charges to use the Internet.  He said he didn't mind the price (P50 per hour), but it is unusual for a large hotel like this one to charge for that.  I don't know, I don't stay in hotels like that, I can't and never could afford it.  Unless I was a millionaire of something, I doubt I'd stay in a place that charged so much to sleep in a bed.
He said he was also disappointed with the restaurant.  He thought that it was more geared towards the Asian, particularly Chinese people.  So when I told him that a Chinese person owned the hotel, he was not surprised.  He just said it figures.  I told him that we would be having a restaurant here, probably in February, and he was happy about that.  He said he would not return until our restaurant is complete.  He wants chili con carne on the menu.
He also wanted to know where I ate when I went downtown.  I directed him towards Carlos n' Carmelo's.  I hope I didn't send him to the wrong one.  Sometimes I get this one mixed up with El Carmelo's.  Only one of them has the tacos, lasagna and cheese sticks though.  That's the one I was trying to send him to.
Charlie and his wife or girlfriend, he didn't tell me which she was, will be leaving tomorrow if Mother Nature doesn't have any other plans.
Lita was sitting at the picnic table peeling and cutting a squash and a gust of wind blew her container and about 15 slices of squash away.  Only about 5 of them landed on one of the benches, the rest found their way to the ground.  The drainer she was using for a bowl blew out the open gate.  She had to retrieve it next door.
We did not open for selling food today.  We figured that there would not be enough people out and about in this mess to warrant opening up.  There were a few people that came by, but for the most part there were a lot less people on the street than on a good day.  I'm sitting out at the picnic table, taking these notes, watching them not go by as much as usual.
Lita wanted to open the front door to let the air in.  The wind was blowing the door shut so we had to get a big rock and put it at the base of the door.  As we put the rock there, Lita said, "Ha!  Wind we are smarter than you".  I said, "Oh Crap!  I wish you wouldn't have said that.  We don't what to piss off Mother Nature".  Lita tried to apologize but I guess Mother Nature wasn't having any of that and she was pissed off.  About 2 minutes later a big gust of wind blew the door shut and the big rock and a thick rag was jammed at the bottom of the door.  The top was closed all the way, but the bottom was not.  To make matters worse, we could not even turn the door handle.  We thought the door was locked.  Now I could have slammed into the door and broke it open or got a hammer and broke the handle off, but I decided to do it the slow and steady way.  I pulled on that thick rag until I got most of it and the door moved a little bit.  We were then able to turn the handle.  After a few more shoves of the door, it finally opened.  Lita apologized to Mother Nature one more time, just in case.  We do have th door open now, with 2 rocks down there and we closed the window behind the door so the wind gusts coming through the windows would not be so strong.
Cathy is making a fire out here in the dirty kitchen to cook some fish for her family.  I hope she can do it in all this wind.  It's about 11:20 now and still no electric.
Precious is helping Lita with the Camungay (sp).  It is a small leafy spice (I guess).  It's like small basil leaves.  We have a tree next to the house and they use it a lot.  It just looks like leaves to me.
Two of the guys that work at Fran Jessy Trading (the name of Titing and Neneng Pepsi business), climbed up on top of the house to experience the force of the wind.
Cathy did get that fire going and when she finished cooking, since the fire was still going and I didn't want to waste it, I went ahead and cooked my onions, peppers and then eggs.  While I was eating them, Precious decided that she wanted to try them.  There were hot peppers in there, but I let her try anyway.  She liked it.  She got about 8 pieces of it, one at at time. About the 4th time she got a hot pepper.  She told her mom (Cathy) she got a chili, but she still came back for more.
At 2:21pm the power came back on, but at 2:33 it went back out again.  At 2:34 it came on and before it could become 2:35, it went back out again.  At 2:36 it came back on.  They went out again at sometime.  By this time I'm so pissed off and I just quit trying to keep up.
Lita wanted to sleep, but couldn't because the kids were making too much noise, so she drank the rest of the Red Horse I had left over from Saturday night.  That put her to sleep for a couple of hours.
At 6:32pm the lights came back on for about the millionth time today.  Trying to keep up with the outage times became a nightmare, so I gave up.  They were going on and off so fast and then waiting for a little while, then fast again .. a nightmare.
I did find out that Jascyl has not changed her mind.  From what I can figure either Tuesday or Wednesday will be her last day.  I don't know at this time if they plan to hire another Yaya, but if they do, I suggested that they hire an older woman. One that has experience handling children.  Although the younger ones are usually better to look at, it's the children's need that comes first, not my viewing pleasure.  These 4 got to be a handful for Jascyl when she was the only one here with them. Lita had to step in a few times to make them behave.
You know … this post is long enough.  I'm going to stop here and in the next post just pick up where I left off.  Stick around for more of the exciting outages.
Salamat, Palaam
Today in Philippine History