[smartads] Since wondering about the coincidence of a new site opening shortly after I asked the city about information, it turned out to be just that, a coincidence.  According to the author of the new thread that site is not associated with the government.  It's good to have another site active though.  I will try to get different information to add to my new site to give an all around view of the wonderful city of Calbayog.
LolyKat is open for the first time in 2012 now.  It is 0835 and I've been out here approximately 20 minutes.  After opening, I put the remainder of the drinks in the cooler, including the leftover Tropicana Twister that I bought to use in the Pacquiao Punch that hardly anyone drank or even tried until Lita started complaining.  I believe I mentioned that Lita is the manang of the family, plus she has a real high pitched voice.  When she gets aggravated and starts yelling, the children mind almost instantly.  The cousins are not afraid, but they do tend to pay more attention when she's yelling.   However, only 2 of them tried the punch afterwards. Anyway, lets get off that subject for awhile.
Today is the day I'm suppose to be taking Lita to eat for her birthday, go by the DILG building for new blog information and to pay some bills downtown.  Lita is still feeling sickly, so I don't know if all that will happen today.  I hope to get come of the things done today, one way or another.  Today or tomorrow are really the only days I can accomplish those without having to pay penalties.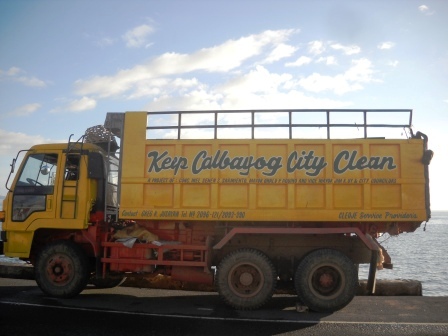 It was a bright, shiny day.  Now it is a bright, shiny, rainy day.  That means that the place in the store that leaks will start anytime now, I better put my container there.  There done and just in time really, I caught the 2nd leaking drop.
I thought Khany and Bebie left yesterday.  They got in the car and everyone was saying, "Bye" and the car wasn't here all night, at least I didn't see it.  It's now 0900 and the car is back.  I asked Khany what the deal was and he said that Bebie is still sick (she caught the same thing I and Lita had/has).  They will be hanging around an extra 2 days.
The banana "stealing" lady just grabbed 2 or 3 of the bananas with Vicky keeping her in check so she won't "steal" all of them.
It's only 10:45 now, but Lita told me that she does not feel like going to eat today.  She says we should just go for my birthday, which is on 18 Jan.  I wanted this long, I guess I can wait longer, but I didn't have to, as some of y'all my know already, keep reading post for details on that.
It keeps raining on and off, but that container I put up is almost full.  I will bring it out front to water my ants.  Ants are building around a flower pot that Lita has out front and I'm trying to convince them to leave.  I will continue supplying them with water until I think they have had enough or until I see a little white flag.
At 1220pm, Mar showed up to take us to the restaurant, just like was planned.  He was early even.  I didn't call him to tell him that we were not going because he was at work.  While he was home eating lunch, Marianne reminded him about our lunch, and he headed over.
I decided I would wait until tomorrow to go pay the bills and things, because it has been raining too much, but also because I would have to close the store since Lita is unable to sit out here to watch things.  If it's raining tomorrow, well I have no choice, I must go.  I hope things turn out okay.
Well after all that worrying Jay is going to pay the electric bill.  He is out there trying to hail a tricycle now … Got one!  There he goes.  To the best of my knowledge, the only place to pay your electric bill is at the electric company.  It is a couple of miles from our house in the opposite direction of downtown.  The lines are usually pretty long and I don't do lines well.  Lita sends Jay to pay for us because he doesn't seem to mind the lines.
Well I guess since the electric bill is not actually due until the 12th, the lines were not very long.  It's just now 2:00pm and Jay is back already.  He was gone less than 30 minutes and it's at least 10 minutes for the round trip.  Since he did such a good job with that, and he is looking bored, I decided to let him go pay the water and Internet bills also.  I told him to BE SURE to get receipts, especially at the Internet office.  We had an issue with them last month.  He doesn't know where the water department is, but he's going to give it a whirl.  I really wanted to pay that Internet bill myself, but he looked so pathetic with nothing to do, and he's a trustworthy guy, so I'll give him a chance.  I'm sure things will turn out fine.
See told you!  It's 2:55pm and Jay is back again.  He said he had no problems and he also had the receipts for both places.  He will be a well traveled person today because Lita says she will be sending him to Monterrey House later to buy some chicken.  She wants to fry some chicken tonight.  I hope she doesn't change her mind again.  If she doesn't send him to get it, I'll go and fry the chicken myself, if I have to.  In the meantime, it's time for another peanut butter sandwich.
Back to the punch.  It turns out that Jay likes the punch.  Vicky likes it also, but she thinks it need some Tanduay rum added.  I told her she can do that per glass also.  I must admit that the punch did taste a little better after being in the refrigerator and not just using ice to cool it.  Even when it is diluted with the kid's punch mixed in, it was still good.
The banana thief is back, but I think she is actually buying something.  She's stuck here because it is pouring down rain again, so there is still a chance she will get one or two of those bananas before she goes.  As it turns out, she left without taking any, but she did eye them when she went by.
I swept the floor in here because it was just too dirty for me.  Besides, I like the look on the kid's and some adults face when they see the Kano doing physical labor.
Jay left again in a tricycle.  I asked Lita and she said she sent him to get the chicken already, plus he wanted to stop someplace else too.
A lady came by and bought some ice (P2) and then tried to get a banana ball (P3) because she said she gave Vicky (P5) and that should be her change.  Vicky went back to the place we put the ice money and there was only 1 P5 in there, and it was already there, so Vicky wasn't having none of that.  The lady acted mad, but she left without putting up much of an argument.  I hope she doesn't come back with a machete later.  We have no reason to cheat anyone here out of any money, much less an amount like P3 (about .07).
When Lita's feeling better and can be out there in the store to watch it for awhile, I'm going to get some updated pictures of the Ciriaco.  I figure the resort area must look a lot different than when I first took pictures.  I'll ask them about that calendar of events while I'm there.  I hope they have one online somewhere so it would be easier to put on the site.
I took down a couple of the hanging racks in here.  I kept bumping my head on them.  I still hit my head on some of the other ones, but at least now I have room to maneuver.
Jay was gone for almost 2 hours before he should up with the chicken.  Seems he was waiting for Khany & Bebie to return here from Judith's house, so he would not have to pay the P8 for the tricycle ride.  Lita's into saving money, even P8, so he didn't get yelled at very loudly.
It's 6:35pm now and it's raining for like the 7th time today.  The rain patterns here are strange, but it's okay.  I can handle the rain.  It's the floods, earthquakes and tsunamis that I don't like and thankfully we don't get any of those here, at least we haven't (knock on wood).  Even if we ever get a typhoon here, which is doubtful of getting the full force of one, I can handle those.
When the rain lets up this time, I'm going to close the store. Vicky left at 6:40pm, her 13 hour day brought to a close.  The rain let up enough for me to close the store, so I did.  Time to get on the computer and wait for the chicken to fry (Swiss style).
I worked on the post for awhile, but got distracted when I found some material for the Calbayog Corner and Samar Headlines blogs.  Sure this blog is still more important, but there is not lack of information for this one.  Those other 2 are harder to find information on, at least for now.
I'm still waiting for some feedback on my story, "Gummy Girls" at the Idle Thoughts & Altered Dreams site.  Read it.  If you don't like it, say so.  I'm a big boy, I can handle it.  Just remember that it is my first 'from scratch' story.
Salamat, Paalam
Useless Knowledge: Lillian Moller Gilbreth (1878-1972), the mother of 12 children, patented many devices, including an electric food mixer and the trash can with step-on lid-opener that can be found in most households today.