[smartads] I have no idea how to pronounce Manananggal, but I'll make an attempt to separate it, and if it's wrong I'm depending on all you Tagalog speakers out there to correct me.  Here goes the attempt:  Ma-na-na-ng-gal, how close did I get?
Yesterday morning I got up at 0802 and the electric was still off from the night before.  Before I went in to take a shower, I decided to turn the light switch on just in case the electric came back on while I was taking a shower.  Turns out I did good.  The electric finally came back on at 0824.  On Saturday's post I talked about how all the recent brownouts we have been having have been short ones, and that there was a rumor of a brownout for all day Sunday.  Well I guess someone must have heard me and made me wrong on both counts.  Not a short brownout and it happen on Saturday night, but came back on Sunday morning.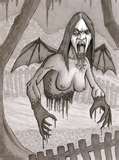 Manananggal the Filipino Vampire

Also on this day I found out that Nicole no longer works here.  Ado has decided to become our full time driver, instead of an on call driver, and rent out his multi-cab for a boundary.  That way he can see his children more, because he wasn't getting to be with them much.  I think it was over burdening Cathy also.  Ado was getting up at 4:00am and not getting home until after dark, about 6:00pm,  everyday.  They would all go to bed around 9:00pm, so he would only have about 3 hours per day for them.  They are not going to be saving much money because Nicole's salary was being paid by Bebie and Khany, so now they just won't be sending that money.  It saves them money though, so that's good.
I still haven't gotten re-invited to tour the hotel yet.  I'm still working on that, or I should say Lita is working on that.  She's the one that sees the guy when he comes by.  I've only seen him once and I wouldn't recognize him if he was in a room with only 1 other guy.  I really hope that that comes about, not only for me, but so I can get the pictures for y'all too.
Yesterday the hotel was showing the Pac-Man fight.  It was on TV here, but I'm sure it was on pay-per-view in the States.  Titing was going to borrow our TV to watch the fight at his house, since our TV is much larger, but he changed his mind.  He said that everyone might be drunk and would be unable to return the TV right away.  Now I don't know how anyone can drink enough to get drunk for only 12 rounds of boxing, unless they are really putting it away, but I didn't argue, because I was glad the TV was staying.  Now don't get me wrong, if Titing wanted to borrow the TV, I would have let him and it would have been fine with me, but it's best if it stays put.  Everyone here who has cable had to pay P20 extra on their cable bill whether they watched the fight or not.  Lita watched it though.  I was in here on the computer listening to music.

Speaking of music, I think I messed up big time.  Remember I told you that I downloaded over 2000 songs from Limewire?  When I downloaded them, they all went to ITunes.  Since they were in ITunes and LimeWire is no longer active, I figured I'd go ahead and delete LimeWire from my computer.  I think that was a big mistake.  Now when I try to play most, not all, of my songs, it says it can not find the original file and it will not play.  Of course the original file was in LimeWire, and I deleted it all.  I am so pissed about that.  If anyone out there knows how I can save my songs, please let me know.
On the 27th of this month Mar and Ludy are going to Cebu.  I know I told you already, but know I'm not sure if I'm going to be going.  I still want to go, but we're probably not going to have enough money for me to do that.  Now if they delay it for some reason for 1 week, then I should be able to go.  If they go on schedule then they will look for some things for me at the Alaya Mall supermarket.  Of course it'd be better if I could look myself, because I'll never be able to tell them everything to look for.  Even my hopes of going to the Jungle Restaurant are fading fast.  I'm still fighting for it though.
I changed the clock in the bedroom yesterday.  I put up one of those radio controlled clocks that we used to have in our bedroom in Texas.  The clock that was in the bedroom is now on the outside of the window to the computer room.

We did get a new reader yesterday.  Her name is Betty and she is from Austin TX.  I don't normally approve people that show up using their work information, but hers seemed a little different and sincere.  How you doing Betty?  Glad to have you as reader.
Today I went downtown to our bank, United Coconut Planters Bank (UCPB) and also to Metro Bank.  I went to UCPB to cash in some dollars that Lita found in her purses while she was digging.  It was only $16, but we don't need it here and we needed a few extra pesos to do some shopping.  Ado drove me there.  Crystal and Khan also went along.  Ado is a very good driver.  Crystal and Khan need to learn how to 'sit' while in a vehicle, they jump around a lot.  At least they don't bother Ado while he is driving, so that's good.  While downtown I stopped by JustMar to get some more pancake mix and syrup.  I got 2 boxes of mix and 1 bottle of syrup.  I knew exactly where they were in the store, so I whipped in there and got them right quick.  When I left I went to the, what I call, the express line, maybe it is, maybe it's not, no one told me, and it's not marked, I just assume so.  Anyway I went there, I was second in line and the first in line was half finished already.  So to make this long story shorter, I was in and out quick.  I went in so quick that I slip on a wet spot just inside the store, and almost fell.  Luckily I didn't though, it might have taken a few of the Filipinos there to get me back up.  On the way back home we stopped at Monterrey Meat Shop to get some bacon and bread.  I was pleasantly surprised to find out that the bacon they have at Monterrey now is one I'm familiar with.  It is Hormel black label.  I also only bought a small loaf of bread.  I'm the only one that eats bread around here, since we don't have a toaster, and I don't eat it fast enough.  It reaches it's expiration date before I can eat it all.  When it gets more than a couple of days past expiration, I won't eat it.  I'll give it away, usually to Cathy, because they don't mind if it's only a little old.  I've already had 3 BT sandwiches with it already today.  You know I was just thinking about that bacon.  It costs too much.  I didn't think about it well enough before I bought it, but it was P295 per package.  That's almost $7 each.  I bought 2 of them too.  My mind still has a hard time thinking in pesos versus dollars.  I probably won't be buying anymore of that bacon.

Saturday night we put a bigger light bulb out by the BBQ so it would be lighter out there, and last night, someone stole it.  That's the first time we've had anything stolen around here.  The light is on the outside of the property, so it was probably someone that was walking by and needed or just wanted it.  I put another smaller one out there, and I guess we will start bringing the bulb in at night.  That's a shame that something like that can happen.
The Top Blog must have done a lot of house cleaning because the Overall blogs dropped from 6761 on Saturday to 5703 today and the Personal blogs dropped from 1571 on Saturday to 1299 today.  Actually at this moment we are at 436 of 1321 in Personal (33%) and 2231 of 5803 (38.4%) Overall.
Well that's all I have for today, it hasn't been to awfully exciting around here.  I'm hoping for more exciting non-violent things for tomorrow and forever.
It seems that I haven't been getting too many comments recently.  Are y'all getting burned out on the blog?  Think I should change it, spice it up or just forget about doing it?  I've tried to spice it up, but I don't what to add too many extras to it.  Remember if you have anything special you want me to talk about or find out for you, let me know and I'll do my best.
Philippine Trivia
In the Philippines, Filipinos were introduced to the English language in 1762 by British invaders, not Americans. Philippines is the world's 3rd largest English-speaking nation, next to the USA and the UK.
The Philippine Basketball Association is Asia's premier and the world's second oldest professional league.
Philippine Airlines took to the skies on March 15, 1941, using a Beech Model 18 aircraft amid the specter of a global war. It became Asia's first airline.
The world's largest pearl was discovered by a Filipino diver in a giant Tridacna (mollusk) under the Palawan Sea in 1934. Known as the "Pearl of Lao-Tzu", the gem weighs 14 pounds and measures 9 1/2 inches long and 5 1/2 inches in diameter. As of May 1984, it was valued at US$42 million. It is believed to be 600 years old.
Alto Broadcasting System (ABS) Channel 3, the first television station in the country, went on the air in 1953.
The world's second deepest spot underwater is in the Philippines. This spot, about 34,440 feet (10,497 meters) below the sea level, is known as the Philippine Deep or the Mindanao Trench. The Philippine Deep is in the floor of the Philippine Sea. The German ship Emden first plumbed the trench in 1927.
The symbolic name for the Philippines, Juan dela Cruz, is not a Filipino invention? It was coined by R. McCulloch-Dick, a Scottish-born journalist working for the Manila Times in the early 1900s, after discovering it was the most common name in blotters.
Lipa City in Batangas is dubbed as the "Rome of the Philippines" because of the number of seminaries, convents, monasteries, retreat houses, and a famous cathedral located in it.
Compostela Valley is known to be laden with gold, thus earning the monicker "Golden Valley of Mindanao"
Basilica of St. Martin de Tours in Taal, Batangas built by Augustinian Missionaries in 1572, is reputed to be the biggest catholic church in East Asia. It is so huge that it can house another big church
Kibungan is known as the "Switzerland of Bengued" because of the frost during the cold months
The Delmonte Pineapple Plantation in Bukidnon is considered to be the biggest in the far east
Both Tridacna gigas, one of the world's largest shells, and Pisidum, the world's tiniest shell, can be found under Philippine waters. Tridacna gigas grows as large as one meter in length and weighs 600 pounds while Pisidum is less than 1 millimeter long. A shell called glory of the sea (Connus gloriamaris) is also found in the Philippines and considered as one of the most expensive shells in the world.
Salamat, Palaam