Mango and Computer Problems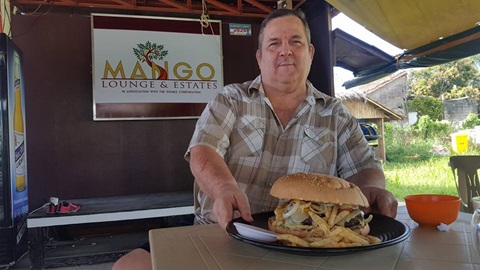 Last night my wife had a very bad rash that just kind of popped up out of nowhere. All on her body and legs mostly. Nening called one of our nieces, a pharmacist and she told her something to get. If it doesn't work, then see the doctor in the morning. It worked. The rash vanished as fast as it appeared. Hopefully it won't come back. It was similar to the rash she got when she found out she was allergic to Tylenol.
The expat that will be running the store for Christian moved into Mango Apartments today. He is also the person that will be my new walking partner. I'm assuming we will be starting on Monday morning, but I'll check with him to see how things are with him. He has a Rottweiler that all of Christian's dogs are not used to yet. A lot of barking when they first met him. Probably in a week or 2 the barking will stop, I hope. It's so loud. All the Mango employees, except Christian, are afraid of him. They don't understand that a dog can sense your fear.
Speaking of Mango employees, today is Justin's last day. I just found out today about it. Plus, the new girl he just hired, the daughter of Mila (Mango cook), quit already. I guess working like that is not for her. It looks like Christian will have to hire another employee or two really soon.
I just returned from a wasted trip downtown. I went to get money, but the computers were down at ML Huieller. I didn't bring my ID with me (because they know me there) so I could not go to another location to get my money. I'll just go early in the morning to get it. It's ready for pick-up and I have the control number.
I also still need to go to the Immigration Office to get our ACR cards. I meant to get them today, but I forgot again. If I used them on a regular basis, I'd probably remember them, but I rarely use it at all. I'll get them on Monday.
After picking up the money in the morning, I probably will be going to Metro with Nening to do the monthly shopping.
My watch and 4 jars of pickles are on order with Lazada. They might be in tomorrow, so I'll have to get that money early and then come home to leave money here in case they do. Then I can go back downtown to Metro. Wasted time, but necessary.
I was at Mango this afternoon to deliver some mail that came in and then to play cribbage. Christian and I played 17 games. I won 9 of them. Well, I had a skunk in there, that counts as a double game. I was so tired when I got there, but I held my own. I came home to go to bed, then I remembered the money (the wasted trip). Then I remembered I need a post for today (that's this).
Nening & Titing just went downtown. I asked her to get me some ice cream. I don't care what flavor as long as it is not vanilla. I'll be surprised when she shows up.
That's enough for this post. I hope you enjoy it.
Salamat Y'all