[smartads]
Let's see if I can actually do the regular post today.  I started to yesterday, but ended up doing just a post with a lot of links and talking about some changes I have done with my blogs recently.  So we'll just begin with the notes again on 13 Jan and I'll just mark out that first paragraph of notes from yesterday and move on to the second paragraph.
I walked downtown today, but I decided to go a different route than normal.  I was heading downtown to buy some of Lita's medication.  I was hoping that it was one of the medicines that they have at the Generic Pharmacy.  They are a bit limited on what they have, but maybe I would get lucky.  My favorite one of the Generic Pharmacies in town is the one on Magsaysay Blvd.  I don't even remember where the rest of them are, but there are 2 or 3 others there somewhere.  There are really only 2 routes to take.  This time when I got down by the cockfight pit, I headed down the little walkway to the Calbayog Market.  I haven't been that way for quite awhile, but it still basically looks the same, a few changes.  I didn't take any new videos while there, but I did take a couple of pictures.  I'm having an issue with my Bluetooth, so I hope I can get the pictures here another way.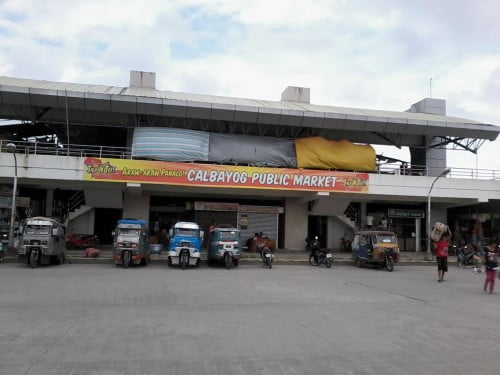 Well that seems to have worked.  I sent the picture to my G-mail first, so it was only a couple of  extra steps to do.  It's not like I've got a whole lot more to do right now anyway.  I'll get the other pictures on here the same way here in a few minutes.
After leaving the parking lot of the market, I turned left on the Magsaysay extension road and headed for the downtown area.  One of the first things I noticed was a building on the right side of the road that said DOCE on it.  I thought it was unusual to happen to have 2 places not so far from each other with the same name.  Then I read under the name that this place is sponsored by the DOCE restaurant.  I had to get a picture of this place to.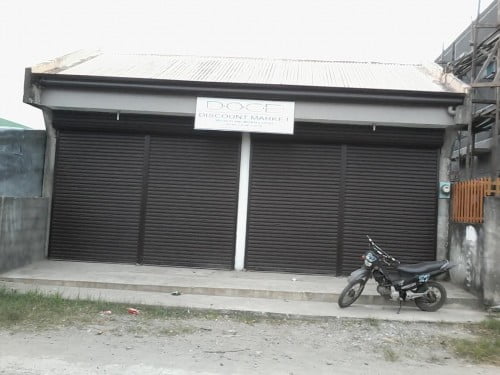 After that I continued my journey towards the downtown area, making a mental note to ask Tony about this the next time I see him.  Well, believe it or not, when I got downtown, I see Tony.  I hardly ever see him downtown, but for some reason it was in the cards for today.  So I told him about the DOCE discount market.  He said that he plans to open a store similar to a 7-11 there.  Maybe even an actual 7-11.  Now that would be cool, a 7-11 if it has even 1/2 the stuff that is available in the US.  I think I'll help him out as much as I can and go by his restaurant to buy pizza and drink beer.  It's a sacrifice, but I'm willing to do it for the greater good.
I got a little ahead of myself on getting downtown.  After the DOCE place, I found, on the left side of the road (in the grass) and star emblem.  Now it was broken a little bit, but it still looked pretty good.  It is mostly made out of plastic and the plastic areas on it looked like the stained glass windows you see in a church.  I was thinking that it might be something that Lita would like, or if not, then maybe someone around there would.  If no one does, then I can always just throw it away again.  So I carried this star with me downtown and into the pharmacy.  They did have the correct medicine there, so I got her 10 days worth of the 2 meds she needed.  Total price for all 20 tablets was a little less than P200.
As I was heading home, that's when I saw Tony.  He was on the main drag right across from City Hall.  I talked with him for a few minutes and one of the tricycle drivers asked me if I was heading home.  My feet were hurting so I told him yes.  I said good-bye to Tony and hopped in the trike.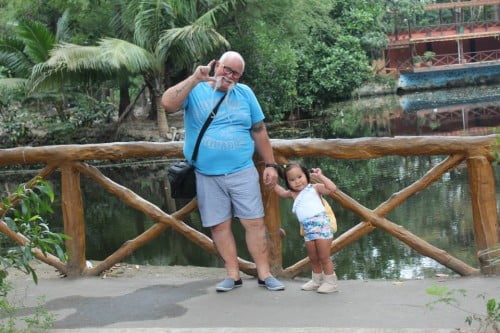 You know I just realized that I am going to be able to write 2 or maybe even 3 posts with these little bit of notes I have.  I'll do one more day here and then I'm going to close this post too.
Early in the morning on 14 Jan Neil, Juvic and Samantha all headed for Manila.  It would be Samantha's first airplane ride.  They will be staying there a few days and on the 18th (my birthday) Neil would be heading back to Australia and Juvic and Samantha would be coming back here.  According to Juvic, Samantha loved the airplane.  In fact it looks like they all had a pretty good time while in Manila.  I know that Neil can't wait to get back.  They will be taking Samantha for a visit to Australia soon, I wonder how she will like that?
Oh, in case you haven't figured it out, the 3M for the title is for Medication, Market and Manila, all of which are in this post.  Sometimes it's hard to come up with a decent title.
For the next post I did a lot of deleting and reminded myself about something that I didn't even realize.  Also we have a few Pope people in the family.
Salamat Y'all