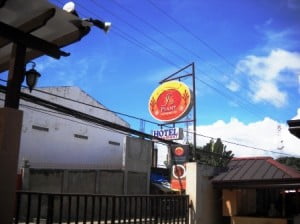 [smartads]
I's Plant Hotel
Brgy. Obrero, Calbayog City
Tel # (055) 209-1108
*
*
*
*
*
ROOMS
Family Suite (Max of 4)                                        P1550
Suite Room  (Max of 3)                                         P1300
Deluxe Room (Max of 2)                                      P1050
Standard Deluxe (3 Beds)                                   P950
Twin Bed Deluxe                                                    P850
Standard Deluxe, Single Bed (Max of 2)      P700
Family Suite                              *                               Standard Deluxe
Air Conditioned                        *                                Air Conditioned
Cable TV                                        *                                           Cable TV
CR (hot & cold)                         *                                  CR (hot & cold)
Refrigerator                                     *                                   Refrigerator
Terrace
with WIFI access
1 free breakfast per room
Private KTV Rooms
Function Room, Fully Air-conditioned (Max 70)
Open Air Venue (Max 100)
For Reservations Call
(055) 209-1108
(055) 209-1347
(055) 209-1348
(055) 533-8838 (globe lines)
My Opinion: This is a clean hotel, but all the rooms are upstairs.  The staff was very friendly and helped us immediately upon asking for assistance.  There is a nice patio out front, but it offers no protection from the sun or rain.  The front desk/lobby area was clean, but not very big, so if you like hanging around in hotel lobby's, this is not a good one to go to.  If you like your liquor and beer, this place sells it all right in the lobby.  The dining room looks nice, but of course I didn't try the food.  Bathroom a bit on the small side for the larger people, but they are not too bad looking and if your a small person they look excellent.  In the Philippines version of George Washington Slept Here, this is the hotel that Gloria Arroyo (former President of the Philippines) stayed at when she visited Calbayog City.  Of course that was before they had the Ciriaco Hotel.
Remember that if you need for me to make a reservation for you I can do that with your information.  Please click on Calbayog City Hotels on the front page to read the one time fee I would charge.
PLEASE REMEMBER THAT ALL COMMENTS HERE ARE THE SOLE OPINION OF THE SENDER, IF YOU ARE SKEPTICAL OF THESE FINDINGS, PLEASE EXPERIENCE THE HOTEL FOR YOURSELF AND SEND YOUR OWN COMMENTS.
From Gary: Jen and I stayed here one, count them, one night and agreed to never return.  The rooms were tiny, tiny, tiny and the CR was even tinier. There was no shower curtain so the water splashed off of me onto the toilet seat and onto the tp also.  The size of the room and CR is our only gripe.  The staff was great and we liked the food in the restaurant.  I had pizza and it was the best pizza in Calbayog, but that is not saying much.  The worst pizza I have ever had in my life was in Calbayog also.
From Brandy:  The rates are budget friendly the deluxe room we had was 700 pesos a night. If you want to get your room cleaned, do not forget to tell the front desk or else they wouldn't. You'll have a towel, 2 little soaps and a roll of toilet paper. The shower has hot and cold option and just enough space to move. The bed was twin sized, a 14 inch TV overhead that has cable. Their WIFI is limited to the restaurant area. We had a quiet small creepy crawly neighbor, I wonder what it's called and if it's endemic species in the area. Food is good enough but quite pricy for a budget hotel.  If you just need a place to rest and sleep, this is good enough.
From Travis:  I stayed here too and the room was fine but it wouldn't get cold enough for me. Also, there is no WIFI in the room and that was a deal breaker for me.  They are budget friendly and have a nice staff though.
From Graham:  I stayed here last February (2010) and found the hotel to be quite nice.  It was still undergoing renovations and the pool was not ready.  I'd stay again if the pool is finished when I return in March next year.  Price is ok and staff friendly as well, so all in all it was ok.