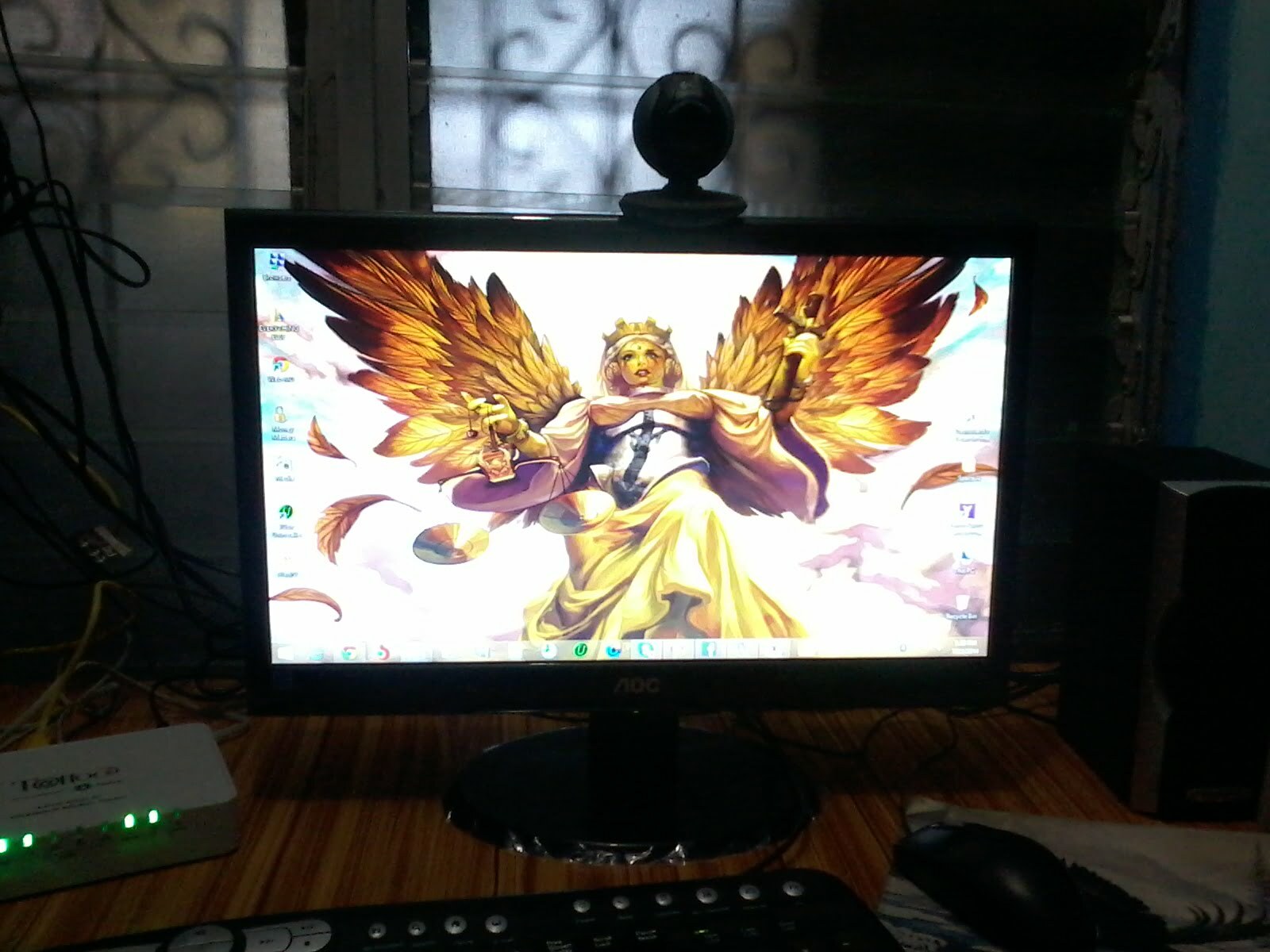 [smartads]
On 22 July I was up early, I'm talking 0500 early.  I don't know why, I just was.  I decided that I would do some work on my http://ujspaceabaseinfo.wordpress.com/ blog. I usually have 2, and even sometimes 3, screens open at the same time for that update and it's just faster to do it early before about 0900.
Things went just fine for about a 1/2 hour. All of a sudden the screen went blank. I'm thinking, "What the hell"? Then I notice a little white smoke coming up from the vent in the back. Now I'm thinking "Oh great!". The first thing that I think is wrong is that dust has finally gotten built up enough to put me out of commission. Of course I have had this monitor for 6 or 7 years so I guess it's lasted a pretty long time and maybe it's just its time. I was hoping for it to last another 6 or 7 years though. Of course a reboot did not help at all and there is no way to open this monitor that I know of. So it must be time to get a new monitor, but where will the money be coming from?
Now we do have a little bit of money, but that is for when we leave for Texas next month. Normally we would not have to have so much money for traveling, but since Lita's military ID is expired we can not take Space A from here. We will have to take a commercial flight to Korea, go to Osan AB and get her ID renewed, then take Space A from there. More on that in another post.
Monitors around here are not that cheap either. Prices for the larger monitors are between P4000 and P5000, even higher if you go to the wrong place. Well since I must have a monitor and our next payday is not for another 10 days, we decided to go for it. I'll just have to shop around a bit and get a monitor that is not so expensive, but not going so cheap that I would end up with a crappy monitor.
It was getting pretty late, so I would just go early the next day, the 23rd, look around and decide.
The next morning, this morning, around 1030, Victor brought me downtown to several of the stores. I hope I covered them all. I went to 5 different places, although the last one, Centro Department Store, did not have monitors, only TVs. The other 4 places I went were All World, Techno G, PC Tools and Christian, in that order and they are all on Magsaysay Blvd.
At All World I found an interesting one. They had an AOC 18.5″ monitor for P4500. It looked pretty good, but I just wrote down the information, told them I was just window shopping right now until I found the best deal. No problem for them, the young lady there was very nice and spoke very good English.
Next stop was Techno G, just a few stores away. The most interesting ones they had there were also AOC monitors. They had the same one as All World, but they only wanted P4290 for it. They also had an AOC 15.6″ monitor for P3750. The same as the 18.5″, just smaller.
PC Tools was next and they had a different type of monitors there. They had Samsung. At least I have heard of Samsung, I've never heard of AOC or Acer, the other 2 brands I had come across. The largest monitor they had there was a 20″ and they wanted P5200 for it. I didn't check for anymore there, but maybe I should have, but the 2 ladies behind the counter seemed to be a little bit confused. The guy at the repair center seemed to know a lot more about what I wanted so I did most of my talking to him, although he was not as good looking as the young ladies (IMO).
Finally we get to Christians. I asked them for monitors and the young lady I asked did not know where they were until another young lady told her. I asked for their largest monitor and it turned out to be the same AOC 18.5″ monitor I had already looked at twice. Their price though was P5980. I said, "What? Oh no I can't get that one. I can buy the same one at All world for P4500 or even cheaper at Techno G for P4290". She asked, "For the same one". "Yep", I said. "Same exact thing, Model and all". They started talking among themselves, but I was already heading out the door.
After my wasted trip to Centro, I headed back to Techno G and just got the AOC 18.5″ monitor there. They got the display so maybe it was the last one. They tested it for me though, as they always do, and it worked fine. They boxed it up and handed it to me.
Before I paid for it, I asked about a warranty. It's about what you expect for a warranty, especially around here. There is a warranty for replacement, but that's only good for 1 week. They also have a warranty for parts and repair that is good for 1 year, but they have to send it to Cebu to get it repaired. It sounds like the same warranty I got when I bought my phone, but at least here they explained it to me and didn't just let me be surprised.
So now I have the monitor here at home, hooked up and working. So far so good. I hope it will last another 6 or 7 years, but most likely it will be only 2 or 3 years. I'll just have to deal with it when the time comes.