[smartads]
On Friday morning I actually walked all the way downtown and back.  I did not do any extra walking while I was downtown this time though.  I just walked to the bank, got a little bit of money and headed home.  I almost gave up, but I forced myself to continue.  I'm glad I listened to myself and walked the whole way.  Before I walked downtown, I weighed in.  I'm not saying what it was, but it was less than 2 weeks ago.  Just barely though.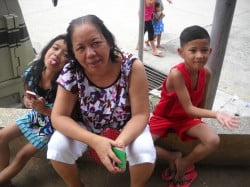 On Friday afternoon Jun & Luz showed up with a lot of others in tow.  They are all just here for Poppa's birthday.
March 23rd was Poppa's 91st birthday.  He wanted to have lechon baboy  (roasted pig) and chicken for his feast.  He only said chicken because he knows that I won't eat the lechon baboy.  Lita went to buy 9 chickens.  She cooked 8 of those for the feast and the other one for my supper Friday night.  The chicken I ate was the regular fried chicken, but the ones for the feast were very different.  She stuffed the chicken with oranges, orange peels, lemon grass, onions and seasoning and then she deep-fried them whole.  Of course, although this chicken was good and unlike anything they have every had before, they still preferred to have the greasy, cholesterol filled lechon baboy.  I guess I can't really fault them about that though.  It's like the national fiesta food or something.  Everyone would love to have one on special occasions.
Bebie showed up on Thursday afternoon.  It's the first time we have seen her since her husband Khany died on 30 Jan.  Remember I could not go because I was having a problem with hurrying to the CR at that time and I wanted Lita here just in case I ran into problems.  Bebie seems to be doing alright, at least outwardly.  She's a tough lady so I'm sure she will be fine.  I can only imagine what she has had to go through.  I had this paragraph as the first one, but decided that all that talk about death didn't need to be at the beginning.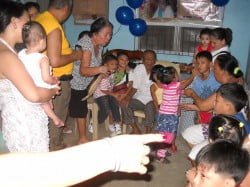 It was a heck of a party with lots of silliness going on.  Of course being a Filipino party, there was tons of food.  More than everyone could eat.  They did the karaoke thing, they danced, they drank rum, I drank Red Horse and lots of gossiping went on, but not by me.
Very early Sunday morning all of Poppa's children that were visiting left.  Bebie went back to Tambis, taking Crystal and Khan Khan with her.  They don't have to go to school right now and they wanted to spend time with their lola (grandma).  Since Bebie is a principal at the high school in Tambis, I suppose she doesn't have to work either.  Since Khany died she is in the house by herself and she will probably be glad to to have the company for awhile anyway.  Jun, Luz and their whole entourage left this morning too.  I suppose they all have to go back to work tomorrow.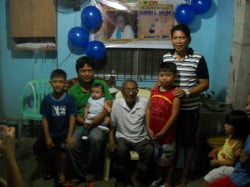 Well I started another blog again.  Since I have decided that I will no longer put material on this blog that is not about Samar or Calbayog City, I needed something to do with all those posts I sent to the trash.  I really did not want to just delete them completely, so I decided to make a new blog and just put them all on there.  I am in the process of moving them over, but it will take quite awhile.  As of this writing, I only have 20 posts on the new site.  I already have 4 hits and 3 followers.  After I get all the information to the new site, I delete it from the trash on this site.  After I get it all transferred over I will continue to find the things I WAS doing on this site and just put them on that site instead.  In case you want to have a look at the new site it is called UJ Leftovers – Hodgepodge.
Salamat, Y'all