Guam Money, Food and Beer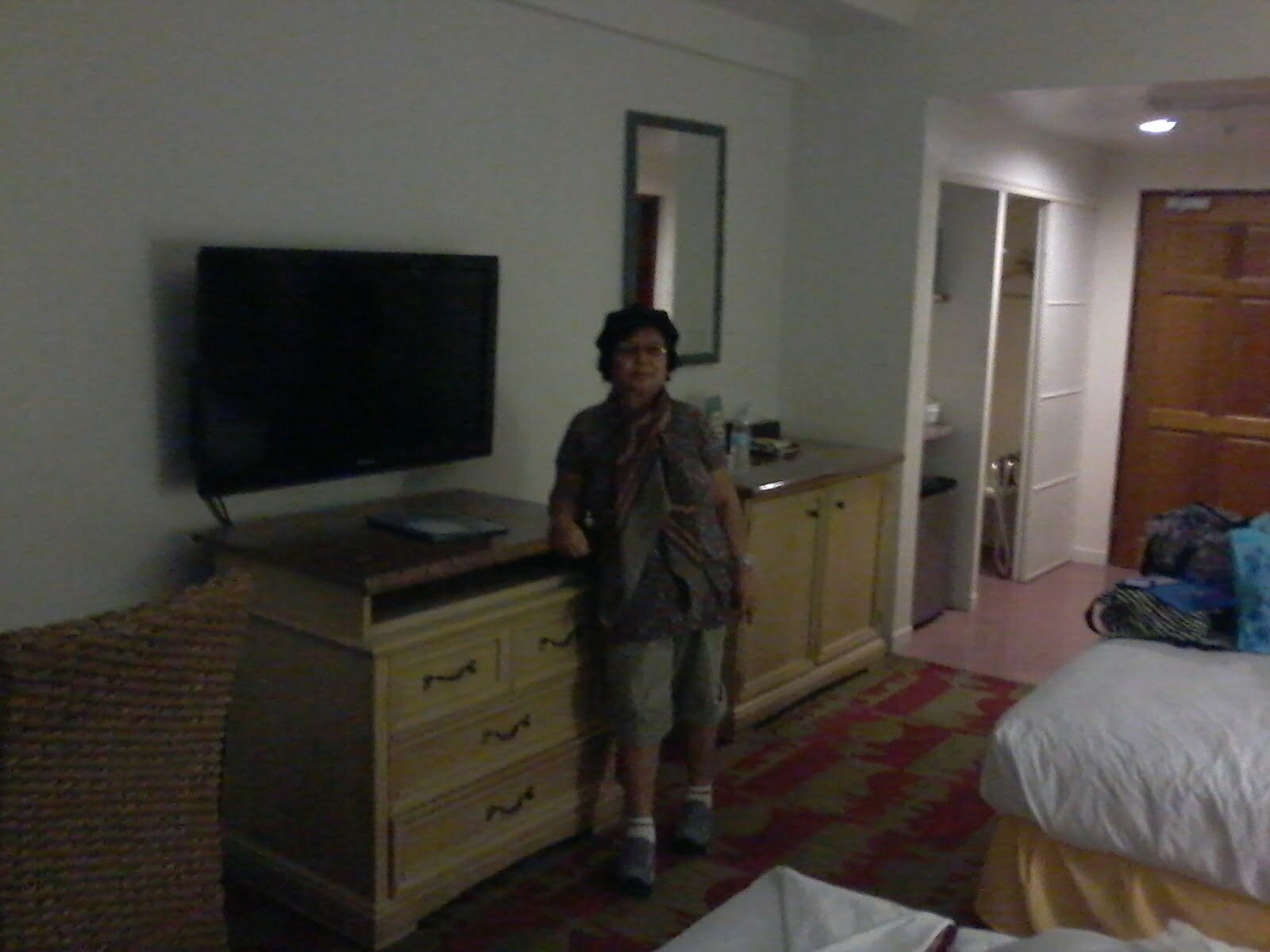 [smartads]
So did I finally find a solution to my money exchange problem?  Will I finally find a way to exchange our pesos to dollars so we can actually pay for our hotel room, get something to eat and actually do just about everything else we need to do?  If you do not know and would like to find out what this is all about, you can check out my last post HERE.  
So as I was talking with the clerk at the Circle K, I explained my situation to him and he said that there was a place that do money exchange not too far from here.  It is called Ruston.  Now the people at the Days Inn mentioned this place, but they said it was too far away.  Turns out that there is another branch, that recently re-opened, less than a mile from the hotel.  It's only about a 2 minute walk to the hotel from here, so I'll head back over there, take a short rest and find out about taking the shuttle to this Ruston place.  Lita is still impatient about getting the money, she worries too much.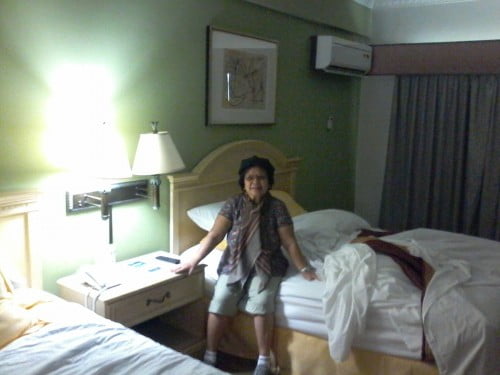 What I found out about the shuttle was that they have a regular route they do daily.  It consists of 4 or 5 stops depending on the day.  One of the stops is close to the Ruston place.  By the time I got my rest and got a little water in me, it was around 1:30 pm.  The next scheduled route for the shuttle is at 3 pm.  So, I can either wait until 3 pm, take the shuttle there, then walk back or I can walk to Ruston, then go to the Guam Premiere Outlet mall (GPO) and take the shuttle back.  I opted not to wait until 3 pm.  So I got directions from the front desk personnel and I set out on another adventure.  I was hoping that this one would be more fruitful than the last one.   I brought $5 with me this time in case 'thirsty' hit me again.  Actually when I walked by the Circle K again, I went in and bought a container of juice.  It was a good juice that I've never had before.  It was a combination of pomelo and grapefruit … good stuff.  I did notice that they had Red Horse and San Miguel Pilsen beer in the cooler.
So I'm walking, looking for a place that I really don't know exactly where it is.  It's hot and I've already been walking quite a bit already today, but I have little choice in the manner right now.  I make the turn and I'm expecting to be able to at least see this place, but I can't.  I finally stop at a little store to ask for directions.  The nice lady there knew where it was and I was not quite there yet.  It was a little bit further up past the Applebee's.  So I walk up to the traffic light and look across the street.  Sure enough, there it is.  So I get across the road using the crosswalk thingy again and finally make it to Ruston.  I did call ahead of time from the hotel to make sure they would be open, so I was not worried about that.  It was the other Ruston that I called, the one the hotel knew about, but they said that they are both open the same hours.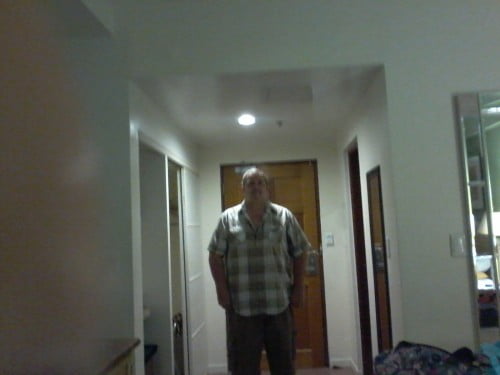 When I get inside I was the only customer.  Their rate was P48.17 for each dollar.  A bit high, but, as I said, not much choice right now.  As I was getting ready to leave one of the 2 ladies behind the glass said that I looked like I could use a beer.  She was so right.  She suggested that I stop at either the Applebee's or Chili's for that beer.  I was tempted, but I was pressed for time because I needed to get to GPO before the shuttle arrived.  I still needed to go into GPO to buy Lita and I some lunch also.  So I'll have to pass on the beer for now.
So for lunch Lita wanted KFC and I wanted Subway.  I walked into GPO mall and made my way to the back and down the stairs to the food court.  They had both KFC and Subway there … cool beans.  This is the first time it really hit me that Guam is an expensive place.  At KFC just 2 chicken wings with a roll is about $3.50.  At Subway a foot long sandwich varied depending on the sandwich, but mostly between $6.50 and $8.  Mine was $6.75, a Spicy Italian.
I made it back to the front of the mall about 5 minutes before the shuttle showed up, so I was cutting it close.  I had the driver drop me off at the Circle K so I could pick up a few things. First thing I bought was another one of those juices.  I also bought Lita a 1 liter Coke.  For me I bought some beer.  No, not Red Horse or San Miguel.  I figured I would get some of the beer that I drank when I was in Texas.  I wanted to see if I still liked it after drinking Red Horse and San Miguel for so long.  So I got 2 bottles of Miller Genuine Draft (MGD).  I figured I would not like it anymore because I was use to the much stronger Red Horse, so I didn't want to go overboard, and besides, I didn't want to spend all the money we had on beer.  We still had quite a few things to take care of.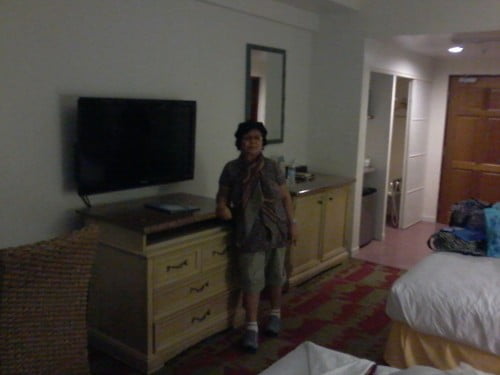 When I got back to the hotel I found out that KFC gave me 3 chicken wings instead of the 2 I ordered, but I only paid for 2, so that's cool.  My sandwich was great.  I sure do miss having a Subway living in the Philippines.  By 3:45 we were all full and smiling.  I did not even have one of the MGDs yet because I was waiting for them to get colder.  I'm still hot, sweaty and tired so I took a shower and then a nap.  It was a pretty long nap too.
I think I will continue with our little adventure in the next post.  Things to look forward to in the next post are a lot more eating for us and a shuttle service that every person that will be going to any of the military bases on Guam needs to know about, if you don't have your own vehicle.
Salamat Y'all