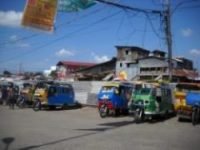 [smartads]
It was recently suggested to me by Scott that I relay some of the cost of things and other almost daily activities that go on around here in Calbayog.  I asked for a suggestion and I got a good one.  I hope to get more good suggestions too.  First I better answer this one and hopefully it will a good enough answer that people will see that I'm serious about letting as many people as possible know about Calbayog City.
The first thing I would like to concentrate on is the costs of the modes of transportation.  Here in Calbayog we do not use the jeepneys because it just makes it extra crowded downtown and there is a city ordinance against it because of the excess pollution they cause.  Well people have jeepneys, but there are not a lot of them and the ones that are here are Private and not used for public transportation.  We also do not have taxis here.  I don't know why on those, but probably for the same reason as the jeepneys.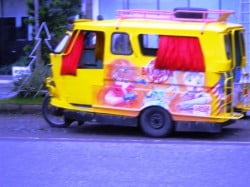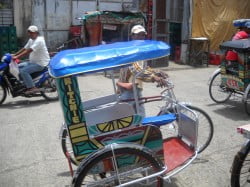 Okay lets start with the pedal trikes or as they are called around here, Pajak-Pajaks.  The normal cost of one of those is P10 per person.  They are used for shorter trips, but can be used for up to mid-range trips, about a mile, maybe 2, but in cases like that it would cost a bit more and finding out before getting in one is advisable.  They are of course slower than the other transportation, but you also have the vehicle to yourself and since you are going so slow, you can get a better view of your surroundings while you are traveling.  Normally when I travel via the pajak-pajaks coming home from downtown I will pay them at least P20.  The only time I ever use one for a distance like that though is when Lita is with me.  Normally I just walk and if I get tired I take the next form of transportation, the motorized trikes or Tricycles.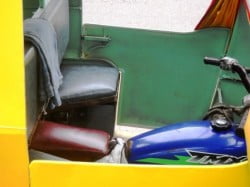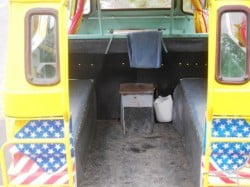 The Tricycles are for the mid-range traveling and the normal cost for one of those is P9 per person.  They have 2 different sizes of these.  The larger ones I'm told are called Pajero.  That's the same name as a SUV model here.  That is probably an unofficial name though.  Now to me it didn't seem right to pay less for a vehicle that has to pay the high prices of gas around here (about P60 per liter), but the way it was explained to me is that it just takes more effort with the pedal trikes, so they charge a little bit more.  It all more or less doesn't make much difference to me unless I'm in a hurry because I normally just pay P20 for either one that I happen to get on.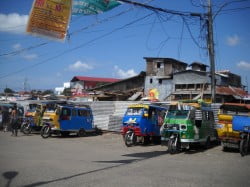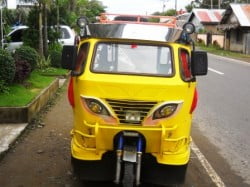 The next local mode is the multi-cab.  Normally these are used for longer travel and different multi-cabs have different routes, but they are all clearly marked on the side of their truck.  Also normally they have a set place that they travel to and from, meaning that you usually can not flag one down while you are walking along.  The fare from downtown Calbayog to Gandara is P40.  That distance is approximately 31 kilometers (14 miles) and it takes around 40 minutes for the trip.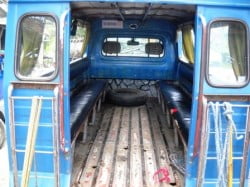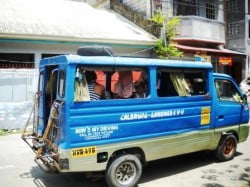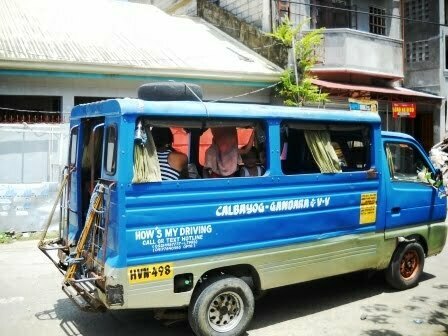 That's all for the local transportation and unless you have your own vehicle, that is to the best of my knowledge the only ways to get around locally.  So if you wanted to ride from my house to the downtown area and back, then the minimum it would cost you is P18 or P20, depending on which mode of transportation you choose.  For me if I do it, it would cost me P40 (about $1) because I know it's hard for these drivers to make money and to me it's worth that little bit.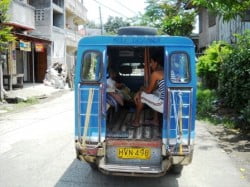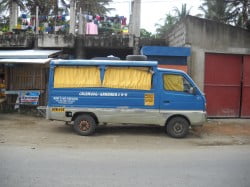 Although I  have never had anyone actually try to cheat me, sometimes they will claim to not have change, so be sure to bring the correct amount when possible.  Also if you want change, it's best to remain seated or standing next to the driver until he/she (there are a few female drivers) returns your change.  Normally they will not run after you to give you your change if you do not look like you want any.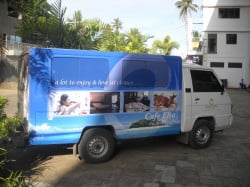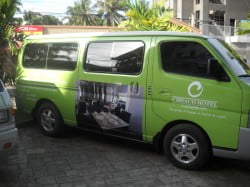 Of course if you are staying at the Ciriaco Hotel and Resort you can ask them to take you downtown in one of there hotel vans.  You can also call them and they will come pick you up.  They will also pick up any guests that you have with you that are not staying at the hotel.
In the next post I will discuss the van services that they have in the area.  Those are used for the even longer trips and they have an interesting perspective on their seats.
Salamat, Y'all