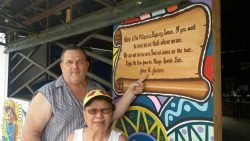 Around 5:30 pm our power had about 10 glitches, surges and outages for about a half hour.  At 6 pm the power went out and it stayed out until 11:30 am the next day.  That's 17 1/2 hours without power.  That sucks and it was hot.  We decided that we are going to get a generator on next payday.  We don't want to have to put up with all that shit again.  I will be sure to get a good generator this time, not like the crappy one we had before.  We spent P30k on that one and I plan to spend at least double that on this next one.  I want an electric start generator this time, not the lawnmower pull type.  Just put in the key, turn it and push a button.  That's what the next one will be.  We've already got a place to put it and Titing knows how to hook them up.  It will be a big enough one that it will be able to run my computer, the refrigerators, the freezer, the TV, the fans and the lights.  If my stimulus money would ever come in, that would make it a lot easier to do.
I think I'll be going by Mango in just a little while.  I didn't go yesterday and I still need to return his plate that I brought the taco salad home in.
Tomorrow, 16 May, all the businesses that want to open back up, can.  I think there will still be a few that will not open.  I hope that Globe opens up.  I need to talk with them.  I also need for Xoom to be open.  I really need to talk with them.
I did go by Mango.  I ordered some more tacos.  They are still very good, even crunchier now.  I finally got to show Christian and Robert how to play Texas Moon.  We started late and didn't get to finish the game, although I was winning.  I hope they will continue wanting to play Moon instead of the regular block game.  That one is pretty boring for me although I'm just happy to be playing dominoes again.  Now I need to get them interested in playing Empire Builder.  Christian has played before and he did like it.  He just has to have the time to play again.
Lita and I are watching movies again tonight.  The cable has not come back on since the power did at 11:30 this morning.  We just finished watching "Pale Rider".  She's never seen it before.  She likes to watch westerns but I think we will watch either "The Kid" or "The Man With One Red Shoe" next.  I'll have her another western to watch tomorrow.  Maybe I'll get her to watch "The Searchers".  It's still hard to hear the movies while they play.  I hope that when/if the speaker gets here, that will solve the sound problem.
21 May: Tonight we have had more thunder and lightning than every day, all put together, since I've been here.  I've been here 10 years.  It's thundering and lightning like crazy tonight and I didn't even see it coming.  It's not a lot of rain though.  The thunder is coming within a second after the lightning, so that storm must be right on top of us.
Also today I was at Mango again, same as yesterday.  In the past 2 days, I've played 11 games of dominoes and have won 6 of them.  Christian is getting so much better.  Robert has not been there to play.  He is still incapacitated from his 2 falls.  The 2nd one being on his nose.  He is doing pretty good considering.  I ordered a pizza from Mango for Lita today.  A double cheese with onions and bell peppers.  No pepperoni here yet.
We also saw at least 4 buses with passengers heading south towards Catbalogan.  I hope that is a sign of things opening back up.
We are going to be starting an expat organization here soon.  We were thinking of just making it the Mango Expat Foundation, but we have a couple of other suggestions for something else.  Hopefully, the people doing the suggestions will come to our first meeting on 4 June.  If they can travel, I think they will be.  It will be an organization that will be able to help the locals and other expats when in need.  I've got a few suggestions that I will bring up at the meeting myself.
Damn!  Brown out.  I'm not sure how long it lasted, probably a couple of hours.  I had hopes of buying a generator next month but Lita says she no longer wants to do that.  We have a few other things to take care of first.  That's fine.  The other things will save us money.  The generator only gives us comfort during brownouts.  Maybe someday we'll be able to afford that generator after the other things are taken care of.  I believe for next summer here, April through June, we should be able to have that generator if all goes well.
This was 2 posts put together.  I forgot I started one and started another one.  Still not too exciting but I hope something in here somewhere helps someone somehow.  I'll start another one starting from today (24 May).
Salamat Y'all