[smartads] I do have other pictures of Lita and I, but I look like a whale in all those pictures.  At least in this one it's a baby whale.  I need to have some more pictures taken since I've lost so much weight.  Perhaps I should take a new picture about every 10 pounds I lose.  If I did that, I'd have like a progress chart.
Today I thought I'd put some emphasis on a few of the other expat sites that I know about.  If I forgot someone, sorry about that.  Let me know and I'll get you on my next post on Monday or Tuesday.  Since we will be gone this weekend and I have no laptop, this will be the last post until then.
Useless Knowledge: John Lennon was born on October 9, 1940, at Oxford Maternity Hospital in Liverpool, England, during an air raid.
Welcome
3 May – Hits @ 0021 = 372851.  Today there were a lot of things that went on, but they all revolved around only 3 things.
The first thing, and the one that has the least to write about, is the power around here.  We had a brown out this morning at 0741 and it lasted about 2 1/2 hours until 10:14am.  Even after the power was back the power was too low to run the computer until 11:40am.  This has been a daily occurrence for the last few days it seems like.
I guess for the second thing that has been going on around here today I should tell you about my bank account at Bank of America first.  I got an e-mail from them saying that they had suspected suspicious activity on the account and my check card will be locked until I call them and clear it through them.  I checked my account online and this is actually the first time that there was suspicious activity that I'm glad they held it.  Usually it's just me and it's just inconvenient for me to have to call.  This time though it seems that Cebu Pacific is trying to bill me twice for the airline tickets I purchased online.  The first time I tried to purchase the tickets, it declined my card and told me to use another card, and they said the transaction was cancelled.  Well I've only got the one check card, so that was out of the question, so I tried it again.  This time it worked and everything seemed to be fine, until I got the e-mail.  The bank gave me a number I could call collect.  All I had to do was go through the international operator.  Well it seems that no one here, including directory assistance, knows what an international operator is.  They also don't know how they can help me get a hold of one, or how to call collect.  All this leads to problem number 3.
I decided, well hell, they can't help me but I have to call, so I decided to use one of the calling cards I have.  I mean it's only 2.5 cents per minute, so it's not a problem.  Now my phone won't call international.  I call for technical help and they say I just have to unlock the phone for international and then the guy gave me the code to unlock it.  Naturally that didn't work.  So I called them back.  This time I get a lady and she said that the code the guy gave me is wrong.  In our area, they use a different code.  So she gave me the correct code.  You guessed it…that didn't work either.  So I call them back again.  They have no clue what is wrong.  They don't even know what else to do to help me.  I'm pretty mad about now, and I don't get mad easy.  I told Lita that I'm just going to return the phone.  We don't use it much anyway.  So I unplugged the phone and got it ready to return the next day.
On top of all that, it rained cats and dogs today.
This above picture is of Rusty Ferguson and his girlfriend Jessie.  Rusty is the author of an expat blog called Cebu Experience (http://cebuexperience.com).  He lives in Bogo.  I haven't figured out how he landed such a babe for a girlfriend, but he does seem like a pretty decent guy.
Useless Knowledge: In a 1975 promotion, a fan won a date with Kiss's Gene Simmons. There was an embarrassing moment when Simmons had to take off his platform boots to fit in her Volkswagen.
4 May – Hits @ 0000 = 375951.   I got up this morning at exactly 0700.  I went to the CR then did a quick weight check.  I was semi-pleased with the results.  Better than the last weight check I did, but it's still slightly higher than my last official weigh in.
I went downtown today with Ado.  I was going to try to get the money again, but before I could go the bank called and told me that the 21 work day waiting period is actually up tomorrow, not today as they had told me on Monday.  There were 2 holidays last month, Holy Thursday and Holy Friday, so that cut out those out as work days.  I still had to return that stupid phone though.  Of course that means I don't have any money and my water bill is due today.  I guess I'll have to pay the late fee, again, for being 1 day late, again.
When I got to the Globe office to return the phone, the convinced me to try one more time before returning it.  If it didn't work within 24 hours, they would take the phone back.  Of course they also did not know anything about an international operator.  A few hours later, about 3 hours, I tried to call the bank again using my calling card, because I didn't want to mess with the operator thing anymore, and it worked.  Surprised me big time.  I was on the phone talking to them when Lita starting complaining that I need to call them.  That happens a lot though.  She is always telling me to do things when I'm already doing or have already done them.
This is Dave.  He is the webmaster of Philippines Plus (http://www.philippinesplus.com). He is married, but I couldn't find a picture of them together.  I didn't look very hard though, I was in a hurry to get this done so I could take a shower and shave before bed.  All I want to do in the morning before we leave, besides getting dressed, is my morning CR run and brush my teeth.  Dave also lives with a 77 pound lizard killer, so you should check that out.
Someone from Brisbane, Queensland Australia did a search for "will it be safe to travel to Philippines on 26 May 2011".  Okay that got me wondering how anyone or any site would be able to give you an accurate answer to that question.  Is there someplace that predicts the future that I don't know about?  I hope that wasn't my cousin that's in Australia.  I don't know where she lives there, but her name is Trisha and she is from Killeen Texas, so if you know her or you are her, Hello Trisha.  I think your Mom is super cool.
Something that makes me feel good is when people search using "texan in the philippines".  To me that means that they are aware of my site, they like it and they come directly to it to see what else I have to say or post.  Maybe I'm overreacting on that.  I know that others come straight from Google, Yahoo or other search engines straight to the site too.  On the ones doing the search though, it shows up that they search that way on the Feedjit.
There are a lot of soldiers outside of the Ciriaco tonight.  They are all carrying M-16s too.  There is a meeting of the City Council over there tonight and after what happen to  Mayor Uy, they are being cautious.  President Aquino is suppose to be in Calbayog tomorrow also, so maybe they are practicing their security while they are at it.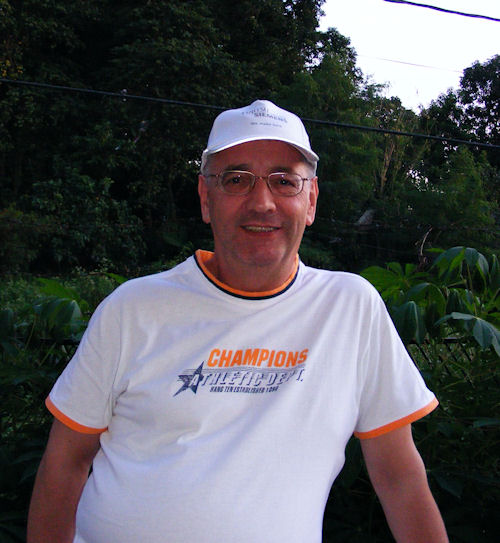 This is Jan.  His website is called Expat in the Philippines  (http://www.expatinthephilippines.com).  Jan has answered many questions for me this past year.  Today is the first time that I have seen his last name though.
There is a website out there that lets you do expat interviews.  A lot of the expats I know have done this.  I guess I was about the last one to do it actually.  If you want to read about why people decide to move to the Philippines and about their own unique situations while doing so, then go to:   http://www.expatinterviews.com/expats-in-Philippines.html .  I don't know why that one works and the others don't.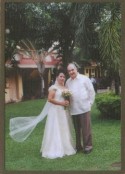 I found a new expat website while I was checking out the interviews.  I added it to my "Other Expat Sites".  It is called:  Mabuhay.  Greetings from the Philippines (http://www.bjruth.com). I've never conversed with BJ because today is the first time I've seen his site, but I liked it.  I signed up to have my blog listed in his list of expat blogs, so maybe he'll notice it and come visit this site.
I was going to do all the way through May 6th, so I'd be caught up when we got back.  Not going to turn out that way.  I'm getting tired and I've been rambling again.  I do have one more expat to list here.  He is the first expat that I knew about after I got here.  He has been here since about 2000 and he has over 30 websites.  I don't know all the websites, but I have 4 or 5 of them listed under my "Other Expat Blogs".  I am speaking, of course, of Robert Martin aka Mindanao Bob.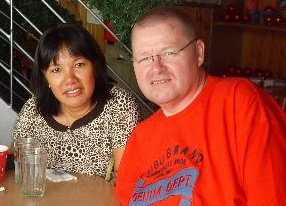 Bob is my blog guru.  When I have a problem I impose on him.  He is pretty patient with me and I'm glad for that.  I know that I sometimes ask him questions that 12 years old should know, but for some reason I just never got around to having to know.  I know I get on his nerves at times, but he hasn't sent anyone to kill me yet.  Thank you Bob.  As I said, he has several sites, but if you go to this one: http://mindanaobob.com – he has some good stuff there and there are also descriptions of his other websites in case one of the other ones interest you.
I'm going to close this post now.  I'm about ready for bed.  I'll have another post, probably on Monday after we return.
Useless Knowledge: Joe Namath, onetime New York Jets quarterback, donated pantyhose to Planet Hollywood. He wore the pantyhose on the football playing field on chilly days.
Salamat, Palaam
Today in Philippine History
Photo art: JB
1897 – The treacherous operation leading to the shooting, stabbing, and seizure of Filipino revolutionary leader, Andres Bonifacio y de Castro, by the power-grabbing camp of Emilio Aguinaldo y Famy, is relayed in a letter to the former's brotherly friend and chief of Katipunan operations in Manila, Emilio Jacinto y Dizon; the first-hand account that comes from Col. Antonino M. Guevara sheds some light on the treachery surrounding the power grab by Aguinaldo and his Magdalo partisans and the seizure and subsequent kangaroo court martial of Bonifacio, President of the underground society-turned-revolutionary-government Kataastaasang Kagalanggalangang Katipunan nang manga Anak nang Bayan that has been struggling for liberation against Spain; on April 28 at barrio Limbon, near Indang, Cavite, Supremo Bonifacio and his brothers and men were treacherously attacked by a force led by Col. Agapito Bonzon, alias "Yntong" who was even warmly treated by the former the night before, resulting in the death of Ciriaco Bonifacio and at least one other Katipunero, and the gunshot wound to the arm and stabbing to the throat of the Supremo, and the rape of Bonifacio's wife, Gregoria de Jesus; the surviving Bonifacio brothers, who were forcibly brought to Naic and imprisoned in a desolate, cramp room and fed only twice in three days, would later be described by Gen. Santiago Alvarez as being in a very pitiful physical state of the Supremo and prior to their kangaroo court martial proceedings; earlier in March, the Magdalo camp moved to hurriedly conduct what would turn out to be the fraudulent and anomalous Tejeros Convention, with Aguinaldo and other 'elected' figures except Bonifacio surreptitiously taking their oath of office hidden from the rival Magdiwang faction; by Bonifacio and 40 other Katipuneros will nullify the elections, said to have been marred by pre-filled ballot and which Gen. Artemio Ricarte has dubbed fraudulent, through the Acta de Tejeros even as Jacinto had reiterated that Bonifacio is still the leader of the Philippine revolution in a letter dated April 11, 1897.

Raw photo credit: Dr. Zeus Salazar's "Andres Bonifacio bilang Punong Militar"
Tragedy of the Katipunan unfolding…
Photo Art: JB
1897 – Andres Bonifacio y de Castro, President of the underground society-turned-revolutionary-government Kataastaasang Kagalanggalangang Katipunan nang manga Anak nang Bayan battling to liberate the Philippine from colonial Spain, gives his testimony before the kangaroo court martial formed by Emilio Aguinaldo y Famy in the bid to seal the seditious scheme of the latter's camp to wrest the revolutionary leadership from the Supremo; testifying before the turn of his wife, Gregoria de Jesus who had been raped by Aguinaldo's man, Col. Agapito Bonzon, alias "Yntong" who led the violent seizure of the Bonifacios on April 28, the Supremo is said to state that he is unaware of the existence of another revolutionary government in the province and neither aware whether or not he holds any legal powers in said body; the Bonifacios were treacherously seized by Aguinaldo's men in Limbon, Cavite after Yntong visited them on the night of April 27, pretending there was no such vile operation and then leading the shooting/assault of the Bonifacio brothers, with the Chinese Col. Ignacio Paua  subsequently stabbing him in the neck before the Bonifacio's men prevented the murder of the Supremo on the spot; Aguinaldo, who was "elected" President of a body superseding the Katipunan during the fraudulent and scandalous Tejeros Convention but which was nullified by the Acta de Tejeros signed by Bonifacio and some 40 other Katipuneros,  subsequently formed the Council of War to try the Supremo allegedly for treason and conspiracy to assassinate him.