[smartads] So I guess that party at the Ciriaco is now over now because all the cars and vans are gone.  Since it was yesterday, it should be over by now though.  The coughing lady is not hanging around LolyKat anymore for now.  All that was the last things I talked about at the end of the 5 January post.  So the 6 January post will start out at ….
0715 when Lita woke me up.  She said that they needed help waiting on customers.  Actually she just needed me to open the store so she could concentrate on the eating customers only.  I took a look outside and there were only 4 people eating, so I took my time in getting ready.  I went ahead and went to the CR, shaved, brushed my teeth and changed clothes.  I kept wondering the whole time, "What happen to the 0800 opening time?"  I should have eaten breakfast first too, but I didn't.
http://en.wikipedia.org/wiki/Surigao_del_Sur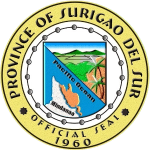 Surigao del Sur is a province of the Philippines located in the CARAGA region in Mindanao. Its capital is Tandag City[1] and borders Surigao del Norte to the north, Agusan del Norte and Agusan del Sur to the west, and Davao Oriental to the south. Surigao del Sur is located at the eastern coast of Mindanao and faces the Philippine Sea.
Surigao is home to the Mamanwa and Manobo tribe. Their dances are showcased in a local festival called "Sirong Festival", held especially during the town fiesta of Cantilan. The Sirong Festival depicts the early Christianization of the early Cantilangnons (the Mamanwas and Manobos) wherein the natives tried to defend their land against Muslim envaders.
Surigao del Sur is one of the supplier of agricultural items like, rice, banana and some tropical fruits. Copper, chromite and silver are also found here.
http://www.philtravelcenter.com/philippines/maps/surigao-sur-map.php
Now I'm sitting here in LolyKat wondering why people just can't wait.  When it's on their time, they can wait, but there is no patience for other people's time.  Of course that is not an 'in the Philippines only' thing.  I think it happens everywhere in the world.
Lita was suppose to buy charcoal this morning, but she didn't because it was raining and she didn't want to get it wet when getting it home from downtown.  She says now she will be waiting for a guy that sells charcoal to come by the house.  The guy that brings the propane has not showed up either and Lita told me she ordered it 2 days ago.  That's not a normal thing.  That guy is usually here the same day.  I need to find out what's going on with that.
Later on Lita did watch the store for me while I made breakfast.  I cooked a couple of eggs on top of grilled onions and peppers.  I was able to make 3 sandwiches out of that.  I also added a little bit of Habanero Tabasco sauce on top of it also, for flavor.   You would think that with 8 hot peppers, onions and Tabasco sauce, the flies would not try to land on it, but that's not the case.  I still had to shoo them away.
http://geotayo.com/surigaos.php
It's 0930 now and Lita says she will relieve me at noon.  It will be nice to get some relief from sitting out here since I've been doing it all year long.  I wonder if she will let me have off on my birthday on the 18th?  I doubt it.
I told Lita that I hope I will be able to take her out to eat on Valentine's Day.  I told her that, but now that I'm pretty much in control of the finances, I know I'll have enough.  I finally got the bills under control.  They are not paid, but none of them are late and I'm going to start working on them to eliminate them little by little.  I hate bills and I will be bill free as soon as possible.  I would also like to bring all her first cousins and their spouses to eat when we go.  They have all helped us in one way or another while we've been down.  It would just be a total of 8 people, including us.  I figure it would come out to about P3000 for everyone, so that's acceptable in this case.  I've been telling Lita that we have enough of an income to survive here easily.  We just have to manage it properly.  That's what I'm doing now.  When all the stupid bills are paid, we will have even more income.  Plus Lita should have her social security starting soon (that's what the trip to Cebu is about), not sure how much that will be at this time though.  After our Texas trip we will have another about P2700 ($65) each month.
This is in addition to our little trip to Cebu we need to make.  The new plan is to leave on Saturday night, travel for 11 hours on a ferry boat (with a/c) versus 1 1/2 hours on the plane, get to Cebu early Sunday morning.  Do a little site seeing, picture taking and malling on Sunday.  On Monday morning we will take care of the social security business, take some more pictures and mall some more, then Monday night head back to Calbayog on the ferry again.  We should arrive back here early Tuesday morning.  I'll be taking notes and pictures all the way there and back the best I can remember.  I hope to make this trip the first entry in a Travel Blog I want to start.  Yeah, that's right, another blog.
 http://www.ourrestlessfeet.com/2010_09_01_archive.html
Although that will make 5 blogs, they are not all hard to do.  The Calbayog and Samar blogs I just transfer different news stories from other sites to mine and any additional information I may come across (working on that), the Thoughts/Dreams blog is only when/if I come up with something (although if people like my silly stories, I may try to do more of them).  The travel blog would be only when I travel, which won't be more than 3 or 4 times per year.  The blog that takes up the most time is this one, my main blog.  It's going to get tricky when I'm traveling to have information for this blog and the travel blog that are not all the same information, but I think I can figure it out.  If I get organized I should be able to handle it all.  I'll need more time on the computer than in the store though.  That means these blogs will have to start making some money or I'll have a hard time convincing Lita to let me stay in here to work on them.  She will let me if she sees an income.
It's only 4:30 and all the food is gone.  That's just one of the reasons that I think expanding the food and getting rid of the store, makes sense.  Working on that too, but I need further information before I can make a move.  I have a partner in crime on this one and I haven't told Lita about it yet.  I won't either until I/we are ready to do what we want to do here instead of the store.  If it doesn't add up, then nothing is lost, we'll just continue as is until an opportunity does come along.
Jay was home early today and Julianne was with him.  They got here about 4:15pm and she left about 6:00pm.  Jay is out front right now with Casandra trying to get her to say "Vicky".  Casandra is not cooperating with that.  You can get her to say quite a few words though, like Momma, Poppa, John, but not Vicky or Uncle yet.
http://caraganon.com/2011/03/britania-islands-of-surigao-del-sur.html
Although all the food is sold, Vicky is still here, but I figure she will be leaving soon.  She is just cleaning things and hanging around in case Lita needs something else.  That can happen without notice in an instant.
I made some cucumber and tomato sandwiches on grilled bread today.  I was kind of surprised that Lita really liked them.  I let her 'taste' mine, but she took several bites.  I had another sandwich, but I was afraid to set it down in front of her for fear of it disappearing.  I had to use mustard on the sandwich, but mayonnaise would have been better if I had some.  They do have mayo here, I just don't buy it much anymore.  I guess I should get 1 jar and put it in the refrigerator. Tonight I plan to have some of those sweet potato sandwiches with grilled onions and peppers.  That will make 3 meals for me today.  Usually I only have 2, but it's okay.
I made a list for Lita for things that we need here in the store, but we don't have enough money at the moment to get it all.  It's okay, we don't have to have it right now, except cigarettes again.  She will shop for the food in the morning.  I hope she remembers to get tomatoes and cucumbers.
At around 6:30pm, the lady that gives massages showed up.  She's here to give Lita a massage.  I'd like to have a massage too, but his lady is not strong or talented enough for me.  If she has the talent, she wouldn't have to be strong to give a good massage.  I just feel like an old lady is rubbing her hands all over my body.  That part doesn't bother me, but having to pay for it does.  If I'm going to have to pay for it, I want it to make me feel good.
Salamat, Paalam
Answers to 5 Jan Quiz Questions:
Filipino Quiz:  Provinces = 80
Texas Quiz:  Inner Space Cavern = Georgetown
New Quiz Questions:
Filipino Quiz:  Who is considered the 2nd President of the Philippines?
Texas Quiz:  This Texas town is famous for Aquarena Springs and Texas State University.
Answers next post.