Proper Visit to Brown Cable
[smartads] Background:  The post will be starting out on 2 Nov.  For a quick background, Lita is in Tambis for All Saints Day because she 'promised' her dead ancestors that she would be there for every All Saints Day as long as she is in the Philippines at the time.  Well we are here, so there she went.  I opted not to go because of the extra money we would spend and because, although I really like our cousins that live there, Khany and Bebie, I prefer to stay in my house, with the a/c and my computer.  Of course I'm sure I missed out on some nice picture taking and I know I missed out on getting some items that I would have picked up at Robinson Mall on the return trip.  Now that you've had a brief update, here is the new stuff.
http://www.crwflags.com/fotw/flags/ph-ii.html
Quirino is a province of the Philippines located in the Cagayan Valley region in Luzon. Its capital is Cabarroguis and was named afterElpidio Quirino, the sixth President of the Philippines. The province borders Aurora to the southeast, Nueva Vizcaya to the west, andIsabela to the north. Quirino used to be part of the province of Nueva Vizcaya, until it was separated in 1966.
http://www.okara.com/html/head_hunting_william_jones.html
Agriculture is the main industry in Cagayan Valley, together with rice and corn as major crops. These supply the demand of neighboring provinces and the metropolis. Banana as well as banana chips are major products sold in Metro Manila and Pampanga. Small scale industries like furniture making, basketry, rattan craft, and dried flower production are prevalent.
The province of Quirino was formally established on February 10, 1972 upon the assumption to office of the first elected provincial and municipal officials headed by Dionisio A. Sarandi as Provincial Governor.
http://www.flickr.com/photos/hilton_photos/page174/
Alone at last:  @0845 I was the only one left here in our little compound.  Everyone else left to go to the beach.  I'm not positive as to which beach it was, but I think it was Malajog Beach.  Since the 2nd is part of the All Saints Day holiday, it was sure to be very crowded there and I don't particularly like crowds, especially when I could be the center of attention.  I was asked several times if I wanted to go, even right before they left, Titing asked me again to be sure.  I decided that being alone in the quiet was the best option for me.
https://traveleronfoot.wordpress.com/tag/topographical-map-of-the-philippines-rizal-park/ (nice looking website)
Brown Out:  Of course, at 2:05pm, there was a brown out.  It's a holiday so maybe there will not be anyone to work on the lines or even check it out.  I was afraid that it would be another all night outage.  But all those fears were for nothing.  At 4:45pm the lights came back on.  As I was returning from Titing's house, *poof* there they went again.  It was 6:10pm when they went out this time.  I'm glad I had my computer turned completely off because it suffers enough problems with these constant power fluxes and outages.  This time it only lasted for 20 minutes, until 6:30pm.
http://www.manilablog.com/photos-of-rizal-park-at-night/
Good/Bad TV News:  Bad news first.  My most watched channel here, Fox, is not working.  There is a note on the channels that says I should subscribe for the channel.  That's crap, it just some kind of glitch, but the channel stayed out all night, so I missed watching NCIS and Bones.  Lita wasn't here, so I could watch whatever I wanted, so of course this happened.  The good news:  Thanks to Titing, I have resolved the HBO and Cinemax sound problem.  It's an easy fix too so anyone here that is reading with the same problem, because I know some of y'all had this problem, can fix it in just a couple of minutes.  All I had to do was change the sound from 'stereo' to 'mono'.  Wait .. there is more good TV news.  Rick has informed me that the only other cable company in the city, besides the one I have now, seems to be a better deal and they do have lines in our area.  He asked for us.  Their rates are lower, you get all the same channels, plus 2 extra HBO channels and you also get a P10 discount if you pay your bill early.  As much as this cable goes out on us, I figured it couldn't be any worse.  It does take P600 to get it installed.  That's P300 for the first month and a P300 refundable deposit.
http://www.skyscrapercity.com/showthread.php?p=84403575
Video:  In case you missed it or if you are new here, this is the link to my one and only YouTube video.  I would appreciate you taking a look at it, and if you like it, or not, please tell others.  Naturally I'm trying to get as many people as possible to watch it.  I think it's kind of cute, but since I know all the children, I guess that is a natural reaction.  Let me know at YouTube if you like it or even if you don't.   As of this writing, I don't know how people perceive the video (both of these links go to the same video) because there are no "Likes" or "Dislikes" and no comments at all.
http://www.britannica.com/EBchecked/topic/487536/Elpidio-Quirino
Asawa Update:  I waited until about 8:30pm for Lita to call me to let me know that she made it to Tambis.  That was plenty of time for her to get there, get situated, sleep, eat … whatever.  But no call.  I went out to LolyKat to get Jay to call Grace's cell phone to find out the status.  At that time Jay told me that they called him earlier in the day and they were there.  They called him before noon, and he never told me.  I'll bet he remembers to tell me next time.  No I didn't beat him, but when/if Lita ever goes someplace overnight without me again, I will hound the people around me, starting with Jay,  until I hear that Lita is safe at her destination.  Lita did call me @ 9:00pm because I guess Jay must have called Grace and told her I was asking.  I assumed that because when I talked with Lita she said, "What is it?".  We didn't talk long because she was using Cathy's cell phone and it was low on minutes.  Lita did tell me that she would not be returning until Friday, so I don't have to wait and worry all day Thursday, because she wasn't sure when she left as to which day she would be returning.  Now I know.
http://www.dotregion2.com.ph/d2/index.php?option=com_content&view=article&id=68&Itemid=80
Proper Visit:  On Thursday I went to Calbayog Proper (downtown), by myself, to pay a couple of bills, go to the bank and do a little shopping.  I need more things than I can afford to get right now, but I really needed to get some aspirin, toilet paper, Listerine and deodorant.  The last 2 requested by Lita before she left.  You think that was a hint?  After paying the 2 bills, including the water, I made my way to Metro Bank.  The line for the ATM was too long so I decided to do the shopping first then come back to the bank.  I went to shop at Mercury Drug to get the 4 main items on the list and that was all I got.  I decided that what little money I had left, I should save, just in case.  I walked back by the bank, and the line was even longer than before.  The heck with it.  I'll just get the rest of the money another time, probably Friday or Saturday, maybe even Sunday.  Most likely it will be on Saturday.  So I walked to the main road (Maharlika Hwy) to flag down a yellow tricycle to go home.  As I walked by Monterrey Meat Shop though, I had to go in for some reason.  After I got in, I forgot what that reason was though.  I didn't buy anything, I just left.  I only got a little bit further down the road when Angelo showed up on the Pepsi-cycle.  He saw me, turned around and gave me a ride home.  That saved me P10.
http://visitpinas.com/discovering-kilometer-0-in-manila-city/
The Pascascio's:  They would be Ado, Cathy and their little crew of  mga bata.  They all returned from Tambis at 11:45. They were all smiles when they got out of the van.  Casandra took a few seconds before she realized it was me talking to her, but when she finally figured it out, I got that award winning smile.  I picked up Precious to give her a big hug and she felt lighter than before.  Maybe it was just my extra adrenaline from being so happy to see her.  Crystal told me that Auntie Loly (Lita) was at "Benson's".  Cathy translated for me and it turned out to be "Robinson's".  I did notice that both the babies got a haircut.  It wasn't much, but enough for me to notice.  I'm just glad they all made it back safely.
http://www.etravelpilipinas.com/tourism_news/category/philippine-festivals/page/2
Lita Returns: Finally a couple of minutes past 3:00pm, Lita showed up.  When the van pulled up out front I was outside to greet her.  I figured it was about time for her to show up, and I got lucky.  I was only outside for a about 10 minutes before the van pulled up.  She had 2 bags of groceries and her little suitcase and I just carried them all for her.  I know she was tired from all that traveling and walking in the mall.  It was nice and quiet while she was gone, but I'm happy to have her back.  I had my quiet time and it was plenty enough.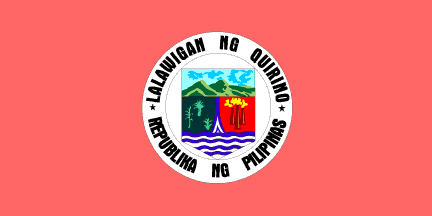 Special Note:  After I was almost finished putting the pictures in, I noticed that there may be 2 Quirino's in the Philippines.  One in Region 2 and the other near Manila.  I probably got the pictures messed up and I didn't feel like going back and checking each picture.  So if you plan to visit the Quirino Province because of these pictures, be sure to check it's location first.  Sorry, but I didn't know and I've never been to either one that I know of.
The End!
http://www.zamboanga.com/z/index.php?title=Quirino_Province,_Philippines
Salamat, Palaam
Today in Philippine History
1919 – Some five or six years after the Filipinos are  completely "pacified" by the imperialist Americans,  colonial Gov.-Gen. Francis Burton Harrison  restores the flying of the Philippine flag through Act  No. 2871; the enemy United States authorities had earlier banned the use or unfurling of Filipino flags, including the First Philippine Republic and Katipunan flags, banners, emblems, and symbols  through Act No. 1696, also known as the Flag Law  of 1907, promulgated past midway into the  protracted Filipino-American War (1899-1914); it  appears that the most undemocratic and  controversial 1907 law banning the use of Philippine  flags and symbols was the pale-skinned imperialists'  apparent reaction to the defiant and  Katipunan-continuation and Katipunan flag-bearing  Republic of Katagalugan of Macario Sakay whom the  Americans conned into coming down from the hills only to later execute him.