[smartads] The Francisco Dagohoy Cave is set amidst the majestic expanse of mountain ranges in the inland municipality of Danao. It is a 5-kilometer walk from Barangay Magtanghoy. Approximately a two-hour drive from Tagbilaran City, about 92 kilometers away, the area is not easily accessible.
The cave is noted for its historical and speleological features. The entrance to the cave is a 17 meter drop into a labyrinth of crystal-studded passages with a stream winding through it. An underwater path leads to dry ground. The stream eventually flows out towards the Wahig River which is 100 meters away.
The cave is very picturesque inside with stalagmites and stalactites. With lighted lanterns or flashlights, the walls give out a golden hue. Walls seem to sparkle with crystals, which according to the guides, are caused by the droplets of water on the walls.
The cave was named after a Boholano patriot, Francisco Dagohoy, who started and led a rebellion against Spain in 1744 when the Philippines was under Spanish rule. Magtangtang, in Sitio Caylagon, was Dagohoy's headquarters and the cave their hideout during the revolt which lasted for eighty five years.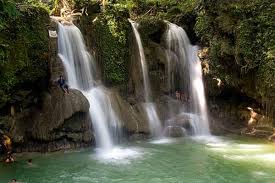 Waterfall at Dagohoy Cave in Bohol
More of the many sites to visit in Bohol…all waiting for you to visit, can be viewed at the link below.  MJ Tourist Services can assist you in basically naming your own price for your vacation.
Just visit the MJTS Flyer page on this blog.
http://www.bohol-philippines.com/bohol-attractions.html
Before I get started, I like to apologize for the previous post on December 22nd.  I forgot to put the pictures on it.  I didn't remember until after I went to bed and the computer was turned off.  I could have put them in the next day, but I figured that anyone that had already read the post without the pictures would be unlikely returning to read it again and therefore they would have missed out on the pictures, which I know many of you enjoy seeing.
December 23rd proved to be a day of a lot of activity around here.  I published my Part 1 of 3 parts on another story in my life.  It's called, "You've Got to be Kidneying Me".  It's the story of when I donated a kidney to my sister.
Just a quick FYI…Mountain Dew is now back at the supplier, it's been out for about 2 weeks.  In fact, if there is a cold Mountain Dew in the refrigerator right now, I'm going to get it to drink.  Hang on a minute.   wait…wait…wait… Well there wasn't any cold Mountain Dew here, so I went next door to Titing's and there was one there.  I just got one 355ml bottle.  Lita is not here to share it with me, she is at church, so it is enough for me, for now.


This day saw me heading downtown with Lita and Crystal.  We rode in a motorized tricycle to the Oki-Oki Store or the Korean store as we call it, and the price for the 3 of us for the approximately 1 mile trip was P40 (.91)  Actually I think it was suppose to be P30 (.68), but Lita likes to pay extra when they have to haul my big body around.  After buying a few presents there, we took a tricycle the market to buy some fruits, vegetables and a few other items.  I had to get some potatoes, carrots and onions, we were out.  Next we rode a tricycle to Joyous Eatery.  When we got there, we saw Ramil.  He is here for Christmas vacation.  He has been here since his arrival at 5:30 this morning via the ferry boat.  When we got ready to come back home, Ramil borrowed one of his tatay's (Mar) cars and he brought us home so we wouldn't have to worry about taking or paying for a tricycle or motor.
Also here to help us celebrate Christmas are Marge, Jun, Luz, Bebie and Khany.  Jun and Luz didn't know what I really wanted for Christmas, so I told them to just buy me an apple.  When they showed up, they brought me 1 dozen apples, 3 different varieties.  I forgot to tell them that my favorite apple is the Granny Smith, but he did have 4 of those in there anyway.  I have since told Jun which apple is my favorite.
After I ate my fried onions and pork n' beans made up dish again, I was told that there was going to be a get together back at Joyous Eatery at 7:30pm.  Well Lita and I just ate, so we were not planning on going, but it didn't turn out that way.  When it got around 7:00pm, Jun talked us into going because he said that he is not here very often, which is true, and he wanted us to be there.  We couldn't say no to that.  When we got there, I tried not to eat, but they had already made a special trip to Chow King to get the orange chicken that I like.  After spending extra money on me, well I just decided to toughen up and eat.  I gave J some money to go buy me a Coca-Cola, 1 liter.  All they had left to drink was Pepsi and I already choked down a couple of Pepsi's last time I was there.  Really did not feel like doing it again.


While we were there, some carolers showed up with a few singers a xylophone and a drum.  They played 4 or 5 songs and received approximately P300 ($6.81).  Not too shabby for about 20 minutes of entertainment.  After that, some of our mga bata decided they wanted to dance.  So Raven, Joshua, Crystal, Khan and Reverof formed their little dance formation and danced.  After they danced, Mar gave them P20 each.  Then someone else decided that if they dance again, they would give them P20 each.  Then again, and again.  This went on for 4 dances, then 2 songs and finally 1 last dance.  I gave them P20 each for the 2nd song.  Each one of those bata received P140 (3.18), and they sure did look tired afterward.  I think that was part of the parent's strategy.
With so many people around here tonight, we need lots of sleeping space.  Bebie and Khany slept in the LolyKat store on the benches that Arnel made.  They put the benches together, placed a couple of pads on them and we let them borrow one of the 2 futons on our bed.  When they visit they usually sleep at Cathy's house, she had a small extra bedroom attached to their bedroom.  I guess someone else slept there tonight though.  Jun and Luz slept upstairs in the bedroom where Anna Pearl and Chatty usually sleep.  Anna Pearl and Chatty probably slept upstairs in the Pepsi warehouse.  That's were they slept when we first got here, because we were using Titing/Neneng's room and Titing/Neneng was using their room.  We got the best room because Lita is the of all the cousins and the respect thing applies.  Sleeping arrangements like this are common place around here, and I think it is practiced throughout many places in the Philippines.
Tagalog Word of the Day:  manang  (ma-nang)  means oldest sister.  According to my dictionary it just means sister, but I know that is wrong.  Manang is the term Filipinos use for the oldest female of their generation.  Here, Lita is the oldest of all the cousins, so she is the manang.   Only the 1st cousins call her manang.  If Lita had brothers and/or sisters, they also would call here manang.  The 2nd cousins just call her ante (older sister).  If the oldest were a male he would be called "manong".


I checked Top of Blogs before I went to bed.  We were #350 of 3130 (11.18%) Personal and #6756 of 57,061 (11.81%) Overall.  Hits were 56565 at 0215 and at 1015 the next morning they were 56767.
This morning, 24 December, I escaped the covers and got off my temporarily 1 futon mattress bed at 0828.  I heard Ado outside trying to start the Nissan.  Sounds like the battery needs to be charged, so that is what he did when he finally did get it started.
I forgot to mention yesterday that I also found out where the fitness center is.  The one that Ado showed me before is no longer open, but this one is a little closer to the house and looks like there is plenty of equipment in there.  If there were not so many people in the truck with us, I would have gone in there to check it out.  As it is I have a New Year resolution that I am getting ready to commit to.  I'm hoping for enough self discipline to make myself go there.  I don't foresee a problem, but you never know.  I know that if I could get someone to go with me, I'll commit to it without a problem.  I'm competitive and I'd love to find out how I stack up against one of the younger generation people here.  I know I'm older, fatter and bigger, but I think I'll surprise them a bit after I've had a few weeks to get use to working out again.  I think 4 or 5 weeks will be plenty of time and, in my mind, I'll be out preforming them on the cardio-vascular machines.  After we get back from Korea and maybe Texas (if we go to Texas), I will start on light weight training.  I probably won't do the heavy weight training, I just want muscle definition and maybe a 6-pack gut.  The most important thing is to maintain my heart health though.  I hear that there is no membership, but the fee is P40 per day, which includes a trainer.  Now that sounds pretty inexpensive, even for the Philippines, so I'll have to double check on that and I'll let you know whenever I do find out.


Today I connect my blog to my Facebook account by using Networked Blogs.  I'm hoping that this will bring in a little bit more traffic, comments and maybe it will result in more people checking out some of the ads on the site.
Titing is cooking turkey tonight.  Actually it is cooking right now, rotisserie style.  It is 10:10pm.  Evidently there is a tradition here in the Philippines called Media Noche (Midnight).  During this time we will all have a midnight meal.  The turkey he bought looks like about a 15 to 20 pounder, so it a pretty good size.  I can smell it now that I am typing about it, and it smells pretty good.  I already have dibs on some breast meat.  Lita has already made some of her wonderful Jello delight and it is hardening in the refrigerator now.  Actually here I guess we should be calling it gelatin delight, because they don't have the Jello brand gelatin here in Calbayog.  I'm hoping that this brand will turn out to be at least almost as good as Jello. Also we plan to have the cranberries that Ramil bought for me in Cebu.  I'm not sure if anyone here has every had cranberries.  Heck I'm not even sure if the brand Ramil bought is going to be good, but I'm sure going to give it a try.


I took a 2 1/2 hour nap today to be sure I would be up for this celebration.  That does mean that I probably will not weigh in tomorrow morning though.  I'd hate to get on that scale and it went up too much.  I think I'll just wait until next week.  That may be a problem too, because next Friday night is New Year Eve, and I don't know what kind of celebration is in store for me for that.
Useless Knowledge: The footprints left by the Apollo astronauts will not erode since there is no wind or water on the Moon. They should last at least 10 million years.
That's it for this post.  I will be doing the next one the day after Christmas so I'd like to leave you with a few Christmas slogans that I found and enjoyed.
1.  The best of all gifts around any Christmas tree: the presence of a happy family all wrapped up in each other.
2. Santa's flying in the skies:  Watch Out for the Reindeer Pies
3.  Christmas is the season of peace and goodwill until you go shopping and get the bill!
4.  What happens under the Mistletoe, stays under the Mistletoe
5.  A hug is the perfect Christmas Gift, one size fits all and it is easily returned.
MERRY CHRISTMAS EVERYONE!!!
Salamat, Palaam