[smartads] I left off last post letting you know that I had an idea about something, but I didn't reveal anything about it yet.  Well it still hasn't developed yet, so your patience is still required, if you are interested in what it is.  As for right now ….
It's Friday morning.  Wow!  I sure did get up early this morning.  I'm already at the computer and it's only 0700.  I got a little bit on the website finished before Lita pulled her, "Go watch the store, we're all busy" routine.  I think that one of my new reasons for wanting this website to make money is so that when she says to do things like that, I can tell her, "I'm busy".  She wouldn't be able to argue if we were making a couple thousand dollars per month on here.  That sounds like a lot right now, but I have heard about and know a couple of people who make more.  Right now I'd be happy with $20 per month.  At least that would be something.
There are 4 lovely young ladies standing outside the store right now waiting for a tricycle.  A couple of them are looking into the store a little more than normal and definitely more than Lita would like for them to be looking.  It's all cool though, just looking.  Maybe a few brief thoughts.
Okay, in case you haven't already noticed or missed it when I put it in another post, I now have 3 blogs that I'm trying to run.  This one is still the main one, and always will be though.  Of the 2 other blogs the one that I'm thinking will be the next to break out, if I can get a constant flow of information, is the Calbayog Corner.  Remember that they are all in their infancy so if you even kind of like them, please support them for now.  I hope to have them as popular as this site sometime in the near future.
Jay left this morning to go somewhere.  I'm not sure where but I heard either Tacloban or Tambis.  I'm pretty sure that Julianne went also.  He said he would be back on Monday if he could find someone to give him the money for transportation.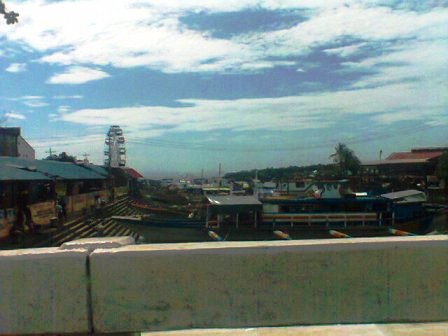 Khany & Bebie just arrived from Tambis.  Since there still is no clock in here at this time, I can only tell you that it is between 3:00pm and 3:15pm.
I finally got some pictures of the game the kids like to stick their P5 coins in next door.  Actually it looks like an Internet Cafe, although I didn't ask.  Kids around here like to play the games on the computer and don't mind spending some of their parents money to do it.
I've been seeing a lot of foreigners emerging from the Ciriaco the last few days.  Most of them look American, but I can't be for sure until they talk.
Brown Out @ 5:00pm.  It lasted almost an hour, until 5:46pm.
I didn't write anything down for the rest of the day so I guess I wasn't in the store very much today.  This was also the day that I started getting sick.
Useless Knowledge: Bob Denver wasn't even in the running for the lead part on TV's Gilligan's Island. Jerry Van Dyke was the original choice, but he turned it down. Ultimately Denver became Gilligan, and the show ran for three seasons. Twenty-five years after its last episode was filmed, it is still one of the most widely syndicated TV shows in television history.