[smartads] There seems to be a lot of beautiful places in Mindanao Philippines.  It's too bad that there are so many terrorists there because if there wasn't they would probably be making a lot more money on tourism.  I know that I'd like to go visit some of the places that I have found on the Internet, but I don't want my head chopped off in the process of seeing it.  It's probably not all that bad until you get way down south in Mindanao, but it still bothers me.  I hope that someday things will get better or I will decide to just go for a visit anyway.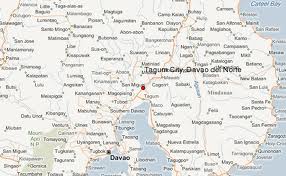 Useless Knowledge: Mosquitoes are attracted to the color blue twice as much as to any other color. > Mosquitoes have been responsible for more human deaths throughout history than all wars combined.  (I'll bet the people that live where there are a lot of mosquitoes don't think this is 'useless knowledge')

21 Apr – Hit's @ 0012 = 334674.  I finally got out of bed at 0938 today.  I laid in bed for a little over an hour just thinking about things.  Some of them G-rated and some of the X-rated.  I was just thinking about things in general, nothing in particular, just random thoughts.  I got up at 0938 only because Lita asked me to come outside to help your clean out the little gutter we have running along side the wall.  It catches all the water from the water hose, washing machine and also whatever liquid people put in there, like the children urinating in there.  Sometimes it gets clogged up and starts stinking, so we clean it.  No problem after that.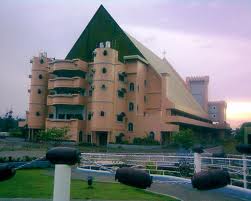 I did go downtown with Lita today.  Naturally I forgot the camera.  We were just going to the bank to get a few pesos.  She is worried about not being able to get the vegetables and rice for the cooking because we are closed this Thursday and Friday (Holy Thursday/Friday).  We just got enough money, plus a slight bit more, to cover the things she needs to cook with, to sell.  The downtown area was pretty deserted too.  That's the least amount of people that I have ever seen down there.  Have I mentioned more than a dozen times about how I'll be glad when June gets here so we will be getting that extra P10,000 per month?  I probably mentioned it so many times that y'all are sick of reading about it.  Maybe I'll be talking about it until August so be prepared for that.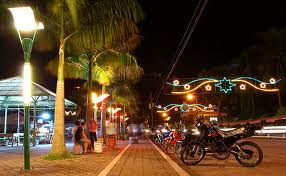 Ado is back from Tambis now.  He got back late this afternoon.  Since there is no way he can afford to take off work for 1 month, he is back to work.  He did bring us something that made Lita happier.  Bebie sent 3 kilos of rice to us.  So now we don't have to worry about buying that rice she was worried about, and we got the money for.  We mostly just have to worry about the vegetables now.  I hope they have some onions now.  They have been out of onions the last couple of times Lita has gone to the market.  Seems odd to be out of onions, but she said she looked because she needs them.  I eat more onions than everyone else here combined I think.  Since we don't have to get the rice now, I hope she decided to get a tray (2 1/2 dozen) of eggs.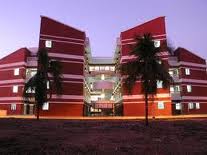 I finished the rest of my stew today.  I have enough ingredients to make another batch, but I'd like to have the onions first.  I've been using some little purple onions, but the ones here are so very small.  We're about out of those anyway, because Lita has been using them for her cooking also.  I have the potatoes and carrots, so if she'll get me the onions and maybe a little cabbage, I'll be set.
Mar and Ludy came by with Marianne and Marlianne (I forget how to spell her name…J's sister).  The brought me a present.  I now have a decent computer chair.  It's one of the office chairs with wheels.  It's so much better than the other chair that I had, but I did appreciate them letting me use that chair, because it was better than the other chairs I had to chose from around here.  This chair has a big red seat (big enough for my big butt) and the part for my back is black.  The back feels like it is made out of cloth, but it has the little holes in it to help keep my back from getting too sweaty.  It's a really nice chair.  THANK YOU AGAIN MAR & LUDY!!!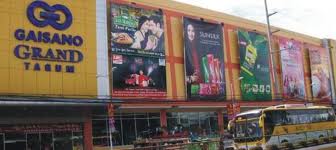 22 Apr – Hit's @ 0000 = 336788.  Well I think that this is the first time this has happen since I've started this blog.  Today I got up at 0938, which is the exact same time that I got up yesterday.  Not a big thing, but it's something that I noticed.
I was looking over the
and it had someone on there from Barrigada, Guam seached for "live cam Philippines".  I'm going to see if I can find one of those.  I know I can find one that has the 'ladies' on the other end (one of the live sex cams) but I'm not putting that on the blog.  I'll search for one that has a nice view of the Philippines, a beach, a city or something like that.    When/If I find one, I'll put the link on here for y'all.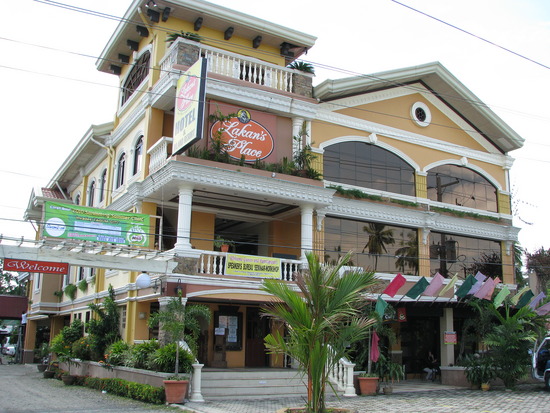 Today is Holy Friday, so just about everything is closed around here, but I needed some bread.  I had to send Ramil all the way downtown to get the bread.  There was some bacon that has been in the refrigerator for a few days that I thought I better eat when I don't have any stew made.  I don't want it to go bad.  We have about 2 dozen of those little tomatoes in the refrigerator, so I just made a couple BT sandwiches.  The Subway sandwiches would be better.
I didn't even turn the computer on until 5:00pm.  On the days that I actually turned it on, and there wasn't a brownout all day, that's the latest that I've ever waited to turn it on.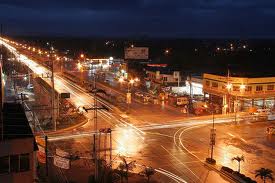 It's been a pretty boring day again today.  Emey sat out front on the bench just staring out at the road.  I think he fell asleep a couple of times.  I didn't take a nap today and that's not normal.  I don't know why I didn't.  I just never did.  I watched TV most of the day, but Lita is in there watching it now.  It's almost 11:00pm and I'm actually caught up on all the days of the blog.
This evening I had to eat some of the ice candy because I was thirsty and there was nothing else left to drink around here.  I did make 3 liters of lemonade around 10:00pm, but since I have to used boiled water to make it, it has to get cold before I can drink it.  At least I'll have something to drink tomorrow.  If I had more sugar, I'd make some more.  Maybe I'll make some tea tomorrow since I don't use sugar in that.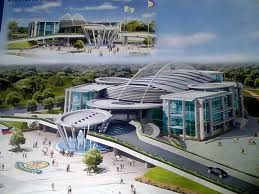 Wow, that's it.  I'm caught up to the minute now.
Next week is the NFL draft and I am entered in a contest to win $350 (1st place).  I'm not sure how many people have entered, but whatever it is, the odds are not in my favor of winning.  It's especially hard when I don't have my NFL Network to keep me abreast of all the happenings going on in the NFL.  I have to search for everything on the Internet and I'm scared I'm going to miss something doing it that way.  Oh well, it didn't cost anything to enter and it's dang near impossible to pick the whole first round of the draft anyway.  I'm hoping I'm get the closest to being correct though.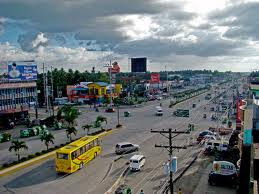 I'll have another post in 2 or 3 days and I hope I have some pictures from around here and not just pictures of Philippine cities.  Some of these cities are really nice though.  The one today Tagum City Mindanao (around Davao) looks like a beautiful place to visit.
The Philippine History story below is an interesting fact about ex-President Marcos that I did not know.
Useless Knowledge: Supplied with individual headsets, tourists to Elvis Presley's Graceland mansion can listen to an audio tour presentation in a choice of languages: English, Spanish, Japanese, German, Italian, Dutch, French, and Portuguese.  (That Elvis…still trying to help people even 34 years after his death.  Holy Cow!  It has been 34 years already (or will be on August 16, 2011)).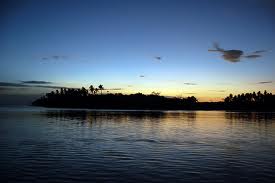 Salamat, Palaam
Today in Philippine History
Mariano R. Marcos,
with young Ferdinand E. Marcos
1897 – Mariano Marcos y Rubio, educator, lawyer, lawmaker and father of future Philippine President Ferdinand E. Marcos, is born in Batac, Ilocos Norte, 1 1/2 years into the Philippine Revolution against Spain;  raised as militant follower of Gregorio Aglipay and the Philippine Independent Church, he will be elected a congressman under the Nacionalista Party but, following his lost in the 1935 elections for the National Assembly, will be accused, tried, but acquitted of killing of Rep. Julio Nalundasan three days after the polls; the prosecution will charge that Mariano Marcos, along with brother Pio Marcos, son Ferdinand Marcos and brother-in-law Quirino Lizardo,  has been pushed to conspire against the life of Nalundasan by the latter's poll victory; his son, Ferdinand Marcos, along with his brother-in-law, will be convicted  but later acquitted of the crime on appeal to the Supreme Court in a celebrated case where the young Marcos who will soon graduate magna cum laude in law from the University of the Philippines, will begin to organize his own defense and eventually win in a decision a short while after making history with the highest score ever garnered in the Bar examinations
Photo credit: http://library.thinkquest.org/15816/thetwoleaders.article1.html