[smartads] Okay, where was I?  Oh yeah, I was just finishing telling you about the new show that I started watching, Ikaw ay Pag-ibig.  I missed the second half of it last night because that's when Mar & his family showed up, as I will be telling you about later in this post.  It's okay.  If I really wanted to see the whole show, I know where to watch it on the Internet.  Let's continue with my notes.
Before I continue I just wanted to remind you about the donations for Ado & Cathy.  I haven't seen anything there yet and that's okay.  If you can not or do not want to donate, it's fine.  It's only for people that can afford to.  I know I can not at this time either, or I wouldn't even be asking y'all because I'd would just do it myself.
http://www.crwflags.com/fotw/flags/ph-v.html
Sorsogon is a province of the Philippines located in the Bicol Region; it is the southernmost province in Luzon and is subdivided into fourteen municipalities (towns) and one city. Its capital is Sorsogon City (formerly the towns of Sorsogon and Bacon) and borders the province of Albay to the north. Sorsogon is at the tip of the Bicol Peninsula and faces the island of Samar to the southeast across the San Bernardino Strait andTicao Island to the southwest.
http://en.wikipedia.org/wiki/Sorsogon
Festivals
Most of the inhabitants of the province belong to the ethnolinguistic Bicolano and Bisakol groups. Sorsogueños – as how the people of Sorsogon call themselves – are very religious and fun-loving. Being mostly Roman Catholics, they are active in every festivity celebrated throughout the year. Like any other Filipino ethnolinguistic groups, each town honors their Patron Saint with celebration on itsFeast Day. In Sorsogon City, the locals celebrate the Fiesta of the Patron Saints Peter and Paul on June 28–29 of each year. Another featured attractions during town fiestas are the Traveling carnivalsthat sets up near the town center or its vicinities.
http://flickrhivemind.net/Tags/butanding/Interesting
Downtown Bulusan located East of the Province
The festival, celebrated in the whole province in the last week of October, commemorates the founding of Sorsogon as a province. Festivities include a series of cultural, historical, religious, agro-industrial and economic activities, showcasing the province's abundant agricultural products, particularly food and decorative items.
Pili Festival in Sorsogon City honors the Pili nut and tree which is indigenous to province. The festival coincides with the town fiesta of Sorsogon City. Celebrations include street dancing by locals donning pili nut costumes, cooking competitions, fireworks displays, and even a nutcracking session along the road by the locals.
LolyKat may be more organized, but the schedule is not.  The hours we set of opening at 0800 and me being the shop keeper in the afternoon, have both already been broken on the first full day of operation.  We opened this morning closer to 0730 because there were already plenty of customers.  Also I'm already out here "keeping" because Lita said that there were a lot of people eating also and she had to help out Vicky.  Oh well!  I had to do the 1st and 3rd of the 3 S's before I went out there and I wasn't doing much else, except sleeping.  Maybe those hours of operation should be adjusted a little bit, if the customers are going to be coming so early.  I don't mind if we open at 0700 and still close at 8:00pm (or 9:00pm for that matter).  Even staying open until 11:00pm on Friday and Saturday wouldn't bother me, but we'll see what happens.  I got out my puzzle book, but I think my brain is still sleeping.  Maybe this puzzle is just too hard for me, no matter if my brain is awake or not.
http://www.skyscrapercity.com/showthread.php?t=1094369&page=19
I let Khan hang out in the store with me for awhile.  I don't really mind, as long as they mind.  He was in a counting mood, so I figured I'd explain adding to him.  He already has the finger counting down for the low numbers.  I explained to him about the "hundreds", "thousands" and even "millions" being basically the same you just have to say hundred, thousands or million after the number.  He picked it up surprisingly well pretty quick.  He had trouble with mixing the thousands and the hundreds, so I got off that.  After awhile he got tired of doing basically nothing and he left.  I locked the door behind him so he or no one else could get in.
Around 10:30, Lita showed up to take over the "keeping", so I went to take a nap.  I got up at 12:05pm and decided I better eat.  I ate the rest of the bacon that Lita bought a couple of days ago, along with 2 small tomatoes.  I had 2 bacon/tomato sandwiches.  This is some actual American style "sliced" bacon too.  Not the bits and pieces that we have been getting elsewhere.  We found it at the little grocery below the Almira Garden Hotel.  I actually found out the name of that grocery too.  It's called "Racar".  I didn't even realize they had bacon there at all.  This afternoon when I go downtown, I'll stop by there to see if they have more of it.
http://www.lakwatseradeprimera.com/irosin-sorsogon-a-warm-welcome/
I inherited watching Casandra for about 15 minutes, but I bought her a chocolate superstick and gave her back to her Mama.  I'm sure Cathy will have her back in the stroller before too long.  I think she leaves her in that stroller too much, but when she is out Cathy plays with her well.  When she is in the stroller she is usually happy and playful, so maybe I'm just making a big deal out of nothing.
I waiting for at least 2:00pm before I check to see if my check has arrived in the bank.  I've got a list of things I need to buy and it involves going to at least 3 different places.  Plus I need to pay bills, so that's another 4 stops.  Problem is, I believe that Lita now plans to go with me, so I probably won't get to do them all in one day.  I figured she would be changing her mind, she does that often.  That most likely means we will be stopping by Chow King.  She likes to go there at least once per month.  I'd personally like to check out one of the restaurants we have not been to, but right now we can't do all that.  In February we could, but we are suppose to leave for our yearly thing in May, so we need to save some for that too.  Of course we plan to be going to Texas.  I still don't see how we will have enough money for that, but we'll see.  I hope I remember the camera for all the places we are going (I did and most of the pictures were in the last post).
http://www.paraisophilippines.com/category/philippine-travel/destinations/page/2/
While I was sitting in LolyKat, Lita gave me a tray full of chili peppers.  She wants me to pull the stems off them.  The red ones she will be using for a vinegar sauce she makes and the green ones I will use for my cooking.  I guess that means I will have something to do for the next half hour or so.
I checked for the money at 2:45pm, and it was not there yet.  I'll check again about 3:15pm.  —At 3:20pm the money was there.
Lita still wants to go with me downtown, but she wants to wait until around 5:00pm.  I've already figured out how much I can withdraw, so now I need to figure out how to distribute it and how much to stash away (that will be little to none).
http://www.camperspoint.com/spip.php?article201
Okay we are back from downtown now.  We left about 4:45pm and got back about 6:30pm.  We did go by Chow King and had the same type meal as the last time we went there.  Lita liked the vegetables and there was chicken and rice for me.  The meal comes with 3 pieces of chicken and I ordered 3 breast with it.  There is not extra charge for the breast, but we had to wait for them to cook it first (about 15 minutes).  I found out today that JustMar closes at 5:00pm.  It's a grocery that opens at 0800, it closes from noon to 1:00pm for lunch, then it closes for the day at 5:00pm.  I will not feel sorry for these people when the mall(s) move in and take over.  Those are unreasonable hours for the biggest grocery store in town, as far as I'm concerned, but I may be the only one that thinks that.  I doubt it, but it's possible.
Racar closes at 6:00pm, but it doesn't close for a one hour lunch.  Plus it is only about 1/3 the size of JustMar.  The prices at Racar are sometimes slightly higher, but only a peso or two.  It's easier to shop at Racar, but both places are crowded for us big people.
http://www.panoramio.com/photo/4667516
Since we left so late to go downtown, all the businesses were closed.  So we didn't get to pay the water or Internet.  I will go back downtown, probably on Saturday to take care of all that.  Jay will be pay the electric bill in the morning before he goes to school.  He will be a little late for class, but it will be okay. When we go downtown on Saturday we (or I) will go earlier, probably around noon.  I can do a few things, then stop by JustMar when they reopen at 1:00pm after their lunch break.  That way I won't have to carry groceries all over downtown.
Sometime tomorrow (Friday), I'm going to order some more drinks from Titing.  This time I will pay for them instead of asking him to credit them to the store.  I have told Titing that things are going to change.  No more credit for sodas, only cash.  He had one of those ear to ear smiles for that.  I hope to be able to add some Tropicana and water to the LolyKat drinks also.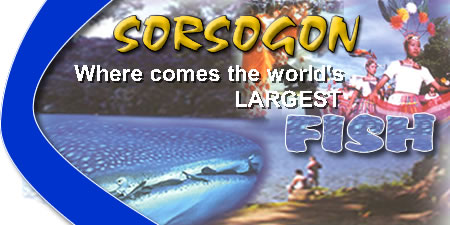 http://www.wowbicol.com/sorsogon.htm
Useful Knowledge:  Never squash a wasp that has stung you. Upon being crushed, it will release a chemical that becomes airborne; this signals guard wasps to come and sting whatever gets in their way.
I wanted to go by the store I call the Korean store so we could get a small clock for LolyKat and to buy about a half dozen more plates for the eatery.  I call it the Korean Store because I can never remember the real name of the store.  I will try to remember to get a picture of it when I (or we) go downtown on Saturday.
This evening Mar, Ludy, Marlou, Chiqui and Marianne showed up.  The had just returned from Cebu and they thought about me while they were there. They bought me some Tabasco and A1 sauce.  I still have some Tabasco, but I had run out of A-1.  It doesn't hurt to have extra Tabasco anyway.
http://www.skyscrapercity.com/showthread.php?t=1094369&page=19
Today was a first.  It was the first time that I remember that Chiqui did the Mano Po with me.  You know the bless with the hand to the forehead for your elders.  I hope that means she is getting over what seems to me as being extreme shyness.
Okay I'm going to end on that note for today.  That was about 2 1/2 pages of notes and it is just over 1600 words now.  I have gone all the way through Thursday night with the notes and will start with Friday morning tomorrow.  I do have one more side note to add tomorrow before I start on the Friday information though.  Nothing of great importance, just something to add.  Type at y'all tomorrow.
Salamat, Paalam
There is no Philippine History for tonight.  No not because nothing happen on this day in Philippine History, but because I put 1 December in yesterday's post and 2 December is not posted yet.  I forgot that they are slow in posting the events.  That's why I was running a day behind all the time on those.  I will get caught back up tomorrow.