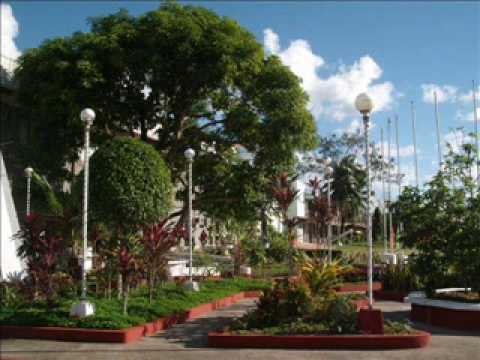 [smartads] This is a video of the Northwest Samar State University (NSSU).  This is the university where Mar is the Vice President.  It doesn't show too many people, just the buildings, but you can see how clean they keep the campus.  It's not just like that for the video either.  Every time I've been on the campus, it has been very clean.  When you get to this video on You Tube, there will be other Calbayog City videos for you to examine if you wish.
http://www.youtube.com/watch?v=kI4NEmx9zhc&feature=related


Yesterday morning (the 18th) I was up at 0856 and that was the most exciting thing that happen all day.  That is why you did not see a post for yesterday.  The hits were at 31731 at 0250 when I went to bed.  And on that day I got a request to say more about the BBQ business.  I don't know how I can do that though.  I've already taken pictures of the area, the food, the people and some of the customers.  I just don't know what else there is.  Any suggestions on that?
This morning I was up at 0722 and I haven't even taken a nap today.  It is 8:40pm and I'm already starting to get tired.  I'll probably end up in bed around midnight tonight instead of 2 or 3 in the morning.  This morning in Top Blogs we were at 425 of 1538 (27.6%) Personal and 2175 of 6695 (32.4) Overall.  Right now it is at 431 of 1555 (27.7%) and 2193 of 6752 (32.4%).  So we regressed a little bit.  It says that we've had 127 unique visitors this week.  The #1 blog has a lot, 68,000 this week.  I don't expect to ever get that high, but I'd like to eventually be in the top 50 so we'll show up on the first page of site.  If we could add a couple of zeros to the end of that 127, then we'd have it right were I want it.
So was the quiz better than the trivia or not?  About the same or doesn't matter?  I like to try different things to see if something turns out to be better than another one.

I was having a problem with the sound on the computer, but I fixed it.  Not sure how I fixed it, but I did.  All I did was open it up, blow the dust out, make sure all connections were secure and then closed it back up.  I did not find any loose connections, but there was a lot of dust in there.  This is actually the 3rd time this happen.  Each time I fixed it the same way, except the first 2 times it hardly had any dust at all.  I don't know what it is, but it works and that's all that counts.
Lita had to go to the market this morning.  She didn't buy much, she was just ensuring that she didn't run out of things before the weekend.  Unless we sell a lot of things on Friday and Saturday, no one should have to go to the market until Monday.  Personally I hope we have to go to the market on Sunday.  That means we did sell a lot, and thus means we made a lot of money.
I have a couple of cute Precious stories to share today.  First of all I should let you know that Precious is talking much better than when we first got here.  Remember I told you all she could say was Mama.  Well now she knows all kinds of words and uses them.  She hasn't gotten the word "Uncle" down yet.  She just follows what Lita says.  So when Precious wants me, she calls me either John or Honey.  Second story.  Lita had me bring seven of those small cans of Vienna sausage to Precious today.  The were still in the case they came in, so I just brought the whole case.  Precious was in the screened in porch, so she was easy to find.  I pulled 1 can from the case and handed it to her.  She put it in a small plastic Tupperware bowl.  I reached in, pulled out another can and handed that to her, she put that in the same bowl.  When I gave her the 3rd can, it wouldn't fit in the bowl, so she gave it back to me.  Then she went to pick up the bowl and the cans shifted so she had plenty of room to put another can, or maybe 2 more in there.  So she put the bowl back down so she could get the can back from me.  Problem is, when she put the bowl back down, she did it at an angle and the cans shifted again.  When she went to put the 3rd can in there, the space wasn't there anymore.  She hands the #3 can back to me, then takes the cans out of the Tupperware, one in each hand, and brings them in her house.  She then comes out to get the #3 can, and brings that in the house.  She does the same with the #4 and #5 cans.  When she came to get the #6 can, Crystal was bringing 2 of the cans back out.  They didn't know that I was giving the cans to them, they just thought that I was letting her bring them in her house but I would be getting them back later.  Khan also brought 1 can out.  I tried to explain to them that I gave those to Precious and she can keep them, but they couldn't understand what I was talking about.  All 3 of them were trying to put them back in the case.  About that time Cathy came out and after I couldn't explain to mga bata about keeping them, I just told Cathy to take them all and bring them in the house.  I was tired of trying to get rid of them.  I don't eat Vienna sausage, so it's not a big deal for me.


Lita said that there were quite a few people eating today, our food, not Titing's this time.  Plus we sold the drinks for when Titing's customers were here, so I'm hoping for a P1500 day.  That would be our biggest day yet, so far.  A couple of customers have suggested we start a restaurant upstairs.   Just what we were thinking except they want us to have liquor and karaoke, and we don't want either of those things in our restaurant.
When I came in here to type this up, I saw a couple of the Security Guards from across the street, out there ordering food.  They come here often, but it's the first time I've seen 2 of them at once.
I found out just a few minutes ago that Loni no longer works here.  Titing is doing double work in the warehouse.  Not sure why she quit, but I'm going to miss her.  She is pretty.
Before all that happen, I also found out today that this Sunday, day after tomorrow, is my chance to go into the hotel again.  Lita told me the time, but I forgot again.  I will find out before Sunday.  I hope everything goes well this time because I really do want to see the inside of that hotel upstairs.

That's about all I have for tonight.  Some of those things I just found out at the last minute, because I was asking people about things that happen today.  The last couple of days have been really slow.  I'm not sure tomorrow will be any better, but Sunday, if all goes well with the hotel, I'll have things to write about on Sunday night.
Philippine Trivia
The black flag with the skull and cross bones was called "Llanera's skull" by Andres Bonifacio.
A Musikong Bumbong (band with bamboo musical instruments) accompanied Mariano Llanera and the rebels of San Isidro when, using only bolos and pointed sticks (and the band), they attacked the Spanish Garrison on September 2, 3 and 4, 1896.
The Cry of Balintawak (Aug 26, 1896) was actually the Cry of Pugadlawin (Aug 23, 1896)
Gen. Emilio Aguinaldo was elected in absentia during the Tejeros Convention
Gen. Arthur MacArthur liberated Manila (Mock Battle of Manila) in 1898, while Gen. Douglas MacArthur liberated Manila in World War II.
At the time of the proclamation of the Philippine Independence, Aguinaldo's official title was "Dictator."
During the first skirmish of Katipuneros and Spaniards on August 26, 1896, both sides retreated: the Katipuneros retreated because they had only a few guns and bolos; the Spaniards retreated because they were greatly outnumbered.
Winnings from a lottery were donated by Candido Iban and Francisco del Castillo to purchase the Katipunan printing press used to print the Katipunan newspaper, the Kalayaan .
Aguinaldo purchased 2,000 rifles and 200,000 rounds of ammunition for P50,000 to resume the revolution in May 1898.
Apolinario Mabini upon return from his exile, enthusiastically consumed large amounts of unpasteurized carabao's milk, and consequently died of cholera.
The floor of the grand hall of the Aguinaldo mansion is a waxed-and-polished jigsaw puzzle of flags.
The Philippine National Anthemplayed during the declaration of Philippine Independence, as the Marcha Nacional Filipina on June 12, 1898, had no words.
Don't forget to rate and leave comments.


Salamat, Palaam