[smartads]
I am going to get one thing out of the way right away because I know y'all must be on the edge of your seat wanting to know.  Okay, well maybe not on the edge of your seat, but maybe you are curious.  What?  You have no idea what I'm talking about?  Well I guess it really wasn't the most thrilling cliff hanger in history.  I am talking about letting y'all know the next time that I finally get to eat.  If you missed it you can read about it HERE.  They had food on the flight from Manila to Palau.  It wasn't much, just a sandwich and some noodles.  I have no idea what the meat was on the sandwich, but I ate it anyway.  I even traded Lita my noodles for her sandwich.  We also had some orange juice and water.  Enough to hold us to Guam anyway. When we got to Palau most everyone got off the plane.  I wish we could have gotten off for just a little while so I could see what the place looked like.  I'm still going to count it as a place that I have been to.  Security came on while we were there.  They came on board to check some bags and a lot of seats.  They didn't check our bags, but they did check our seats.  They didn't find anything that they should not have I guess, because they let the new passengers on and we were underway in less than an hour from landing.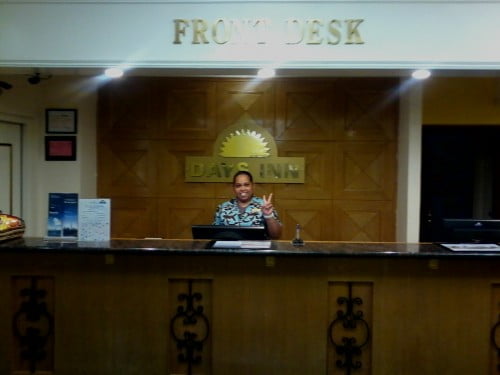 We made it to Guam, even got there about 30 minutes early.  Touch down was about 0500.  There was no wheelchair for Lita this time, but they do have 3 or 4 of the moving walkways in the terminal for her to use.  That helped her make it through.  I don't use those walkways much, but have on occasion when I was pretty tired.  Since Lita normally does not 'walk' on the walkway, but just stands, I can keep up with her just walking next to the walkway.  A little bit of exercise for me sure will not hurt.
We made it through all the checkpoints without incident and finally made our way to the outside lobby area.  One of the guys at one of the rental car places dialed the number for Days Inn for us.  Their shuttle was there for us in less than 10 minutes, probably, but it seemed like longer because we were tired and ready to take a shower and get a little bit of sleep, laying down. Of course that sleeping would be done after we got something to eat.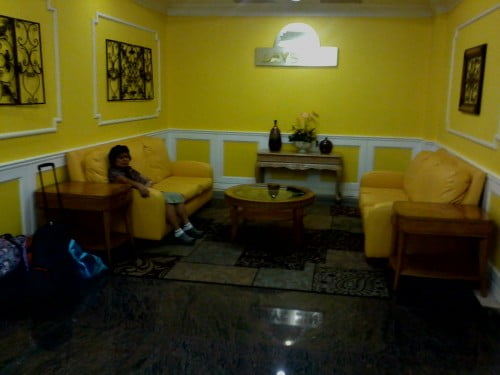 At this point we should have gotten more of our pesos changed to dollars, but we were too tired to think of that.  Lita did change some and it would have been enough to last for awhile except when we got to the hotel and tried to pay with my check card, it didn't work.  Now I'm thinking I should have contacted the bank to let them know that we would be traveling. Especially since I forgot that since we got there so early (before 2 pm) we are suppose to pay for an extra day.  We had to pay with some of the cash we just got and I would have to straighten it out with the bank later.  That, of course, made us have a lot less dollars and we would have to resolve that, but later, not now.  For now it will be shower, teeth brushing, shaving (at least for me) and sleeping.
Later, a little before noon, I called the bank and 'hopefully' got things straightened out.  I'll find out when we try to pay for the extra night.  For now though I need to find a way to get some more dollars.  Lita wants to stay in the room (as usual) so I'll have to figure it out alone (as usual).  The hotel did not want to make a special trip to the airport, because it is not exactly close, although I understand that the Days Inn is actually one of the closest hotel to the airport.  They would go there, but it would cost me $8.  Not bad, but they won't wait for me.  I would have to call them back for another pick up, costing me another $8.  It seemed weird to me since I would not be there that long, but not my policy so I decided to try an alternate way to get some dollars.  As it turned out it was a nice little adventure for me, although I'm sure that everyone would not like to go on an adventure like I did.  Definitely not for someone that is of the faint of heart or is not into walking.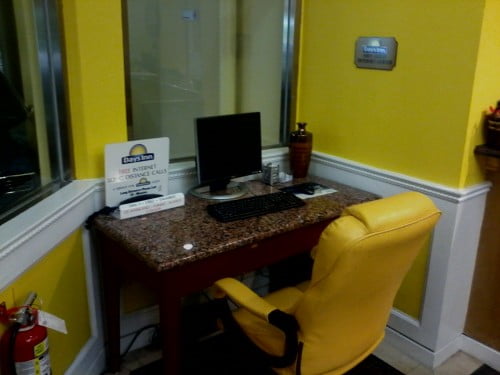 After talking with the front desk, including the owner/manager, it was determined that the Hawaiian Bank would be a good place to get the money changed.   It's Saturday, so they close early (at 1 pm) so I needed to get started because it was already around 12:30.   The shuttle did bring me there for free, but since they are not allowed to wait, I was going to walk back.  The weather was hot and humid, just like in the Philippines, so I can handle it.  It would only be about 1 mile, if I don't miss the turn.  No big deal.
What was a big deal though was that, after waiting in a long line, they do not exchange Philippine pesos there.  Oh great!  So I'm walking back home and I see this credit union.  I figure, what the heck, I'm already here, I might as well check it out.  Nope!  However the lady said that they will at the Bank of Guam.  It's close, a little behind me and across the highway.  So I do the crosswalk thing twice to get across.  I walk into this huge building and I don't see any bank.  All I see are city government offices, like city hall.  I asked two guys that were just walking into the building.  They said it was down the hallway I just passed and to the right.  Okay got it.  I actually did find the bank, about 2 minutes before they are ready to close the doors for the day.  Yes they will exchange pesos for dollars, IF you have an account with them.  Of course I don't have an account with them.  So it's back to walking back to the hotel.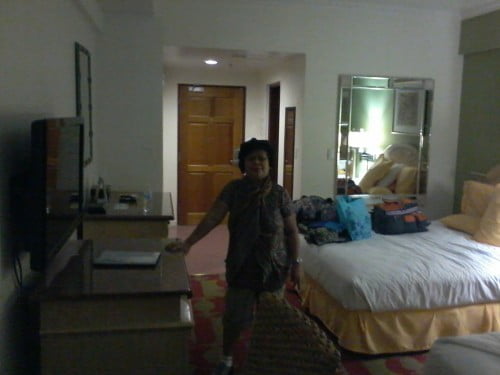 At the next traffic light I'm suppose to be turning left.  Well it seemed the more I walked, the further away that light was getting.  It only seem close when looking because the road was so curvy. Finally though I make it to the light and press the button for the crosswalk.  Turns out that this one is not working.  I figured it out when the traffic that stopped after I was there, started again.  So I had to wait an extra round of traffic before I could cross.
By this time I'm all kinds of thirsty.  There is a Circle K across the highway so I headed for it.  Right about the time I started to go in I remembered, I don't have any dollars.  I went in anyway so I could stand in the air con for a few minutes.  The hotel is a pretty short walk from there, but I'm glad I decided to go in.  After talking with one of the clerks inside the store, I found out a solution to our money exchange problem.
I'll have to get into what the solution was in the next post though.  The question is though, "Is it a solution, or just another dead end like all the other so called solutions that I have had to endure today?"  Yes there were a couple of pictures of me in the room, but Lita likes to take a picture of her fingers also when she is in charge of the camera.
Salamat Y'all