[smartads]
At the end of the last post I told you that I would be telling you in the next post about something that I've recently done that I've never done here in Calbayog before.  Well this is the next post. I sure hope that you wasn't expecting something too outlandish, because it really wasn't that big of a deal.  This was the first time that I ever went upstairs at the new Metro Supermarket to the department store they have up there.  Heck, believe it or not, it's the first time I even noticed the escalators.  They are right up front, but for some reason I just never paid any attention to them being there, although I had heard they were there somewhere.  I suppose it's because I shop like I believe most guys shop.  I walk in, know what I want to get and start looking for that/those item/items.  It was only my third trip to the supermarket anyway.  This day the item I needed was upstairs.  I was searching for a new electric fan.
My reasoning for getting another fan, this makes 7 of them for us now, is that we only have 1 fan that we bought new and after 4 1/2 years of almost constant use, it's starting to break down more and more.  The other 5 fans do breakdown at times, but they were used to start with.  The ones in the bedroom and the computer room get the most use and are the ones we have to have fixed the most.  Anyway, I got to roam about 1/4 of the upstairs section because, in true Filipino style, they do not have all the fans in one area.  There are like 3 different areas with fans.  I found a fan that I wanted, a wall fan.  Actually it is the same brand as the fan that has lasted for 4 1/2 years.  They only had 3 or 4 of the right size wall fans I wanted and they only had 1 in the color I wanted, blue.  Blue is Lita's favorite color.  This blue one was a demo model and they seemed a little reluctant to sell it, but I insisted that I wanted that one in that color.  They relented.  Then they wanted to disassemble it and put it in a box, not the original box.  Well they already tested the fan, so I knew it worked, and I just told them I would just take it the way it is.  That must be something that is not done much around here because it looked like it confused them.  They kept saying they wanted to take it apart and put it in a box.  I said, no, it's okay.  Then they tried to put the whole assembled fan in a box, it doesn't fit.  Finally they just put a sticker on it, let me pay for it and I just showed the receipt to the guard at the door, no problem.  I don't know why they were so reluctant.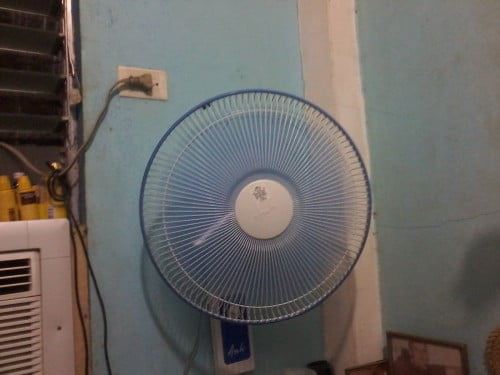 Another good thing about this fan is that it already slides onto the mount we have for the other fan, being that it is the same brand … Asahi.  I'm glad too because drilling the holes into our concrete wall for another mount, I would have had to wait on.  We don't have a drill to do it and the guy we know that has the proper equipment is not around the area at the moment. It's just too hot to have to wait on a fan and I had been using one of the fans from the computer room, but that means it was getting double duty.  That just makes them wear out faster. When I paid for the fan, I asked for a discount because it was a demo fan, but that didn't work out.  It's okay.  The total amount of the fan was P1240 (about $27), so that was a little less than I was anticipating.   It all worked out well.
Well this post has already gone over my new 600 limit.  I guess I'm not going to be very good at that.  Maybe 700 instead?  Next post, among other things, I'll let you know of another new thing I learned about our new supermarket.
Salamat Y'all