[smart ads]  "I've reached a point in life where it's no longer necessary to try to impress. If they like me the way I am, that's good. If they don't, that's too bad." — 
 Corazon Aquino
Zamboanga City, "urgullo" de Mindanao. Asia's Latin City and the City of Flowers. Zamboanga City, The Pride of Mindanao. Zamboanga City is located at the tip of the Zamboanga Peninsula and is one of the major cities in Mindanao. It is independent of any province. Zamboanga City is NOT a part of Zamboanga del Sur. The Department of Interior and Local Government of the Philippines (DILG) as of 2011, incorrectly lists Zamboanga City as part of Zamboanga del Sur. It's not only the DILG incorrectly categorizing Zamboanga City as within Zamboanga del Sur. The following government offices are also ignorant: NSCB, COMELEC, PIA (Philippine Information Agency), even the office of the President of the Philippines!  (Remember I just copy these, I don't write them)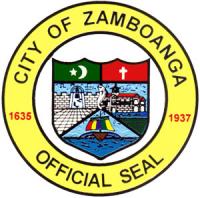 Zamboanga City Seal
http://zamboanga.com/z/index.php?title=Zamboanga_City,_Philippines
http://www.kabeetmaps.com/flash/result02.php?curPage=6&file=laguna.swf&category=City%20Government&location=&pid=1125602
Today officially started at 0816.  Victor was here to pull down the cabinet that Jay was using to put his clothes in.  It was nailed up outside next to the dirty kitchen.  Lita wants to use it in place of 2 balikbayan boxes she has set up in the room.  The top box is really sagging and has been propped up with a steel rod we found.    This should work out good for her, but we both still need some drawers to put things in.
Zamboanga City is a chartered City (October 12, 1936) and is an independent component of any provinces in the Philippines. Zamboanga City is in the Zamboanga peninsula but is not part of Zamboanga del Sur. Zamboanga City is the 6th most populated city in the Philippines and with a total land mass area of 1,483.38 square kilometers, makes Zamboanga City the 3rd largest city in the Philippines.
Total Land Area: 1,483.38 square kilometers or 572.73 square miles
Elevation: Elevation varies, From the coastlines to about 1 kilometer in. It starts at 2 meters to 3 meters as you move in and it gradually increases. The inland mountains are as high as 1000 meters.
Zip Code of Zamboanga City: 7000

Phone Area code: 62

When you call from outside the Philippines to a land line in Zamboaga City you dial first your Int'l access code, then the Philippines country code (63) , Zamboanga's area code (62), then the local number. From a cell phone: 1st the Intl'l access code, then P.I. Country code (63), the the cell phone number.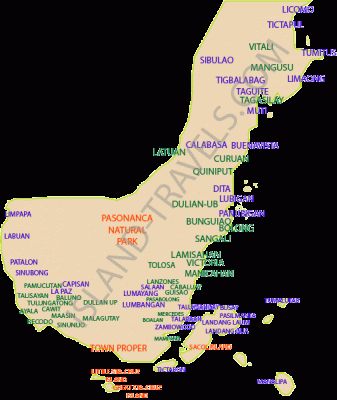 http://www.philtravelcenter.com/philippines/maps/zamboangacity-map.php
After he finally got it down he made it a little higher by putting some wooden legs on it.  I helped him carry it into the room, but it wasn't heavy at all.  Of course after we set it down and he left, Lita wanted me to move it.  I had to move it 4 times and in the end it was almost exactly where it started it.  I opened LolyKat, but no one wanted to stay out there to watch it, so after only about 30 minutes, I closed it down again.
She's cooking/cleaning and I'm writing this and watching my computer do a full computer scan.  When the scan finally finished it did not have any threats, but it did find to corrupt executable files.  AVG moved those to the virus vault for me.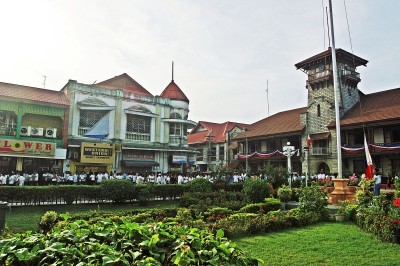 Zamboanga City Hall
http://www.skyscrapercity.com/showthread.php?t=1227349
I found out something today that got me all excited and I started checking the internet in hopes of saving even more money on our travel costs.  Right when I was really getting into it … brown out.   At 2:28pm we had a brown out that lasted for 4 hours and 22 minutes.  I was beginning to wonder if the electric was going to come back on at all today.  Finally though at 6:50pm, it did.  I'll get back to that good news in a couple of paragraphs.
Before the lights went out I had already decided that I was going to cook one of the vegetable dishes that I'm always talking about.  I took some pictures and and I'll do a little recipe thing.  On the new website, I'm trying to have it so readers will be able to send in their recipes to post.  Preferably Filipino recipes, but I'll probably have a section for non-Filipino ones too.  In fact, I'm hoping to make the new site a lot more interactive than this one.  I'll be encouraging input on many of the different areas of the new website.  We've just recently had some people talking to each other through the comments, which I highly encourage.  I try to stay out of those conversations when y'all are talking to each other, but I'm not too shy about throwing in my 3 cents worth at times.
Zamboanga City – Kiddie pool in Pasonanca
http://zamboanga.com/z/index.php?title=Zamboanga_City,_Philippines
Okay back to the good news.  I found out that retiree dependents ARE ALLOWED to travel with the retiree, even WITHIN THE CONUS.  Now maybe some of y'all don't understand that or think it's not a big deal, but it is a big deal.  When I retired back in 1993, this was not allowed.  What that means is, if we get lucky, we could potentially get a free ride from Osan in Korea, all the way to within 20 miles of our old hometown.  I checked the Seattle site and they usually have 2 flights per month going to Ft. Hood Texas, that's only about 20 miles from my Mom's house.  They also have a flight going to Ft. Hood from Travis AFB in California.  Osan also has a flight going there at least once per week.  Even if we can't get to Ft. Hood, if we can get to someplace in the middle of the US, then our plane ticket would still be a lot less than flying all the way from the West Coast.  This information has been confirmed by 4 different AMC terminals in different parts of the US.  I found a lot of the Facebook accounts for these places and I asked that question.  I asked them all independently also.  Now we just need to get lucky and have flights going our way at the right time, with enough seats.  It's not easy to do, but since it's free, it's worth a shot.  I'm sure you'll be hearing more about this in future posts, especially if I find a way to get us hooked up to multiple places around the globe.  I've seen several flights going to Europe too (Germany, Italy and France).  Time to start checking out a lot of Facebook pages.
Right about 8:10pm I had to go out to get another Red Pepsi.  The streets were pretty much deserted, it was a little eerie.  I went to the store that we normally go to, but they had just closed the Red side.  One of the young ladies there told me that the Pepsi (Blue) side was open.  The owner of the store, I guess her mother, started explaining what I can only imagine was who I was.  After the mother/lady got finish talking, the young lady said, "I didn't know that".  I suppose the owner was telling her that I sell Pepsi down the road and I always get the other one here.  Anyway, the young lady directed me to the next store down the road, but she wasn't sure if they were still open.  They were.  They also only had 1 Coke … er… I mean Red Pepsi left.  Now they have none and I have 3/4 of one.  I drink a lot of drinks of all kinds.

Zamboanga Philippines
http://www.flyphilippines.com/zamboanga-platinum21.php
There is a new reader on this site.  His name is William Davis.  Well actually his wife, Genara, found the site, but Mr. William is the one that got my attention.  They are considering retiring to the Cebu area and William has never been to the Philippines.  I have already written him a small book in the comment section and directed him towards one of the books that contain a lot of information about moving to the Philippines.  If you have something you would like to chime in with, then please start chiming.  He's probably reading this right now and if so, I want to let you know that I will soon be trying to convince you to move to this area.  I'm not very pushy though.  I'm just going to point out how things are here, all the things that will soon be coming this way and see if it's something that appeals to you.  He wants to keep an open dialogue with me and this site, so y'all please be looking and feel free to let him know about your experiences.  I'm sure he would appreciate any information he can get.
Salamat, Paalam
Useless, but funny, Knowledge:  In March 1996, Pizza Hut and Taco Bell cancelled their $5.4 million sponsorship of ABC's new The Dana Carvey Show after some of Carvey's humor "went too far." One sketch that offended the sponsors featured a dancing taco that kept telling Carvey that he was a "whore" for pushing the sale of Pepsi products.