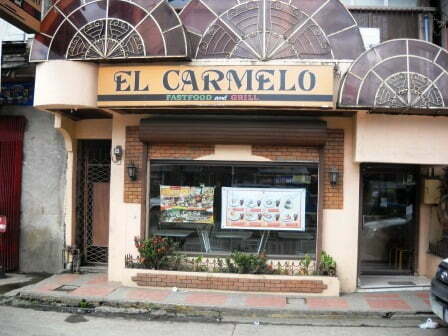 Official name El Carmelo's but I've only heard it called Carmelo's.  To distinguish between this one and Carlos n' Carmelo's on Nijaga St., I just hear and say, "Carmelo on Magsaysay Blvd".  This place was cool and clean.  Although no one wanted to be in my pictures, they didn't have a problem with some crazy American coming in taking pictures.  I've actually eaten at this restaurant before, a long time ago when I was even a more picky eater than I am now, but I still ate most of my food then.  I will try them again soon for a new review of their services and food.  The "Please Fall In Line" just means to get in a line.  That "fall in line" phrase is used throughout the Philippines.
Opinions of Some Customers to this Restaurant
From Gary: We have eaten here quite a few times. It is one of my favorite places in Calbayog to eat. I usually have a burger and some shrimp when I am there. The burger is not too bad and tastes more like a real burger than that fake burger at Jollibees which has the worst burgers in the world. The shrimp is always good and I get a large portion. They also have great banana bread but they didn't have any on hand the last few times we have ate there.

In my trips there, the restaurant has always been clean and the air con works well. Customer service has always been excellent also. George loves it too because they let him play with his vroom vrooms there without fussing and that is important to our little guy.  Two and a half thumbs up from my family.
From Blair: We ate there in January and we liked it too. Everything was more or less freshly prepared and it was a clean restaurant. I would for sure eat there again. But really looking forward to trying the soon to be opened Blue Gazebo Cafe !!!!!